How to monetize your podcast in 2023
At Steady, we support podcasts of all sizes to make money from podcasting. Here, four top Steady podcasters have shared their no-holds-barred advice on how to monetise a podcast, backed by insights from our many years in the media industry supporting thousands of successful creators.
Key insights:
Define your podcast niche to help find your audience
Collect email addresses for direct contact with your listeners
Earn money from your work with ads and listener funding
Use memberships to secure a sustainable income for your podcast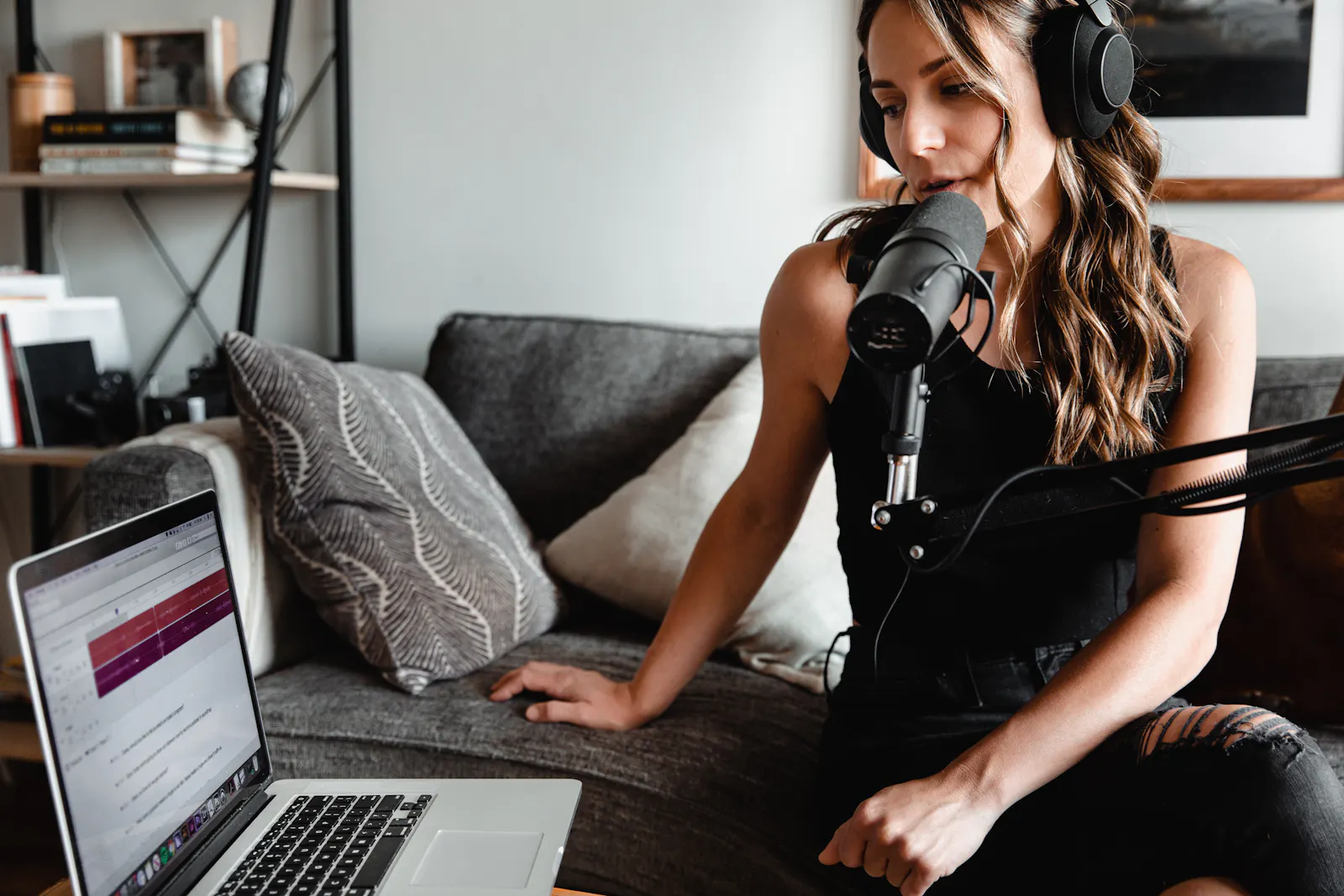 Improving the quality of your podcast and growing your community are two ways to prepare for monetising your podcast. Photo by Soundtrap (Opens in a new window) on Unsplash (Opens in a new window)
1. Starting a podcast you can monetise
Successful gaming podcaster André Peschke from The Pod (Opens in a new window) has four invaluable tips for getting off on the right foot:
Find your podcasting niche and format
Many of the most successful podcasters have found success by nerding out on what they know best. That's what their listeners love them for – and The Pod is no exception.
"Concentrate fully on your niche," says Peschke. "Don't think that you can grow your reach by producing more and more new topics or media formats."
Along with a well-defined niche, setting up a clear, definable format will help your podcast find its audience. You don't want to be "yet another gardening podcast", for example. You want to be "the gardening podcast that covers one plant per week", or "the gardening podcast that interviews a different home gardener each week."
Refining your format means considering things like:
Participants — how many hosts are there? Will you have guests?
Frequency — will your podcast be weekly, monthly, or something else?
Duration — setting an approximate duration for your podcast episodes will help you plan out how the recording should run.
Tone — does your podcast sound like two old friends having a casual chat, or is it a little more formal?
Scripting — Some podcasts are totally scripted, while other podcasters work from rough notes. Others totally freestyle.
Read more: How to make your podcast format stand out from the crowd (Opens in a new window)
Focus on sound quality
You've got your format sorted, so now it's time to consider the quality of your sound. Quality output will help give your podcast a professional edge.
If you're new to podcasting, you'll want to do a little research, because there's a lot to learn about microphones, pop filters, editing software and more.
Luckily, we've compiled a one-stop guide to choosing the best podcast gear for your budget (Opens in a new window).
Keep your podcast free for a period of time
You might eventually want to make money from your podcast, but first your fans will need to be able to hear what you have to offer before they're willing to pay for it. Don't worry, our research shows that your most dedicated fans will be more than willing to pay to support you once they get to know your podcast – more on that below.
But first, you need to find those fans. Peschke says in order to convince listeners your podcast is worth paying for, "you should offer easy access to a free sample of your content. I would like to be able to listen to your podcast immediately without having to register somewhere beforehand, so that I can determine whether your content is worth subscribing to."
Maximise your visibility by publishing on multiple platforms
When it comes to finding listeners, it's not enough to simply be on one platform, like Spotify. Get set up on multiple platforms like iTunes, your own website and YouTube.
On Steady, you can host your own podcast, offer exclusive podcast feeds for paying members and even host them to Spotify with our seamless integrations (Opens in a new window).
"What you need are 'touchpoints'," says gaming podcaster André Peschke. "Places where people can discover what you have to offer. In other words: free content, your own website, YouTube videos in which you present your know-how, the same on Facebook, etc."
Depending on your topic and niche, Peschke says it could also be worthwhile setting up a forum, such as a Discord, for your listeners to continue the discussion with like-minded fans.
"When it comes to growth strategies that don't cost anything, our best chance is networking with other podcasters."
"Invite people to your podcast or appear as a guest on other podcasts," says Peschke. "It's a win-win situation, it costs nothing and you can reach an audience that already knows what podcasts are and how to access them – something that can't always be assumed."
Read more: 3 tips for newbie podcasters, from André Peschke at The Pod (Opens in a new window)
2. Growing your podcast community
If you're wanting to earn an income from podcasting, it's important to have a strategy for growing your audience.
If you're looking to strengthen your bond with your listeners before monetising your podcast, here's two simple ways to help make it happen:
Collect email addresses
The goal here is to turn passive listeners into more committed community members. You can achieve this through direct contact and personal engagement, both of which are done very easily via email.
If you don't already send out regular newsletters, now would be a great time to start. Keep your listeners up-to-date about new episodes in their inboxes – one of the only ways to reach them directly, without an algorithm getting in the way.
Read more: 6 reasons to start a newsletter today (Opens in a new window)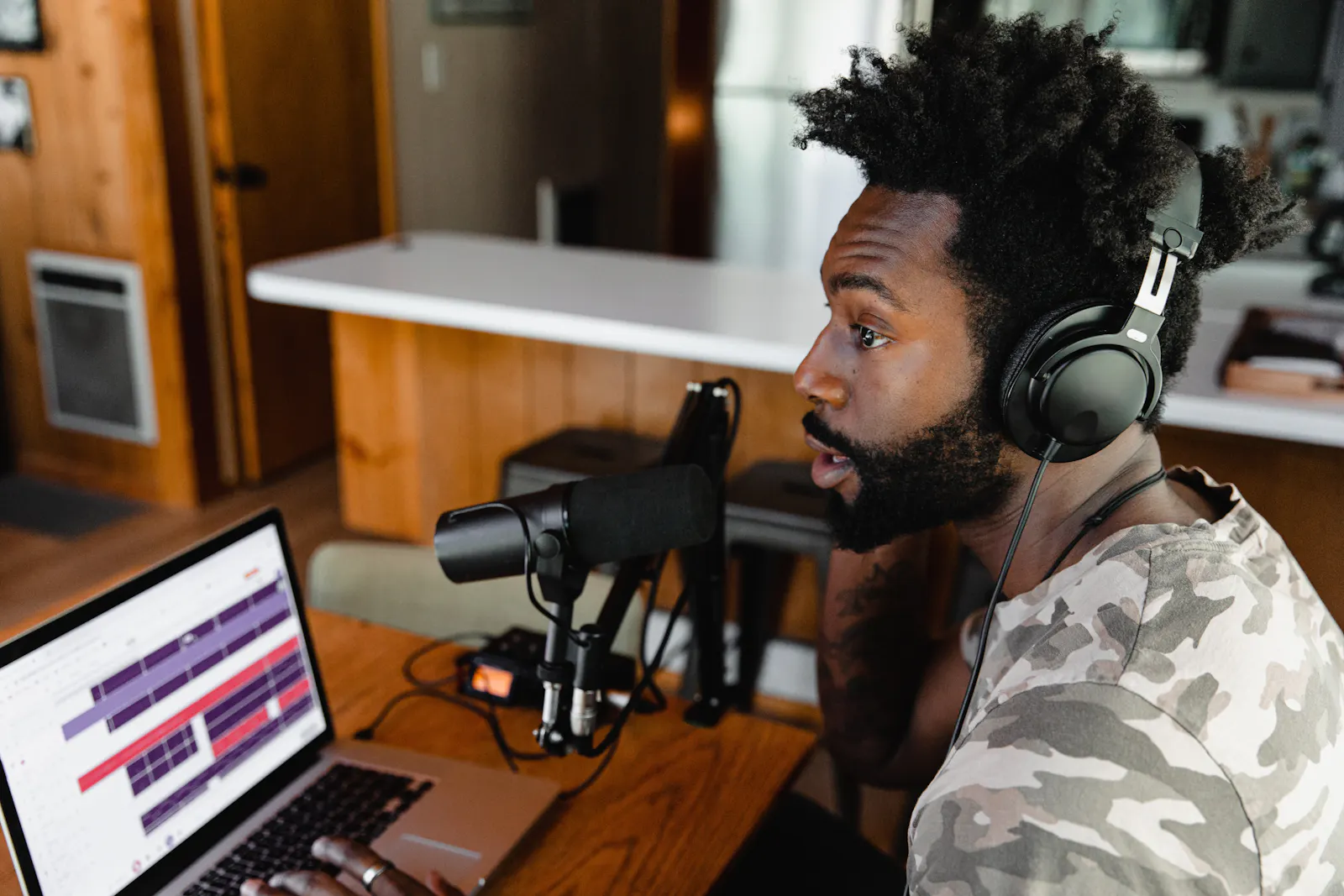 From surveys and polls, to social media scheduling, make use of the many free tools available to help grow your podcast community. Photo by Soundtrap (Opens in a new window) on Unsplash (Opens in a new window)
Make a calendar for your community engagement
There are a number of other engagement tools you should keep in your arsenal ready to use when you want to boost community engagement. The most important thing is to do it regularly, and authentically. Put time on your calendar for engaging with your listeners and taking in their feedback, whether that's on social media, via email, or on other platforms you use with your community.
Also consider making use of surveys and polls, which you can use to check in with your community, or bring listeners closer to your work by giving them a say in what you cover on your podcast.
Remember: The more often someone engages with you, the more likely they are to keep coming back to your podcast.
Spend a little time considering what kind of engagement suits you and your podcast best – more tips for strengthening your community (Opens in a new window).
3. How to monetise a podcast with advertising
If you're wondering how to make money from a podcast, there are a number of options.
Advertising is a popular option for podcasts who are drawing a large number of listeners. Their listening time can be leveraged for advertising spend that helps keep your project afloat.
Podcaster Sam Baker (Opens in a new window) has worked with podcasting hosting service Acast to manage the ads on her podcast, The Shift. She says this has given her the freedom to keep focusing on her podcast's production, while offering her access to a large number of potential advertisers.
https://twitter.com/SamBaker/status/1565976718770315265

(Opens in a new window)
Because The Shift is about championing women in midlife and beyond, Baker says there were certain advertisers she wasn't so keen to have on the podcast. Working with Acast's agency, she has been able to choose which advertisers she works with, focusing on ones she knows will be relevant to her listeners.
Combine advertising with listener funding
There are also ways you can combine multiple revenue streams, like ads and listener funding, to work for you and your listeners.
The German politics podcast Wochendämmerung (Opens in a new window) comes with ads, but offers ad-free versions of each episode exclusively for paying listeners. This works as both an incentive to start paying and a gauge of how their listeners feel about advertising.
More than 1000 listeners have signed up to pay for Wochendämmerung each month, and the team has reached its goal of earning 5000 EUR per month purely from listener funding.
There are other sources of income that can be combined with memberships, too. Hosting listener events can be a great way to develop another revenue stream – you might consider offering free or discounted entry to your paying members as a "thank you" for their support.
4. Go listener-funded with memberships
Advertising doesn't suit all media projects. For journalists and reviewers wanting to keep their editorial independence, ads can feel like too much of a compromise.
Podcast listeners are media savvy and increasingly wary of advertising (Opens in a new window). Thankfully, they're also more aware of the real costs of producing great content and that being able to trust a creator is a value in and of itself. That's why all kinds of creators from podcasters to bloggers, and even major news outlets like The Guardian, are turning to their communities to help fund their work directly.
How an independent podcast came to earn more than $2 million per year
The US politics podcast Chapo Trap House best exemplifies the power of listener funding.
Since its launch in 2016, the podcast has come to amass thousands of paying listeners, who each chip in just $5 per month in exchange for bonus episodes.
Combined, these paying listeners deliver almost $170,000 in revenue each month, or just over $2 million per year. Not bad for an activity that is often performed in the host's bedroom closet.
Now, not every podcaster can expect to become a millionaire. But Chapo Trap House is a great example of how small contributions from many listeners can go a long way towards building a sustainable future for your project.
Who would pay money for a free podcast?
Asking for money can be uncomfortable, especially when it's for something you're already offering for free. Podcaster Frank Joung had exactly that feeling when trying to work out how to fund his podcast Halbe Katoffl (Opens in a new window).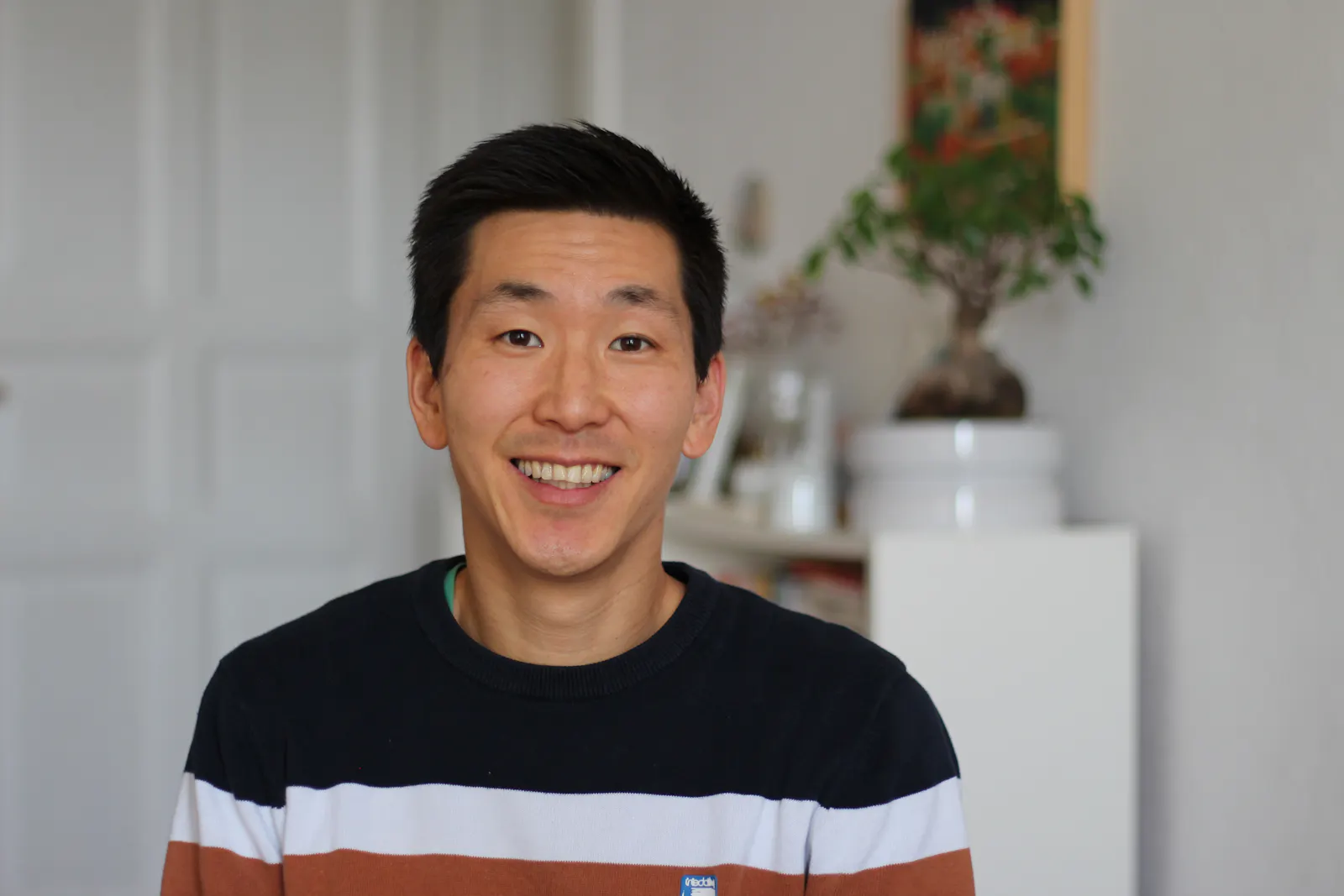 Podcaster Frank Joung wondered who would pay money for his free podcast. Turns out, hundreds of listenrs are willing to do so.
"I was plagued by doubt: Who would pay money for something you can get for free?"
Many creators feel nervous about asking their fans for money at first – but it doesn't have to be.
As it happens, Frank's listeners were more than happy to chip in a few euros each month in order to keep his podcast running, because it added value to their lives. Now more than 270 listeners support him with monthly payments that give him a regular, dependable income and the ability to plan ahead, knowing his costs will be covered.
How much can you expect to earn through memberships?
We took a closer look at how much podcasters are earning in listener funding on Steady. And we found that, on average, about 5 percent of your community will support you, and that each of those people will be happy to give you about 5 euros a month.
On Steady, podcasters are earning anywhere from a couple of hundred euros all the way to almost 20,000 euros per month!
Check out what podcasters are earning right now on Steady (Opens in a new window)
Of course, not all of your listeners will sign up for membership – but that's fine. You don't need everyone to sign up.
Use our handy calculator to find out how much you can earn with memberships (Opens in a new window)
How do memberships work for podcasts?
Here at Steady, we offer podcasters – and actually all kinds of creators – a platform that allows you to earn money from your listeners quickly and without stress. We call this memberships.
Memberships enable listeners to pay to support the podcasts they love. They do this by contributing regular amounts every month, so that podcasters are able to build up a reliable income. This enables you to plan for the future, invest in better gear, and earn the money you deserve for your hard work.
When you sign up with Steady, you let us take care of the accounting, design, marketing and software development, so you can get on with doing what you really love.
Customizable features tailored to podcasting
We even have dedicated podcasting features, like the audio RSS feed (Opens in a new window) that allows you to offer exclusive episodes to your paying members. This is especially helpful if you'd like to offer bonus episodes, ad-free episodes or early access to certain content as a "thank you" to the listeners who support you.
And if you use Spotify or Podigee, there's more good news: we've collaborated with both services (Opens in a new window) to allow you to release members-only episodes on each platform, so you can meet your listeners exactly where they are.
If you have your own website, Steady is simple to integrate there, too. Your listeners can sign up and pay without even leaving your website. And we've thrown in features like a floating button and adblock detector that enable you to show off your membership program to the listeners who might be most interested.
You can set up your membership program in just a few minutes and start signing up members right away. And if you need a little more time, that's fine – Steady charges a small fee, but we only make money once you start earning money (Opens in a new window).
5. Promote your podcast membership programme
We've found that most listeners who sign up to support their listeners financially are happy to do so, but they need a couple of reminders first. So it's important to promote your membership programme on a regular basis.
If you want your podcast to live a long and happy life, securing that long-term financial support is going to be worth it. Here's how to make promoting your membership programme an easy part of your routine.
Promote your membership program…
… in every episode
Mentioning your membership program at the beginning, middle and end of each episode is crucial to reminding your community that they have the chance to support your work. Remember to let them know why it's important that they support you, whether there are any benefits on offer for those who sign up (like exclusive episodes or bonus content) and what your membership earnings will be able to buy you – better equipment, more guests, a world tour?
These mentions can be pre-recorded and edited into your podcast, so you don't have to record a fresh reminder every time. It can be worth changing things up every once in a while though, or getting a bit personal, like the podcasters at Rice and Shine:
"We mention in our podcasts and on social media that we are grateful for the support," says host Minh Thu Tran. "Each time we do a shout-out to our members, we get new ones. And if we don't mention it, because we forget or because we think it doesn't fit the content, we don't get new memberships."
Thanking new members, perhaps even by name, is an easy way to remind potential members that they can support you, too.
"It's still a struggle for us to ask our listeners for money every single time," she says, "but it allows us to work as freely as we do right now."
… in your podcast and episode descriptions
Sprinkle the link to your Steady page far and wide, so it's as easy as possible for new members to sign up. The goal is to make sure no listener can ever say they couldn't find the link to sign up. The URL of your Steady page is steadyhq.com/yourpublication. The URLs steady.de and steady.fm also work.
Your podcast host will most likely have a space for you to write a description of your podcast – stick the like in there, as well as in the description you publish for each episode.
… in the show notes
And finally, remember to add a link to your Steady page every time you publish your show notes. That way, if a listener hears you mention your membership program, it will be extremely easy for them to find the link and sign up.
Before you know it, your podcast will have grown from a back-bedroom endeavour to a reliable source of income.
Feel like you're ready to take the next step? Here's how to turn your side-hustle into a full-time job (Opens in a new window).
The bottom line for monetising your podcast
Listeners understand that when they support you financially, they're empowering you to do your best work. And that together you are joining a movement of independent creators committed to a more diverse media landscape, supported by your communities.
So don't put off asking your listeners for support!
Topic
Growth & Monetisation