Join The Shift
The Shift exists to amplify and celebrate women in midlife and beyond. Join us and help make our voices louder
by Sam Baker
Frequently asked questions about memberships
The Shift is a weekly podcast that goes straight to the heart of what makes women in their 40s and beyond tick and talk. After many years editing women's magazines (Cosmo and Red amongst others), I sat back and looked around one day, and thought "WTF?!" I mean, seriously. Where had all the older women gone? (And by older, I don't mean "older", I just mean not 30). As an aside, if you want a laugh Google "older woman" and see what you get. Trust me, it won't be anyone who looks like me or you...)
Anyway, to get back to the point, you could count the number of us getting airtime on one hand, so I decided to launch The Shift with Sam Baker – a podcast where I talk to a wide range of women about life, love, work, sex, identity, money, health, shoes, representation, vanishing eyebrows... whatever they feel like chatting about. I started it because I wanted to hear these women's voices, their experiences, their WISDOM. And so did you. It was a big hit.
Turns out we were always there, we were just being ignored by mainstream media. Surprise!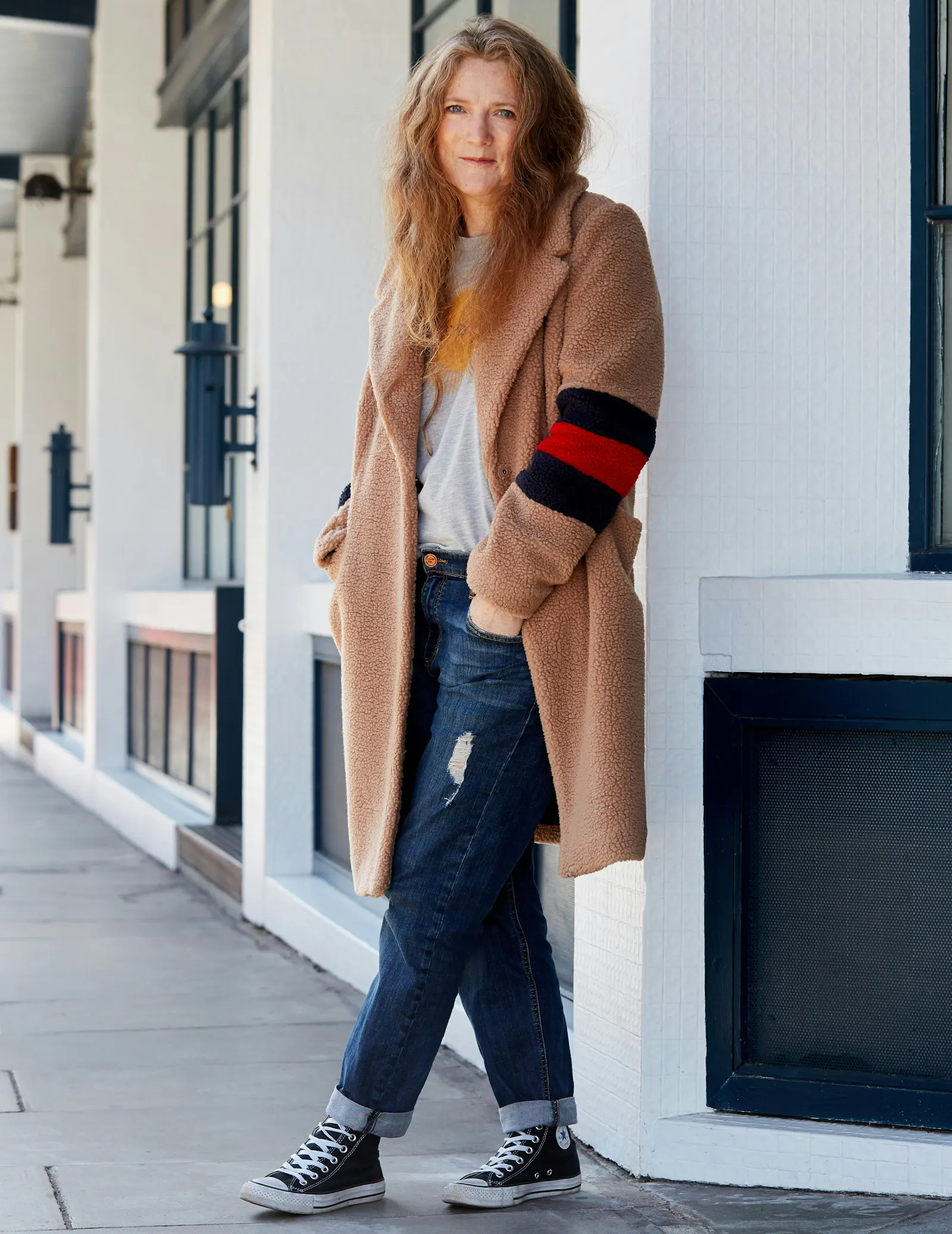 This is what 52 looks like! (Me, photographed in 2019, I think, by Claire Pepper.)
And d'you want to know why? Advertisers, that's why. Because the people who book advertising –  white, male, under 35 – can't get their head around the "value" of women they don't want to... you get the picture. Yep, it sucks.
The Shift's fans keep telling me they want more – and so do I. I want to open up the conversation about what it's really like to be a woman in midlife and beyond. But – and here's the thing – the podcast is free to listen to, and I want it to stay that way, so as many people as possible can hear what the women on The Shift have to say.
To move forward, though, I need to change things up a bit. After spending years creating content that was widely consumed for free and paid for (ish!) by advertisers, I've finally realised it's not too much to ask for something in return for my work. The Shift's fans are the most supportive bunch. Loads of you have reached out and asked how you can support the podcast. And so, here it is: you can now become a member of the Shift and show support for my work, because let's face it – much as I love what I do, it's my job, and, like everyone else, I've got bills to pay.
Perhaps you're thinking, "Why should I pay for something I can have for free?" I get it. I would too. Which is why I'm also launching The Shift newsletter and community as part of the membership offer. I want to create a safe place where we can talk and share ideas. And we all know how bad women are at talking about – and asking for –money. (Guilty!) But here's where I do just that. If you can afford to support The Shift with a few quid every month, you help secure the future of the show I love making, and you tell me you love listening to. And as a token of gratitude, you receive some perks.
If you can't afford to pay, that's OK, you can still listen to the show for free. And if you aren't ready to commit, or simply can't afford to right now (I hear you, gas bills...), but would like to find out what membership of The Shift is all about, sign up for free and you'll receive one newsletter a month.