How's getting dressed going for you this week?
I've got to admit, it was even more hellish than usual. Until I stumbled on Brad Pitt in a linen skirt and found a new summer-dressing role model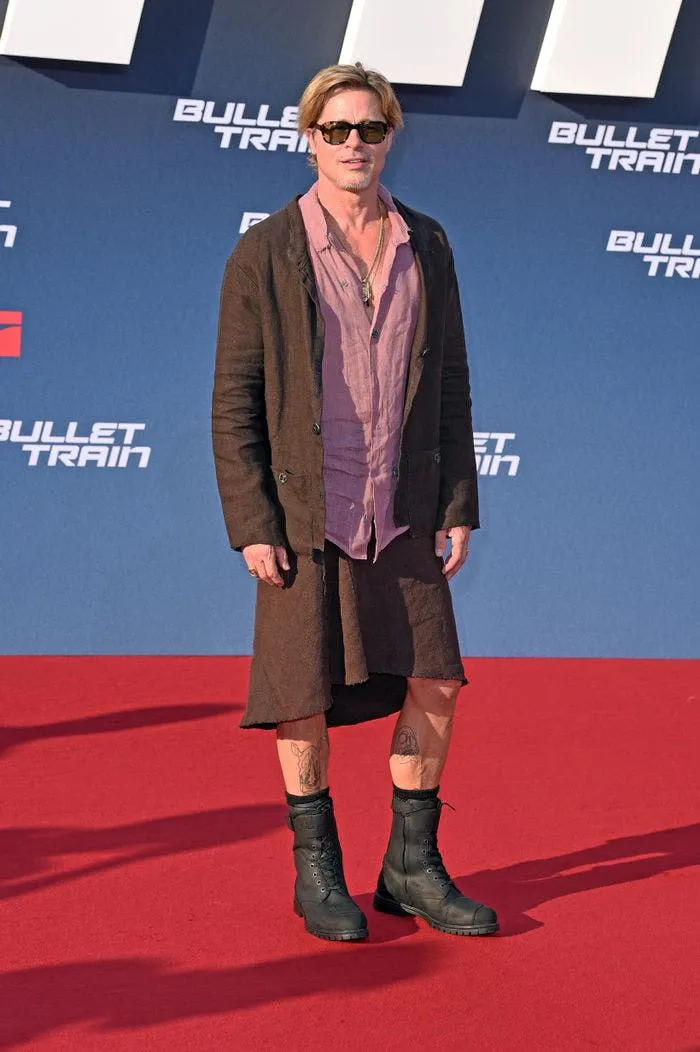 Brad looking hot (boom) in a linen skirt suit
Thanks for subscribing to The Shift. If you're already a paying member, thank you. I appreciate you. If not, and you'd like to get this newsletter in your inbox every week, plus help us make the podcast you love, why not become a member?
I'm not going to lie. This week's newsletter is, in no small part, an excuse to use a picture of Brad Pitt in a linen skirt. (Regular Shifters will know I'm more team Keanu than team Brad BUT I rewatched Thelma and Louise last week – what a movie! As relevant and devastating today as it was when it was made thirty years ago  – and, well, if you've seen it you'll know. If not (remiss!) it's on BBC iPlayer for 19 more days. It's well worth watching the whole thing. But if you're up against it, time-wise, fast forward to about 55 minutes in. No need to thank me.)
Anyway, I digress. It can't have escaped anyone's notice (except maybe the contenders for the leadership of the Conservative party) that it's been apocalyptically hot this week. And Brad dealt with the heat by wearing linen on the Berlin leg of the European press tour for his new movie Bullet Train. Specifically a linen skirt. As the endless fashion Do's and Don'ts lists would have us believe we're supposed to when we reach a certain age! And let's not forget, Brad is 58 (and looking "great for his age" as the media would say, if he was a woman) and, like many women I've come across, he appears to have come into his own style-wise. Either that or he's employed Harry Styles' stylist. Both equally possible.
That's it for now...
To read the rest of this post, you need to be a member of The Shift. Membership starts from £5 a month (£4 if paid annually)
Already a member? Log in
July 21, 2022