Exploring decentralisation in EU member states
September 2023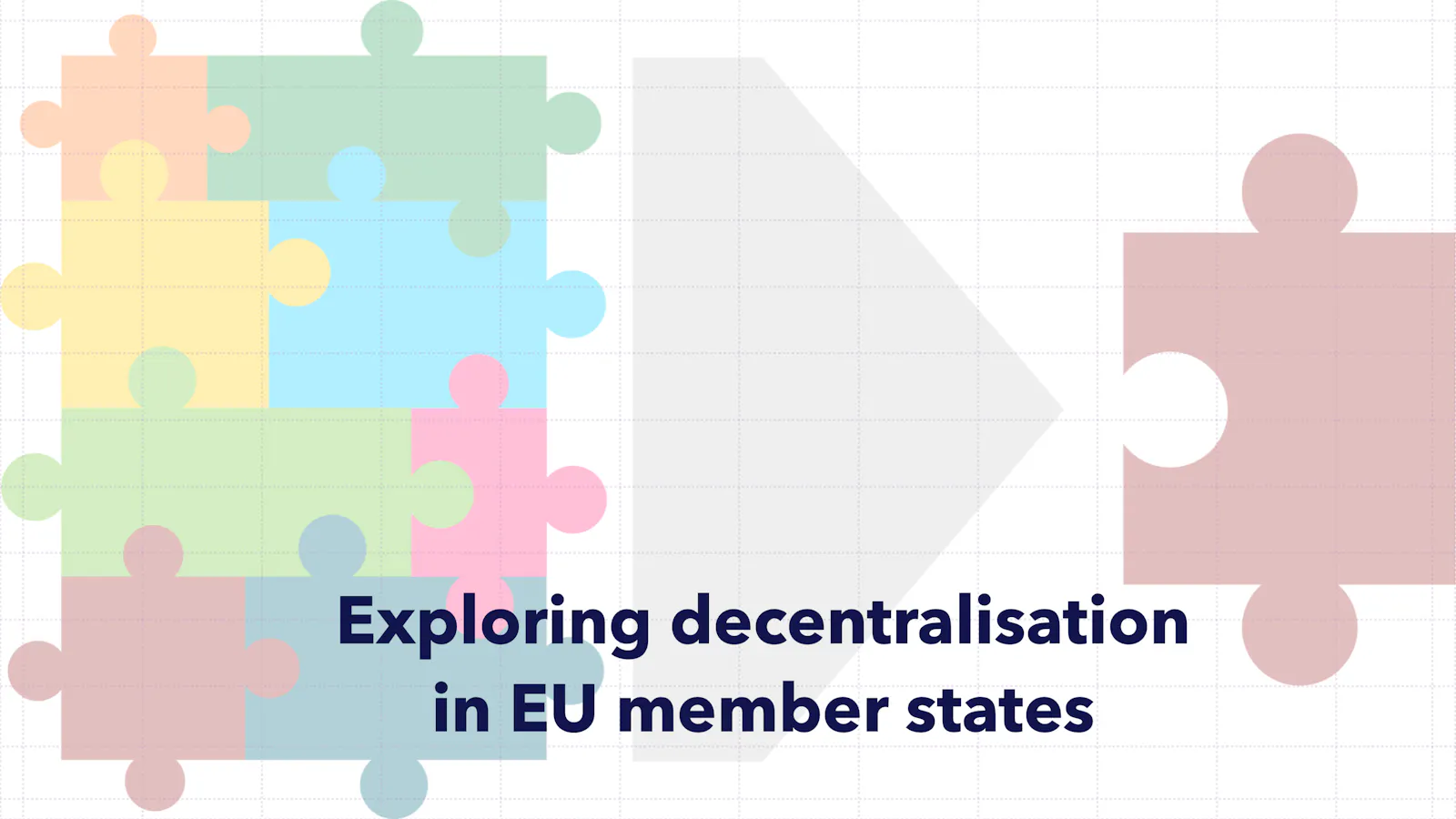 The role of subnational governments and administrations – i.e. the degree of decentralisation – differs widely across EU member states. In general, effective decentralisation can contribute to GDP growth and better governance considering citizen needs. However, for this a number of preconditions need to be fulfilled. This can be a tricky issue.
Decoding the realm of decentralisation
For this reason, the OECD has developed a number of guidelines for effective decentralisation:
Clarify the responsibilities assigned to different government levels

Ensure that all responsibilities are sufficiently funded

Strengthen subnational fiscal autonomy to enhance accountability

Support subnational capacity building

Build adequate coordination mechanisms among levels of government

Support cross-jurisdictional cooperation

Strengthen innovative and experimental governance, and promote citizen engagement

Allow for and make the most of asymmetric decentralisation arrangements

Consistently improve transparency, enhance data collection and strengthen performance monitoring

Strengthen national regional development policies and equalisation systems
At European level, the European Committee of the Regions (CoR) has developed a portal on the division of power and the decentralisation index (Opens in a new window). Based on a set of decentralisation indicators it allows to monitor and compare different facets of decentralisation across EU member states. A recent CoR study (Opens in a new window) deepens these insights on effective decentralisation along the OECD guidelines and adds a reflection on the potentials of the European Semester in this regard.
The study sheds some light on the diversity that characterises the extent and dimensions of decentralisation across EU member states. While some countries embrace a harmoniously decentralised framework, others show imbalances across the dimensions. Furthermore, the degree to which subnational levels are equipped with the necessary resources which allow for an effective and meaningful decentralisation varies.
Capacity building for effective decentralisation
A critical facet of decentralisation's success is the capacity of subnational public authorities to manage the responsibilities transferred to them. Decentralisation comes with a need for continuous capacity building, not only in terms of knowledge and skills but also in augmenting personnel within subnational administrations. The intricate relationship between responsibilities and capacities becomes evident, revealing instances of mismatch.
Knowledge and skills in subnational administrations need adequate human resource, which reflect the division of competences. In general, more delegated competences mean more human resources at the corresponding subnational level. However, data shows, that especially countries with a low share of local human resources risk a lack of capacity. In some countries, e.g. Malta, Cyprus and Ireland, more than 90% of the public employees work in national administrations. In contrast to this, in Finland about 80% of the public employees work at local level. This is followed by Sweden, Denmark, Latvia and Romania with about 60%.
Financial autonomy as backbone of decentralisation
The connection between decentralised responsibilities and corresponding financing is a pivotal juncture. In most cases this implies a mix of transfer of funds from the national to subnational levels and fiscal autonomy at subnational level, i.e. the right to levy taxes. The CoR study reveals that several member states face the challenge of 'unfunded mandates' where responsibilities exceed available resources. This risk appears to be highest in Lithuania, Estonia, Bulgaria, Romania and Slovakia. In most of these cases the subnational level depends largely on transfers from their national governments.
Generally, at regional level, it seems the risk of unfunded mandates is higher in centralised countries and, ceteris paribus, regions with less development.
Asymmetric decentralisation
Decentralisation does not entail uniformity in responsibilities and revenue sources across administrative units of one level. Instead, effective policy implementation often embraces asymmetric decentralisation, accommodating diverse needs and contextual realities. This concept finds resonance e.g. in federal countries and is reinforced by bottom-up processes that introduce reforms or expand functional area partnerships.
In many cases asymmetric decentralisation is also linked to the possibility to experiment and test new forms and formats for decentralisation. This has e.g. been the case in France and Sweden. In some cases experimentation can induce wider changes in the balance between different levels of administration.
Coordination mechanisms
Effective decentralisation hinges upon well-defined coordination mechanisms between different levels of government. Countries with significant decentralisation often employ official representation and structured consultation procedures to foster intergovernmental collaboration. Additionally, cross-jurisdictional cooperation emerges as a vital element, manifesting in various forms such as joint administrations, partnerships, and coordinated strategies.
The European Semester: A Catalyst for Change
The European Semester was introduced in 2011 to make the EU economic governance more resilient through better coordination of policies across member states. Largely the European Semester is a framework for policy dialogue between EU institutions and member states. It can also be tool to highlight ineffective decentralisation features. However, this is rather rare. Indeed, only about one third of the country specific recommendation in 2022 – an important element of the European Semester – include references to decentralisation in general and only very few touch on fiscal aspects of decentralisation. In line with the overall objective of the European Semester fiscal aspects concern only the national level and overall budget.
In comparison, the National Reform Programmes (NRPs) refer more frequently to decentralisation, e.g. related to governance functions and competences. Fiscal decentralisation and autonomy are less frequently addressed than general decentralisation issues.
Charting the Path Forward
Overall, decentralisation is a multifaceted puzzle, requiring the delicate interplay of political, administrative, and fiscal elements. The European Committee of the Regions' portal on the division of power and the decentralisation index (Opens in a new window) offers policy makers a tool to monitor and refine decentralisation efforts. To nurture effective decentralisation, continuous vigilance over financial autonomy, territorial disparities, and evolving governance structures with political accountability is paramount. The journey towards a balanced decentralised framework is intricate, more details which can help this journey are offered in the CoR study (Opens in a new window) on effective decentralisation in the context of the European Semester and beyond.
By Kai Böhme & Sabine Zillmer
https://steadyhq.com/en/spatialforesight/posts/34a834f6-6159-4bf9-801e-c2965f9acd4e

(Opens in a new window)
Topic
Cohesion (policy)
Read more from spatialforesight