What's nearby? Rediscovering proximity economy
August 2023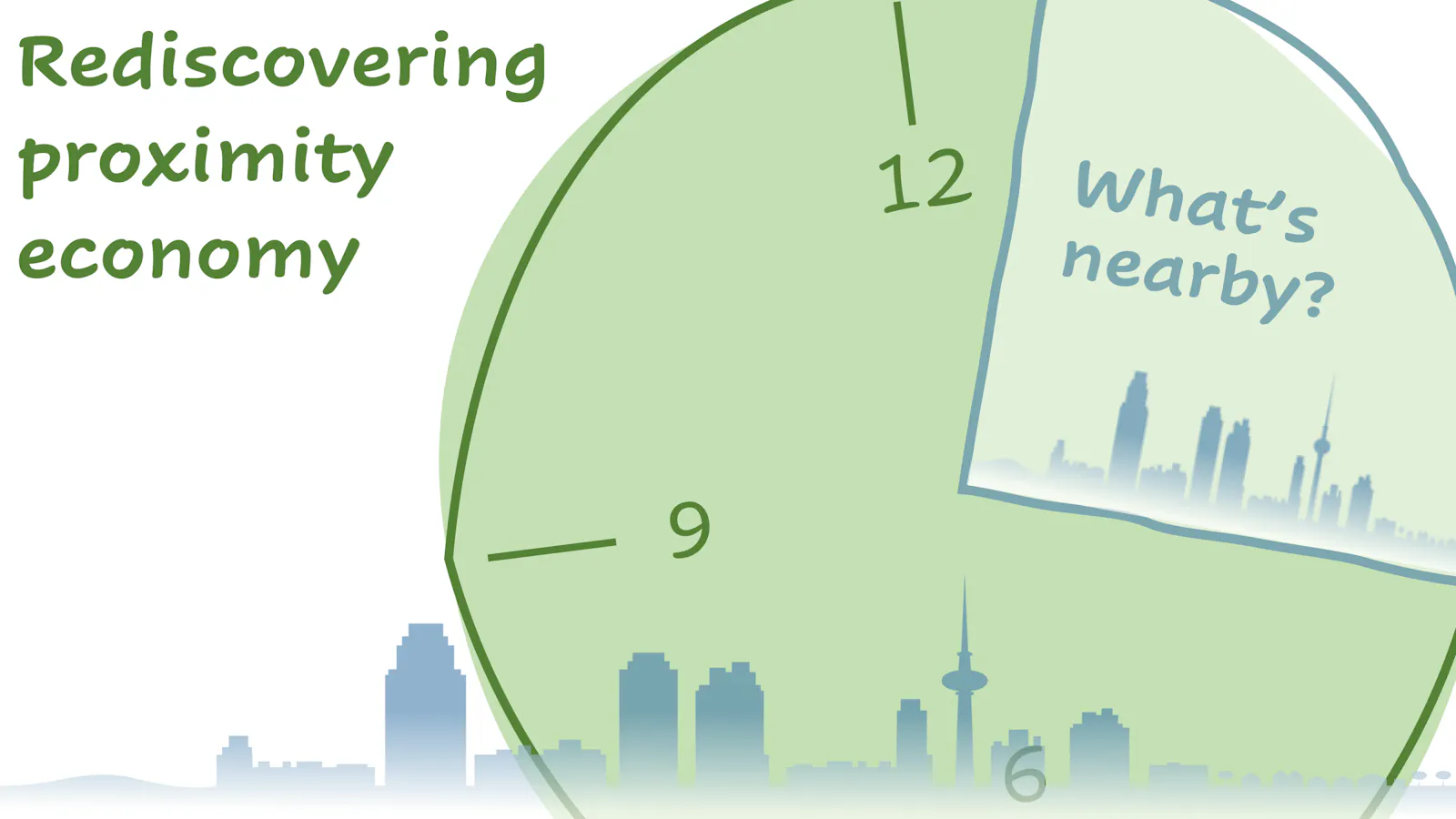 Recent trends in sustainable urban development mark a shift (back) to making cities more human-centred and enable public spaces that foster social cohesion and entrepreneurial spirit. For urban planning, this means finding ways to create a mix of functions in smaller scale neighbourhoods, ensuring accessibility through public transport and micro mobility and dedicating space for social interaction. In the EU, the New Leipzig Charter (2020) (Opens in a new window) also stipulates the need to rediscover cities' role in contributing to sustainable development through being just, green, and productive. The recent global pandemic challenged those efforts by limiting social interactions and mobility and impacting the way people work and live and how businesses operate. As part of the efforts to accelerate the green and digital transition of the EU, in parallel to addressing the recovery from the pandemic, the European Commission adopted changes to the EU Industrial Strategy (Opens in a new window). The focus was placed on different industrial ecosystems and their role in recovery and competitiveness on different scales. From a broader perspective, this includes efforts in re-shoring and nearshoring of economic activity. In addition to that, environmental considerations also justify shorter value chains and optimisation of business models. In an urban context, considering the redefined relationship with space, the dimension of proximity became central – what role does distance play in our everyday lives? How are proximity considerations embedded into business models and how do we design cities that enable economies of short distances and lively and dynamic areas?
From business perspective, proximity can have different roles. Proximity can be understood as a way to organise economic activity around direct relationships. To a certain extent, this interpretation relates to traditional ways of organising markets locally where local producers would sell to customers nearby and manufacturing would be small-scale, catering to local needs and demand. This type of market activity can be viewed as the opposite of the global value chains, enabled by faster connections and logistics. Shifting production and consumption (back) to local and regional markets (also in the context of re-shoring) can enable endogenous economic potential and support local communities in cities and regions. How can businesses collaborate to enable closer cooperation and potentially shorten their supply chains? Identifying potential direct sourcing partners and adapting business models, taking into account efficiency of cost and resources, can open new business opportunities.
From urban planning perspective, local economic activity is an important element of quality of life in cities. Small-scale commercial spaces, markets, local pubs, and neighbourhood cooperatives can become a focal point for social life in a specific area. They can also contribute to the reutilisation of vacant spaces. The EU recognises the role of local economy as part of the efforts to achieve sustainable urban development. The New Leipzig Charter (2020) (Opens in a new window) calls for creating the necessary conditions in EU cities to enable innovation, small-scale businesses and the re-integration of production in cities and urban areas. To a certain extent, the effort to re-introduce different activities, including small-scale production and trade, back to neighbourhoods reverses long-term trends in urban development where functions ought to be separate and usually lead to sprawl. This new trend aligns with urban planning concepts such as mixed use and multiple land use where distinct urban functions are embedded together in smaller and well-planned districts. What specific measures can cities undertake to enable local and regional economies of proximity? Place-based approaches and support to local economic actors together with mobility and accessibility infrastructure can allow for lively and dynamic neighbourhoods.
Local economies and business networks can enable shorter value chains as part of the efforts to increasing resilience and support the green and digital transitions. Shorter value chains can help facilitate the reuse and repurposing of products, waste or even food by keeping them in the local production-consumption patterns through repair services, recycling initiatives and food banks. Technological solutions in this regard can also help businesses and consumers make more sustainable choices. Businesses operating in proximity can also have further contributions – for instance, by including underrepresented groups in their operations or by providing services to citizens in need. How do proximity economy and social economy overlap and how do they cooperate? Integrating social considerations in business models and focusing on the local community can be one answer to the question.
Developing healthy and vibrant neighbourhoods is a long-term objective of urban planning. Neighbourhood planning concepts that focus on diversity of use, balanced distribution of space between urban functions and enabling community spaces for interaction can benefit citizens and improve overall quality of life. Local businesses are also part of these planning concepts. Whereas large office areas or industrial zones usually concentrate business workers during the regular working week, small scale businesses operate every day, providing services to commuters and neighbours alike. The last few years have given rise to new planning concepts and revamped old ones that ought to achieve the above objectives. Examples such as the 15-minute city in Paris and the Superblocks in Barcelona or the 20-minute suburb have illustrated a renewed ambition to redefine space and proximity and reclaim areas for public use and social life. These new concepts also have implications on accessibility and local economies. Local businesses may find new customers while citizens can rediscover and/or reclaim their neighbourhoods. How can these planning concepts be applied to support economies of proximity? Finding balance between urban planning measures and business initiative and supporting local communities and a sense of belonging can potentially open new avenues for partnership.
A virtual workshop on 29 September 2023 will further explore the above questions. It is targeting academics and practitioners that have worked on the topic. If you are interested, please contact n.gorman@vva.it (Opens in a new window) . The workshop is part of a study on proximity economy in the EU. This study is currently conducted by Spatial Foresight, VVA and LSE Cities, on behalf of the European Commission European Innovation Council and SMEs Executive Agency (EISMEA).
By Bozhidar Ivanov
https://steadyhq.com/en/spatialforesight/posts/9b98b10c-37c7-47ff-bfd0-8499e7264c12

(Opens in a new window)
Topic
Territories
Read more from spatialforesight