Complementarities of EU policies – beyond the usual suspects
September 2023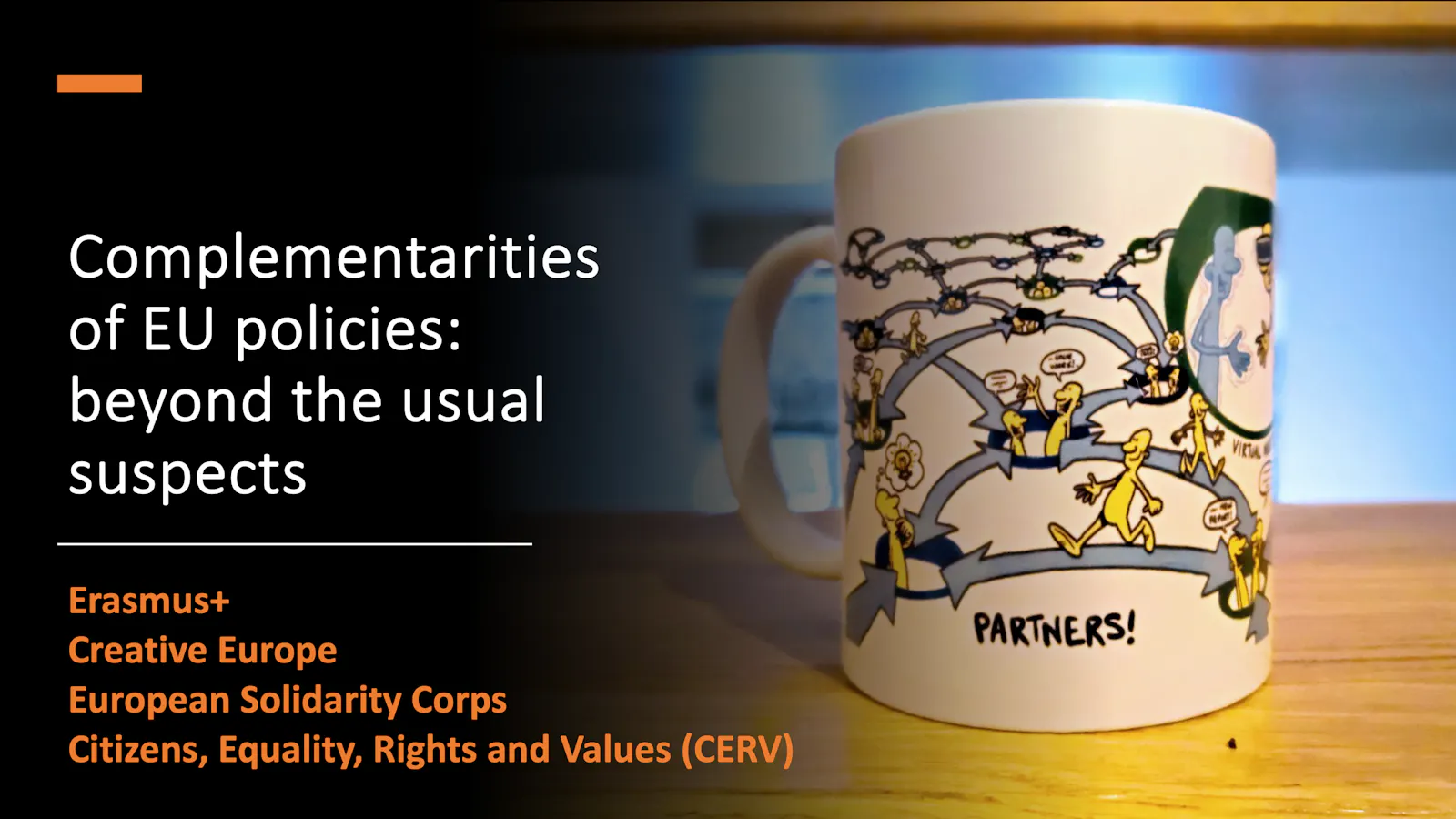 In an earlier blog post (Opens in a new window) we stressed the need to pay more attention to potential synergies between policies – in particular EU policies. Many objectives cannot be achieved by a single policy but require various policies to play together – this is especially the case in an environment of ambitious policy objectives and increasing financial constraints.
This post touches on four policies not so prominent in the debate of territorial development, i.e. Erasmus+, Creative Europe, European Solidarity Corps, and Strand 3 of CERV. Based on a recent report to the European Parliament (Opens in a new window), it addresses their coherence with major EU challenges and priorities. Taking this debate one step further, we add some freestanding reflections on their potential links to the EU cohesion objective and Cohesion Policy.
The four programmes
The focus of the above study is on four programmes in the field of culture and education:
Erasmus+ offers opportunities for young people, i.e. students, pupils and apprentices, to study, train and work abroad, as well as opportunities for adult learners and teaching staff. It supports various initiatives such as European universities, centres of vocational excellence, DiscoverEU and the European student card.

Creative Europe aims to safeguard, develop and promote European cultural and linguistic diversity and heritage, and to increase the competitiveness and economic potential of the cultural and creative sectors, in particular the audiovisual sector.

European Solidarity Corps offer young people the possibility to become involved in a range of different solidarity activities. These include volunteering; local solidarity projects bringing together at least five people residing in the same country around a common project; and volunteering in humanitarian aid.

CERV stands for Citizens, Equality, Rights and Values. Strand 3 of the programme sets out to promote citizens' engagement and participation in the democratic life of the EU and exchanges between citizens of different member states.
Potential contributions to EU priorities
The EU Parliament study shows that while each programme has strengths and areas for improvement, their adaptability and potential to contribute to EU objectives are evident.
The analysis assessed among others, the programmes' relevance in light of the EU's green and digital transition and need to act more autonomously in strategic policy areas. It furthermore looked at the programmes' coherences with six EU Commission priorities for:
A European Green Deal;

A Europe fit for the digital age;

An economy that works for people;

A stronger Europe in the world;

Promoting our European way of life;

A new push for European democracy.
All four programmes show coherence with European Commission priorities, although this varies within the priorities. In particular, the coherence of the programmes with 'new push for European democracy' is relatively high. This is followed by the coherence with the 'European Green Deal' and 'A Europe fit for the digital age', which underlines the programmes' potential to contribute to the green and digital twin transition. The coherence of the four programmes is the lowest for the priority 'A stronger Europe in the world' (see table).

In short, the findings per programme can be summarised as follows:
Erasmus+: Flexible response to EU challenges. The programme's design aligns well with the six European Commission priorities, demonstrating potential for delivering results that support these policy objectives. Four of the priorities are directly integrated into the programme, while the others are addressed through skills development and international partnerships. With this focus, it particularly shines in addressing the green and digital transitions.

Creative Europe: Fostering creativity and flexibility. The Creative Europe programme excels in encouraging creativity, but it is not well recognised by other EU policies. It is on the way to become a reference practice for linking green funding to the cultural and creative sectors, thereby addressing green transition challenges of these sectors. It however underplays its potential in addressing broader digital transformation and strategic autonomy issues.

European Solidarity Corps: Addressing transitions and solidarity. The programme has a high level of coherence with green and digital objectives tackling their challenges. Its focus is especially on environment, climate change and green skills as well as skills related to literacy, education and information and communication technologies. While also being aligned to the other European Commission priorities, its solidarity focus is most visible in the promotion of European democracy.

CERV: A Cross-Cutting Approach. Strand 3 aligns well with European Commission priorities and incorporates especially those that are less well addressed by other programmes, which mirrors its strong societal focus. In consequence, it less emphasises the digital and green transitions. Designed as a bottom-up programme, it shows flexibility in introducing new topics in the area of democratic values and corresponding challenges.
Potential to contribute to cohesion
Going one step further, beyond the scope of the study, the question is how do the programmes' link to the EU cohesion objective and Cohesion Policy. As outlined earlier, cohesion is too big a task for a single policy and requires a cohesion spirit (Opens in a new window) in all policies.
To start the debate, the following offers some first reflections on the four programmes' potential to contribute to more cohesion between people and places in the EU:
Erasmus+: Bridging knowledge and skills gaps. The idea of Erasmus+ aligns well with the aim to enhance cohesion across the EU. By promoting education, training, and youth exchange, Erasmus+ has the potential to address disparities in access to knowledge and skills. It offers opportunities for individuals from diverse backgrounds to gain valuable experiences, ultimately contributing to a more skilled and adaptable European workforce. As a result, Erasmus+ may help to bridge the gap between people and places in the EU.

Creative Europe: Cultivating cultural and creative unity in diversity. Creative Europe supports the growth of the cultural and creative sectors, fostering cultural diversity and unity simultaneously. By facilitating cross-border collaborations and promoting cultural exchange, Creative Europe helps regions across the EU showcase their unique cultural identities. This cultural richness not only promotes cohesion but also attracts tourism and investment, benefiting both economically disadvantaged and prosperous regions.

European Solidarity Corps: Building social cohesion. The European Solidarity Corps embodies the spirit of solidarity, one of the core principles of EU Cohesion Policy. It engages young people in volunteering and solidarity activities, addressing societal challenges that affect various regions differently. By participating in solidarity projects, young Europeans develop a sense of community and shared responsibility, reinforcing social cohesion. Additionally, the programme's adaptability in responding to crises, such as the COVID-19 pandemic, demonstrates its potential to support regions in times of need.

CERV: Promoting democratic cohesion. Strand 3 of the CERV programme focuses on promoting democratic values and participation. By encouraging active citizenship and civil engagement, it has the potential to contribute to cohesion by reducing the risks of people and places feeling left behind in decision making processes. Empowering citizens to participate in shaping the future of their communities fosters a sense of ownership and unity. This strand's activities are particularly valuable for regions where democratic participation may be less robust, reinforcing the EU's commitment to democratic principles across all regions.
In summary, the four programmes hold potential to contribute to reducing disparities and promoting cohesion among people and places in the EU. They do so by addressing very different dimensions and aspects of cohesion. By providing opportunities for education, culture, solidarity, and civic engagement, they have the potential to contribute to a more united, cohesive and inclusive Europe. The ability of these programmes to bridge disparities in knowledge, skills, culture, and social engagement enhances the EU's overall cohesion and resilience, ensuring that all regions can benefit from the shared European project. Still, this is just a first reflection and would require more thorough analysis, comparably to the coherence assessment by the European Parliament.
Concluding Thoughts: Aligning EU Programmes with Policy Objectives
The coherence assessment underlines the importance of EU programmes aligning with key policy objectives. While some programmes naturally exhibit higher levels of alignment due to their thematic focus, others feature with their ability to adapt and contribute to diverse priorities. The findings from the coherence assessment may help guide future adjustments and coordination efforts to ensure that these programmes play a vital role in advancing the EU's objectives and strategic autonomy.
While the coherence assessment focused on aligning these programmes with EU policies and priorities, their potential contribution to cohesion – strengthening synergies with EU Cohesion Policy – is equally significant. These programmes can act as instruments of unity, fostering development, cultural richness, social solidarity, and democratic engagement across the EU. Their continued support and adaptation will play a vital role in strengthening cohesion among member states and regions, ensuring a more prosperous and harmonious EU.
By Kai Böhme
https://steadyhq.com/en/spatialforesight/posts/ed32d1fa-a85c-4871-82e3-cde5f318900b

(Opens in a new window)
Topic
Cohesion (policy)
Read more from spatialforesight