EU Green Deal going local & regional: Biodiversity
June 2022
The loss of biodiversity is a substantial threat to our livelihood. At local and regional level, a range of actions to safeguard and strengthen biodiversity have been elaborated in both urban and rural areas. Urban areas often focus on developing green infrastructure, limiting sprawl and optimising planning to preserve habitats. Rural areas often seek to preserve permanent pastures and meadows, adapt agricultural practices, protect and restore wetlands, peatlands and coastal ecosystems, sustainably manage marine areas, forests, grasslands and agricultural soils. In all areas, the challenge is to mainstream biodiversity concerns across policies, e.g. tourism development, food production, transport, waste management.
To help this process, the European Committee of the Regions is currently developing a handbook for local and regional governments on how to implement the European Green Deal. It focuses on the need for the Green Deal to go local and regional in many policy domains. One of which is biodiversity.
The handbook includes, among others, hints on key elements to be considered for the development of local or regional biodiversity strategies and action plans. They can also be relevant for more targeted initiatives e.g. concerning policies to support nature based solutions or to enforce the no-net-land-take objective, i.e. avoid, reduce or compensate for land take.
Four key elements for integrating biodiversity in the decision making of local and regional authorities are illustrated in the figure. They stress the importance of a robust evidence base, including good overview of practices and players with a negative impact on biodiversity, or with a particular sensitivity to the effects of biodiversity losses. This is the basis for strategic reflections on how biodiversity concerns can be mainstreamed across all sectors, including dedicated governance frameworks, which make the elaboration and implementation of a transformative biodiversity strategy possible.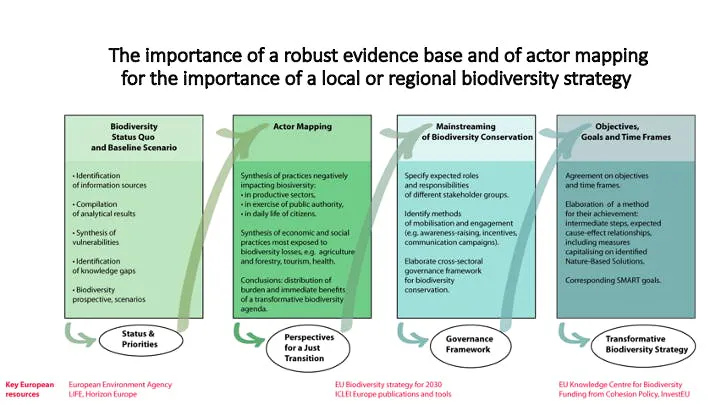 Biodiversity status quo and priorities
To start with, the state of play of biodiversity in a municipality or region needs to be analysed. For this relevant information sources need to be identified and collected, analytical results complied and a synthesis of the vulnerability of the biodiversity has to be conducted. This process will help to fill some knowledge gaps with existing information and uncover more knowledge gaps which might need to be filled later. The information on the status quo and vulnerability of an area's biodiversity allows also to develop scenarios about the future, if nothing is changed or if certain measures are taken.
Relevant inspiration sources could include materials from the European Environmental Agency, the LIFE programme or selected Horizon projects.
Actor mapping
The analysis and scenarios can also be used to identify which players are essential for improving the area's biodiversity. Starting point are the economic and social activities affecting biodiversity. In addition, also the activities and players affected by a loss of biodiversity need to be mapped, e.g. in the fields of agriculture, forestry, tourism, health. The mapping of relevant players includes the synthesis of practices impacting the biodiversity negatively or positively, e.g. by productive sectors, public authorities, citizens' daily life. Identifying all relevant players and getting them on board will help to develop perspectives for a just transition and thriving biodiversity.
Mainstreaming biodiversity conservation
The next step is the development of a governance framework for biodiversity. This includes the specification and negotiation of expected roles and responsibilities of different players. As not all players might be interested in the first place, methods need to be identified how to mobilise all relevant players and secure their long-term engagement and commitment. This can range from awareness raising over communication campaigns to financial and non-financial incentive systems for individual players. As there is no single player who solely can ensure a thriving biodiversity in a municipality or region, a cross-sector governance framework for biodiversity needs to be developed.
Relevant inspiration sources include the EU biodiversity strategy for 2030 and various publication and tools published by ICLEI Europe and the IUCN (International Union for the Conservation of Nature).
Objectives, goals and time frames
The development of a governance framework is tightly linked to the agreement on objectives and goals to be achieved through this governance arrangement, and by when the objectives shall be achieved. This comprises the setting of overall goals and identification of measures how these can be reached by the involved players. To do so, cause-effect relationships need to be sorted out, intermediate steps and goals need to be identified as well as measure who to capitalise the changes achieved.
Together with the governance framework, this can form a transformative biodiversity strategy for a municipality or region. Inspiration for this can e.g. be taken from the EU Knowledge Centre for Biodiversity.
These steps and many more details, are presented in the handbook for local and regional governments on how to implement the European Green Deal. The full handbook will become available soon.
by Kai Böhme, Erik Gløersen, Arndt Münch and Helene Gorny
https://steadyhq.com/en/spatialforesight/posts/00b3c0f6-bea6-4f9b-af97-26f0236f51e1

(Opens in a new window)
https://steadyhq.com/en/spatialforesight/posts

(Opens in a new window)
Topic
Resilience & transition