Cohesion Policy scenarios
June 2022
What is the future for Cohesion Policy in a more resilient Europe? European policy making can respond very differently to the need for more resilience. Depending on the overall response, the role of Cohesion Policy and the involvement of local and regional authorities will vary.
Three radically different policy scenarios can depict this (see figure):
The first focuses on a new era for Cohesion Policy. A shift towards resilience and flexibility allows Cohesion Policy to become the main instrument to increase resilience and react to changing contexts or new crises. Instead of developing new policy responses to new policy needs, EU policy making benefits from the experience and virtues of place-based management for Cohesion Policy.

The second scenario focuses on a return of Cohesion Policy to its primary cohesion objectives. Increasingly other objectives for innovation, energy, climate change, etc. are addressed by growing sector policy instruments. New needs, including responses to new crises, are addressed by new policy initiatives.

The third scenario focuses on changing policy needs in a changing world. Here, Cohesion Policy is not adaptive enough to support the need for a more resilient Europe. Subsequently other policy instruments which are more agile, grow and take over. In the long-run this leads to a diminishing importance and finally the phasing out of Cohesion Policy. New policy instruments dominate as they are better suited to the new times.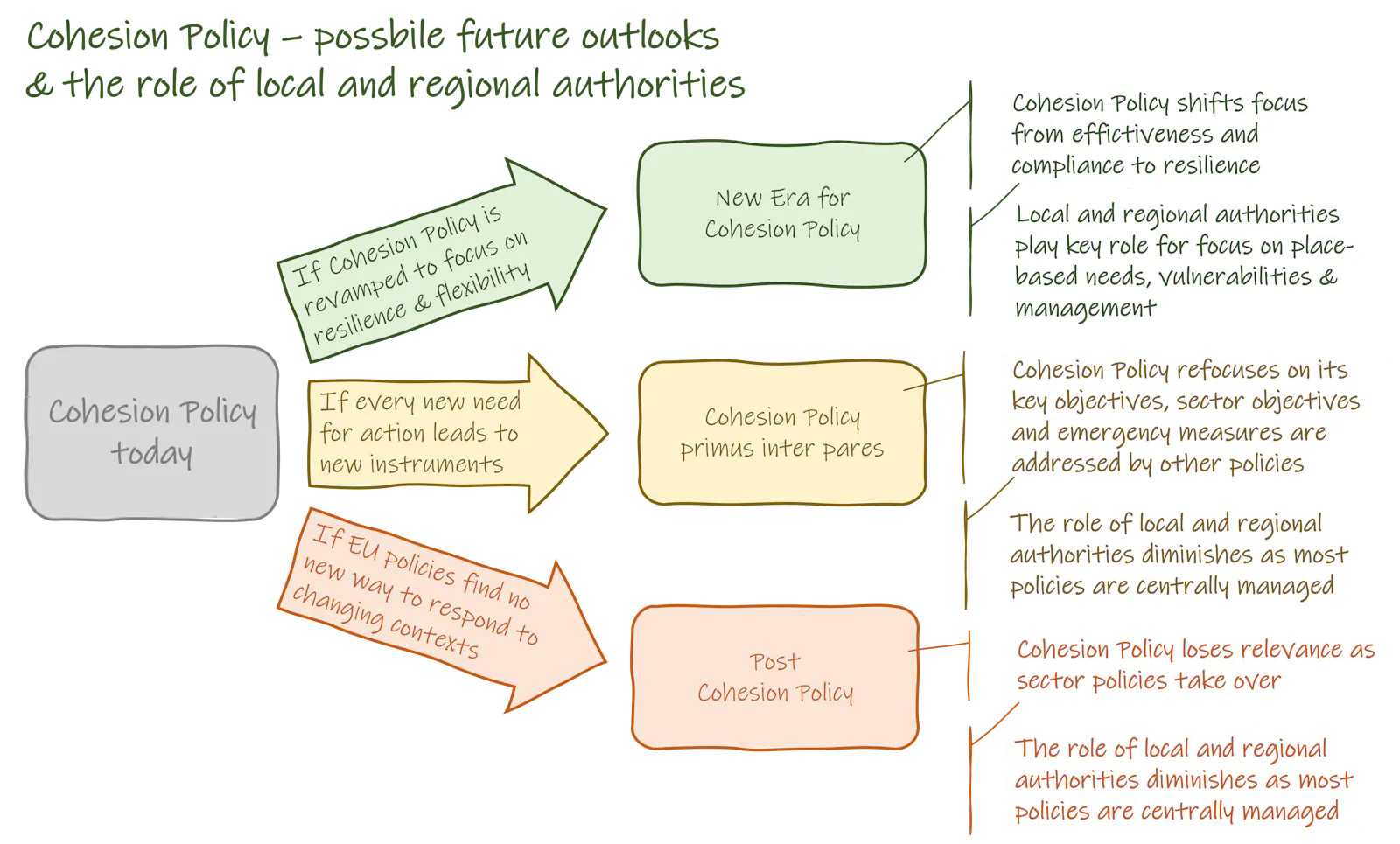 A New Era for Cohesion Policy
Resilience does not mean a 'return to equilibrium', as there is no true equilibrium. It means a constant need to find 'new' equilibriums balancing stability and flexibility. This requires the capacity to react and think about alternatives and new scenarios and how to achieve them.
To better respond to the needs of a changing world and support resilience so cohesion objectives are achieved, Cohesion Policy is considerably revamped.
In this scenario, Cohesion Policy enters a new era. It is no longer a 'flanking policy' or 'compensatory instrument' to address 'market failures' of EU integration. It becomes the key policy to tackle developments which challenge economic, social or territorial cohesion and increase resilience.
During the COVID-19 pandemic, Cohesion Policy has proven that it can swiftly react to changing circumstances, if the regulatory framework allows. Furthermore, the pandemic has shown that it is much more efficient to build on existing management and programme structures rather than setting up new structures in a rush. Thus, using Cohesion Policy as the most adequate policy for dealing with change, emerged as the best option to harvest the experience and structures of this policy to make Europe more resilient. It also allowed for a place-based approach to assessing and addressing local and regional vulnerabilities and potential when adjusting to new circumstances or substantial transitions.
In concrete terms, this implies revamping and widening Cohesion Policy. Putting a strong focus on resilience, shifts from addressing local and regional vulnerabilities to (green, digital, just) transitions and external shocks. This implies a wider thematic coverage and less focus on compliance and efficiency. The focus on resilience also requires a new approach to monitoring and evaluation. This is because the time lag between investments and benefits increases and benefits are understood in a broader sense, going beyond the scope of unilateral 'single-best efforts'. Furthermore, Cohesion Policy links to structural conditionalities are changed so specific types of investments are linked to specific conditionalities. In principle this is on the basis of one-to-one relations, i.e. one type of investment is linked to one conditionality.
This new era of Cohesion Policy paved the way for stronger multilevel governance and the involvement of local and regional authorities in designing and managing EU policies. This is accompanied by considerable simplifications and increased flexibility, where multilevel governance no longer means increasingly long winded and slow decision making.
To achieve this, local and regional authorities must be able to take decisions where they can actively shape their future. They need more empowerment to mobilise people and resources, collaborate, navigate under uncertainty and to punch above their weight when needed. This is a particular concern for less affluent, small, urban and rural areas, as they have been partially side-lined in EU policy responses to the pandemic and the recovery.
Cohesion Policy as primus inter pares
Jacques Delors originally introduced the idea of Cohesion Policy as a 'flanking policy' to enhance solidarity between member states by broadening the scope to regions and their socioeconomic characteristics. The idea was to generate a dynamic convergence mechanism by expanding the scope of intra-European solidarity and go beyond financial compensation.
Increasingly, in the last programming periods, Cohesion Policy has become the vehicle for implementing other policies (market, environment, innovation etc.). This has entailed a far more complex implementation framework and the Cohesion Policy was used more as a means rather than a goal (the so-called 'ATM of other policy').
In this scenario, Cohesion Policy goes back to its roots, but this time accompanied by new, complementary EU policy instruments, making it stronger. Consequently, Cohesion Policy leaves room for other policies and becomes primus inter pares.
The crises of the early 21st century have shown that Cohesion Policy struggles to adjust to changing circumstances and external shocks. This became clear with the 2008 financial crisis. Based on lessons learnt from then, Cohesion Policy was quickly complemented by new instruments during the COVID-19 pandemic. The same pattern was followed to tackle impacts of the war in Ukraine. Large and centralised policy instruments such as NRRPs seen as more agile. Due to leaner management and fewer administrative requirements, they are more flexible and swifter in addressing emerging needs. Furthermore, introducing new policy schemes gives more media and public visibility to EU policy making and an increasingly politicised European Commission. As citizens can see that the EU addresses their needs, they also become more supportive of the EU. However, the 'simplified' policy tools neglect basic principle of Cohesion Policy such as programming, partnership, accountability, capacity building.
In concrete terms, this implies that Cohesion Policy returns to its primary cohesion objective and focuses on cushioning the 'market failures' of EU integration. Other sector objectives (e.g. in the fields of innovation, energy, climate change etc.) are addressed by a growing body of sector policy instruments. As Cohesion Policy is narrower, thematically better defined and protected, it increases its capability to deliver on cohesion. This is the advantage a narrow Cohesion Policy has over a larger Cohesion Policy, which tries to be everybody's darling and engages in policy questions it is not suited or designed for (e.g. reforms or direct support to SMEs). Having a well fenced Cohesion Policy allows it to focus on its strengths and comparative advantages rather than struggling with secondary policy objectives.
Cohesion Policy as primus inter pares paves the way for a new architecture of EU policy making. The narrow but successful Cohesion Policy is accompanied by a range of sector policies, each focusing on its own objectives.
The changing architecture of EU policy making and governance processes, is accompanied by broad debates about the trade-offs between participatory multilevel governance and agile centralised management. For Cohesion Policy the advantages of place-based solutions and multilevel governance are evident. In other policy fields the advantages of agile centralised policy design and management prevailed. Therefore, most of these sector policies are large schemes managed at national level. As a result, while local and regional authorities are important players in the field of Cohesion Policy, their overall influence on EU policy making decreases.
Post Cohesion Policy
The EU has to ensure a strategic long-term transition to a sustainable and digital Europe. Boosting economic recovery could support transitions towards a more sustainable and digital Europe. At the same time, there are risks that more substantial shifts to sustainability and digitalisation could be side-lined if they are too cumbersome and time-consuming, given the need for quick economic recovery and the economic impacts of the war in Ukraine. Balancing the need for a strategic long-term perspective with flexible policy making to react to emergencies requires a consequent rethinking of EU policy making.
In this scenario, Cohesion Policy is phased out as it represents the 'old type' of policy making. Cohesion Policy is not adaptive enough to support the needs of an agile and resilient Europe. A new type of policy making evolves which focuses on changing policy in the light of a changing world, with a better understanding of interdependencies.
The economic, social and territorial impacts of the COVID-19 pandemic and the war in Ukraine underline the need for better understanding of mutual interdependencies. This involves interdependencies between sector policies, between economic sectors, between societal groups and between regions. Prime examples are the disruptions of international value chains, or the wave of African refugees caused by food shortages due to the war in Ukraine.
Furthermore, the series of more or less successful emergency policies addressing short-term needs, also underlines the need for more strategic policy. Without a strategic long-term perspective, it is not possible to become more resilient and approach the necessary digital, green and just transition processes. In many cases channelling funding from long-term investments to short-term spending without any long-term framework, delays important transition processes.
Subsequently, EU policy making engages in a complete overhaul. Every policy is scrutinised to see whether it suits the 'new type' of policy making. More agile and often centrally managed policies gain in importance and have more budget. Cohesion Policy on the other hand is considered too cumbersome. Several attempts to simplify it and make it more flexible fail to break the inertia of the compliance-focused system. Subsequently Cohesion Policy declines in budget and importance. Eventually it is discontinued. This opens the door for a new regional policy era, post Cohesion Policy. Starting from a blank sheet of paper without legacy and inertia to design regional policy based on the needs and requirements of today without historical ties.
In the evolution of a post-Cohesion Policy era, the involvement of local and regional authorities in EU policy design and management decreases as Cohesion Policy is phased out. What role they finally play in the post-Cohesion Policy era still remains to be seen. It also depends on the future role of administrative compared to functional regions. Indeed, the focus shifts towards functional regions, as they allow for better understanding and tackling of mutual interdependencies.
Concluding reflections
These are just three possible scenarios. There are many more. They point at the need to rethink Cohesion Policy – its purpose, format and relation to other policies – if it shall have a role in a more resilient Europe.
by Kai Böhme, Maria Toptsidou, Alessandro Valenza, Clarissa Amichetti & Arndt Münch
https://steadyhq.com/en/spatialforesight/posts/ebd16192-77b4-40fe-9750-19d68449fdc4

(Opens in a new window)
https://steadyhq.com/en/spatialforesight/posts/75c41b20-24f2-4593-8b08-532d1c9fb857

(Opens in a new window)
Topic
Cohesion (policy)
Read more from spatialforesight