A hyper-digital Danube macro-region: A scenario to digital transition
July 2022
Scenarios can show different paths to transitions
Change is the only constant in today's world, where new developments and trends take place daily. The COVID-19 pandemic and the war in Ukraine, are just examples of how unexpected things can influence peoples' lives in different ways in several aspects and territories in different ways. At the same time the European Union (EU) is in the process of three important transitions towards a greener, more digital and more just EU, the so-called green, digital and just transitions.
What can be possible future pathways towards these transitions? How could they influence different territories? The ESPON TEVI 2050 has timely come to develop different possible territorial scenarios for the Danube and the Adriatic Ionian macro-regions, each focusing on a different future transition. A short series of Steady blogspots will present a snapshot of each territorial scenario to provide some future food for thought on what a possible future pathway can be for each transition. In this blogspot we focus on the Danube macro-region and its total shift to digital transition. Through the digital transition, the EU aims to become fit for the digital age, unlocking the digital growth potential, supporting businesses, citizens and improving public services.
Transforming to a hyper-digital economy
By 2050, the Danube macro-region has taken big leaps to profit from the new global digital era and implement a full digital transition. Places that are innovation leaders or home to a high number of research centres of excellence would be first to benefit from this shift (see map).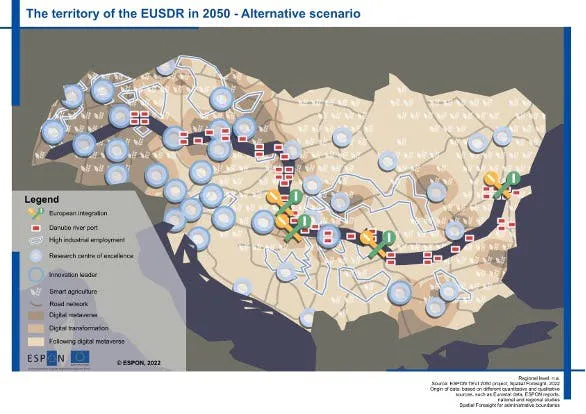 By 2050, achieving a digital economy in pursuit of industry 5.0, is a key priority for the Danube Region, which takes time, however, towards the 2030s it takes a big leap, with support of the overall EU digital transformation and a gradual uprising in industry 5.0. Regions with a high industrial employment, e.g. in the west and central part of the region, can reap the benefits and adjust first to these new models. The region's prosperity focuses on high economic growth through hyper-digitalisation. This has dramatic effects on people's work and everyday lives, as well as industries. The latter gradually walk the industry 5.0 path, redefining their business model and coupling digitalisation, automation, technological development with more sustainable solutions and circular economy practices to achieve by 2050 an industrial symbiosis (see also figure below). Through this digital transition, people's social interactions happen through the metaverse, i.e. through mingling real life with virtual reality. The digital transformation is to be highly seen in the western and central northern part of the region, with some spots to the east, while some regions may leapfrog into digital transition (see map). These changes started gradually but went quickly high after the 2030s, as technological shifts are inevitable and happen at great speed (see figure below).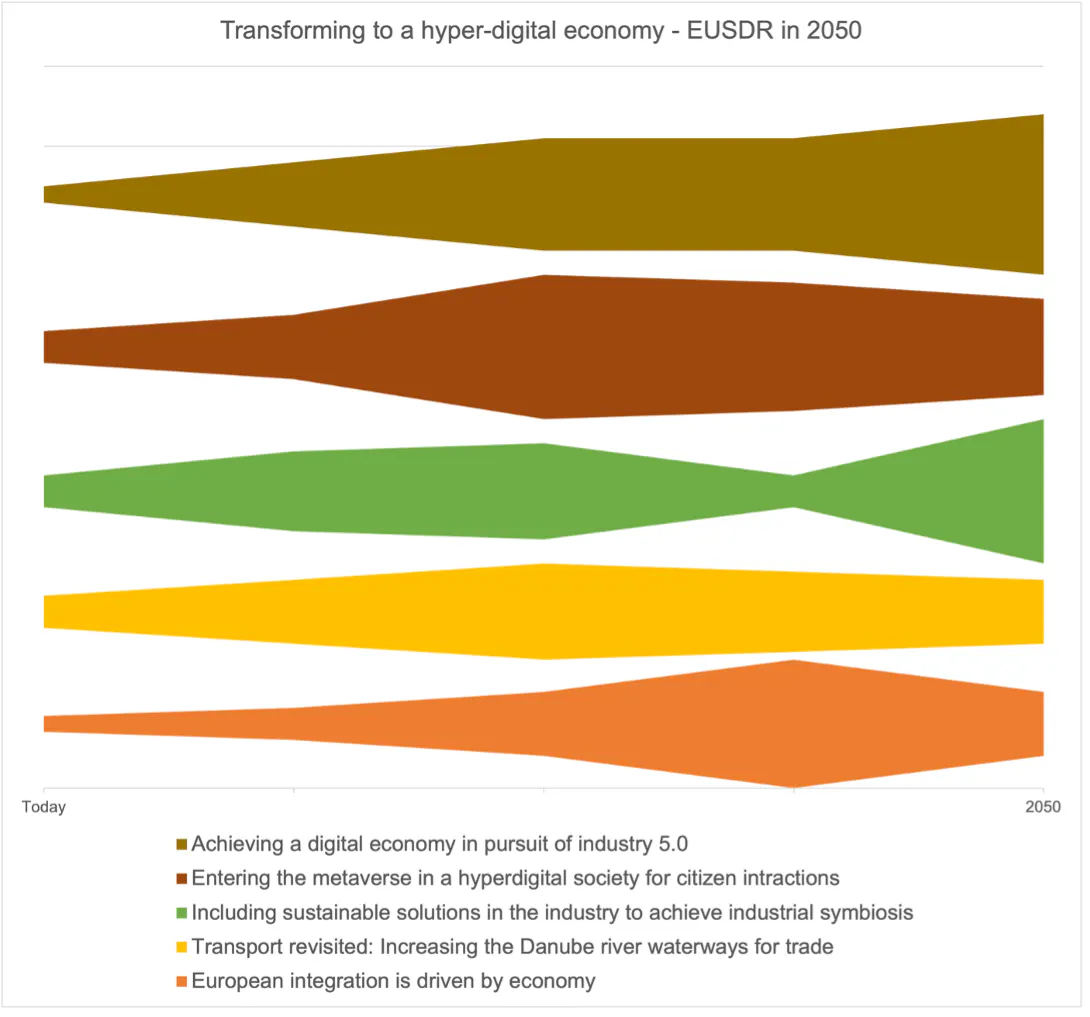 Another shift is seen in transport. By 2050, this scenario suggest that the Danube River has turned into the key transport method for trade, increasing in volume and sustainability, with ports becoming key transport hubs, as depicted in the map, something that takes shape gradually by 2050, as shown in the figure below. With an intense focus on economic growth, EU integration in the Danube Region is a bumpy road with its ups and downs by 2050, being highly driven by the economy and the economic relations of the different places by 2050. Therefore, integration is furthered and supported in those cases where particularly economic integration is promoted.
What can this future teach us? 
Transforming into a hyper-digital economy shows that the Danube Region has turned challenges in the region into opportunities. This has not been an easy path however the region went 'all-in' and bridged digital gaps to achieve a better economic situation in the territory. The scenario shows that our thinking about the future needs to be radical, to be able and think of different options. Having an open mind is necessary for making choices, as our choices for the future development matter to develop desirable futures for the next generations and avoid political myopia.
The scenarios are part of the work carried out in the framework of the ESPON TEVI 2050 project. The reports of the project are to be found on ESPON's project dedicated website (Opens in a new window).
by Maria Toptsidou
https://steadyhq.com/en/spatialforesight/posts/7cae0136-7e0d-4d62-ab84-ebd698ad94ee

(Opens in a new window)
Topic
Scenarios & visions
Read more from spatialforesight