EU Green Deal going local & regional:  Green mobility transitions
June 2022
The transport sector emits around 25% of all greenhouse gases in the EU. It is an economically important sector, employing around 10 million people throughout the EU and contributing to 5% of overall GDP. The economic and social significance of transport in terms of supply chains and mobility behaviour goes beyond what we can read out of these figures.
This makes our transport systems, mobility patterns and behaviour a challenge to achieving climate neutrality by 2050. Still, as outlined in the European Green Deal, Europe must engage in a green transition. This transition does not only concern EU policies. Also national, regional and local policies as well as decisions of all individual enterprises and citizens need to go through a green transition, if the set targets are to be achieved.
To help this process, the European Committee of the Regions is currently developing a handbook for local and regional governments on how to implement the European Green Deal. Indeed, to achieve the objective of the Green Deal, it needs to go local and regional.
Among others, local and regional authorities can contribute to the Green Deal by accelerating the transition to green mobility in their areas. In short, the text suggests a stepwise approach to the adoption of a transformative sustainable transport and mobility strategy.
The focus of this stepwise approach is on allowing for a progressive convergence between stakeholder involvement, geographic scope for strategy design and implementation and socio-economic perspectives. An alignment between these different perspectives makes it possible to envisage a sustainable transport and mobility governance setup, and to organise a participative strategy elaboration process. These are prerequisite for the elaboration, adoption and implementation of a transformative sustainable transport and mobility strategy.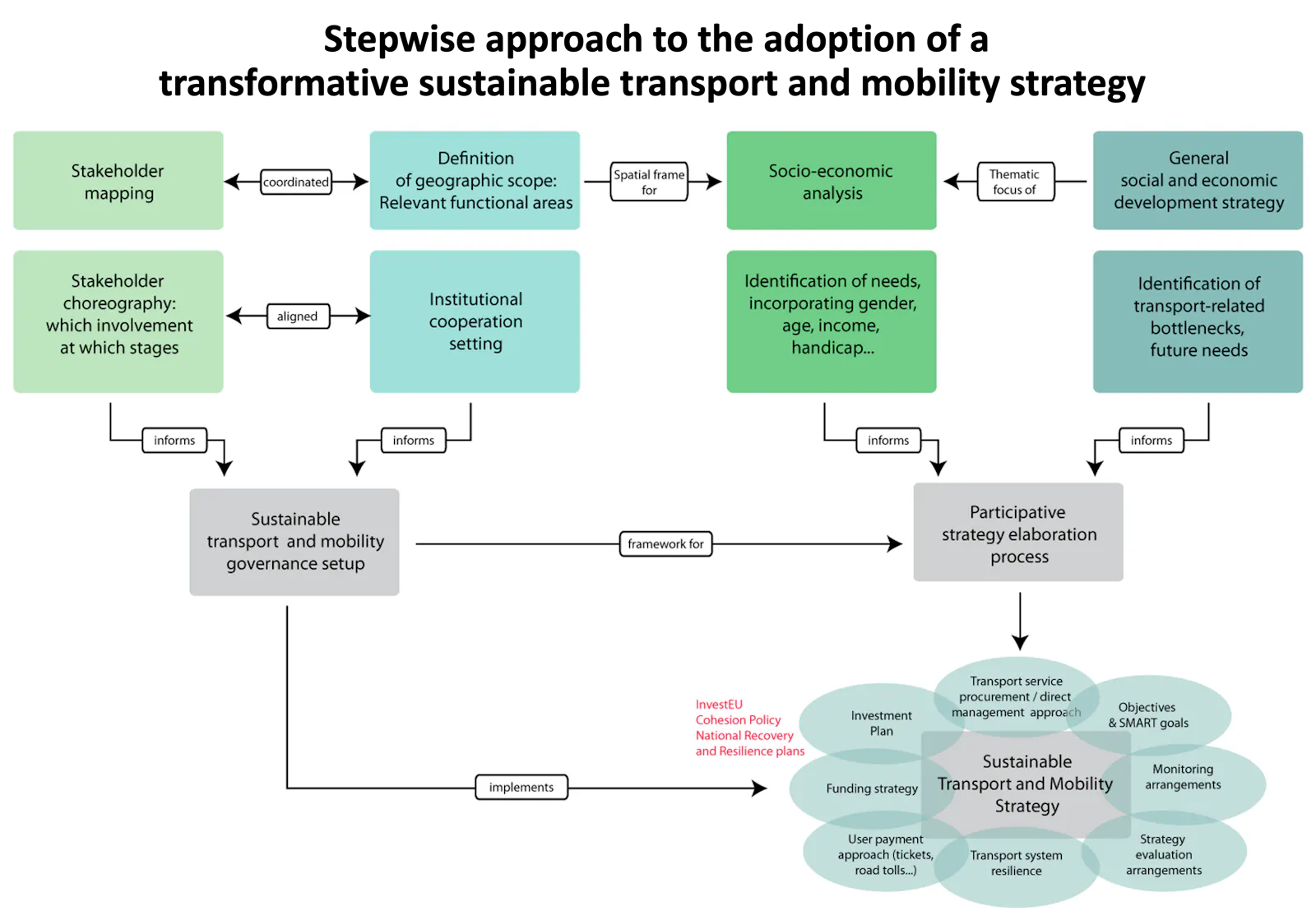 Every city and region faces different mobility needs. The stepwise approach is meant to cater for this and help developing place-based solutions. A core element of it this the strong participative and governance approach throughout the full process. It runs from needs analysis for transition via the policy design and planning process to the implementation.
To ensure the strong ownership and participation of all relevant players and the citizens, the first steps are crucial. Involving diverse stakeholder groups in the initiative – without judging their perspectives and concerns – may reduce conflicts and promote innovate approaches to complex needs. Therefore, the handbook recommends the development of a stakeholder outreach and activation strategy. It can include the following elements:
An overview of all relevant stakeholder groups and how they are affected by this initiative;

A concept on how to reach out to local interest groups and, particularly, vulnerable groups (such as ethnic minorities) and how to actively include identified and new stakeholders in the process;

Regular monitoring of these groups, as changes in stakeholder constellation may occur;

Developing a public relations strategy can have a positive impact on the public perception of the initiative.
Beyond the participatory approach, a solid evidence basis on transport and mobility patterns and behaviours of the local population is beneficial in the local and regional transition to sustainable mobility.
In this context, the spatial scope plays an important role in the design of sustainable transport and mobility solutions (read functional regions). Commuter flows and large inter-regional transport axes affect local and regional mobility patterns, regardless of administrative boundaries. Consequently, also relevant actors from neighbouring regions should be involved in the stakeholder participation, e.g. in case of inter-regional commuting. The larger transport flows and patterns might also affect the geographical definition of the initiative for sustainable transport and mobility measures.
In many sustainable mobility initiatives, they only become meaningful when extending beyond administrative borders. One of the reasons for this is that mobility strategies in neighbouring regions may influence mobility patterns in your region. In short, the transition to sustainable mobility requires us to think in functional regions and design the participatory processes accordingly.
Measures in transport and mobility have the potential to affect a wide range of economic and social policies, either directly or indirectly. As such, other sectoral strategies (e.g. land-use or economic development strategies) may also be consulted to ensure coherence. Taking stock of these processes, their planned measures and objectives can help reduce duplications between policies. Alignment of the transport objectives with socio-economic targets and plans can further improve overall policy coherence. Indeed, the green transition requires not only green mobility. A wide range of other sectors and spheres of our daily lives need to go through a transition. Transport is only one of them, and a successful local or regional strategy for the green transport transition acknowledges that. In other words, the transition to sustainable mobility requires us to think interdisciplinary and design the participatory processes accordingly.
Finally, the handbook points out that also funding is required, which may involve the combination of different local, regional, national and EU funding instruments. The handbook even provides an overview on are several funds available to support the transition to sustainable mobility and transport systems.
The full handbook will become available soon.
by Kai Böhme, Erik Gløersen, Arndt Münch and Helene Gorny
https://steadyhq.com/en/spatialforesight/about

(Opens in a new window)
Topic
Resilience & transition
Read more from spatialforesight