Why live podcasts are the best podcasts
(According to Berlin PodFest founder and Radio Spätkauf host Dan Stern.)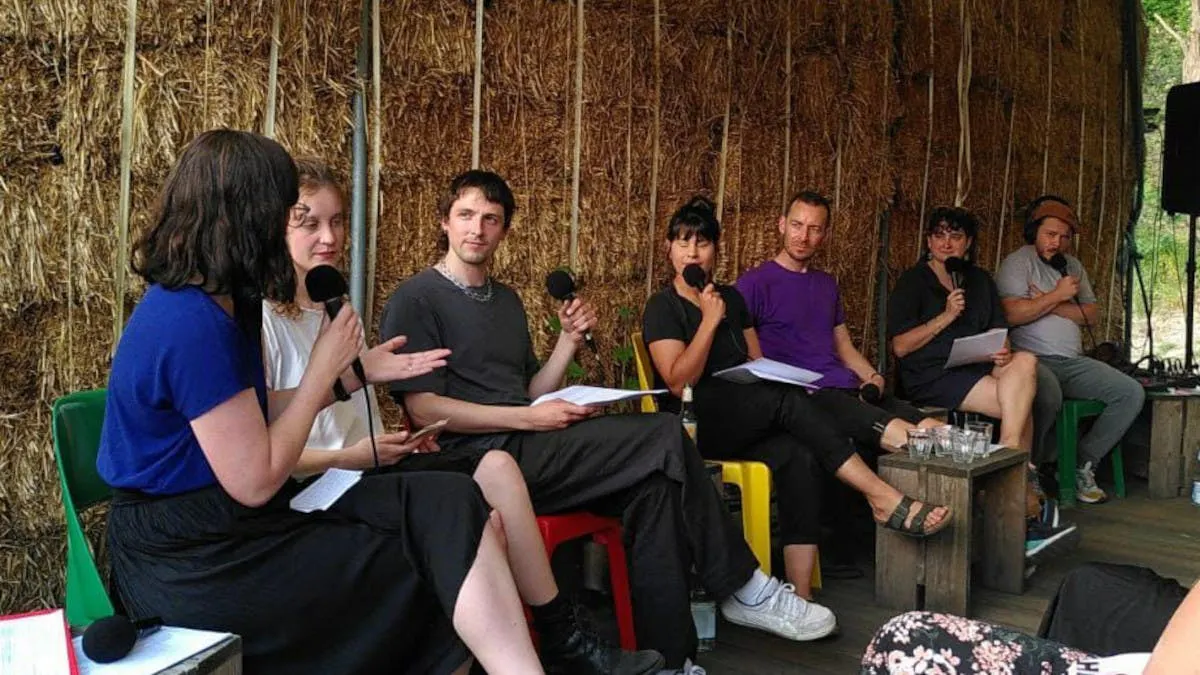 Radio Spätkauf

(Opens in a new window)

is Berlin's comedic podcast for local news in English, affectionately named after the city's trademark late-night corner stores. They made the leap from studio to live recordings—and never looked back.
We talked to one of the hosts, Dan Stern, about this shift. Dan is also a stand-up comedian, filmmaker and general creative mover-and-shaker (he also founded Berlin PodFest (Opens in a new window)).
In between laughs, we discovered from Dan how live podcasting can take your show to the next level.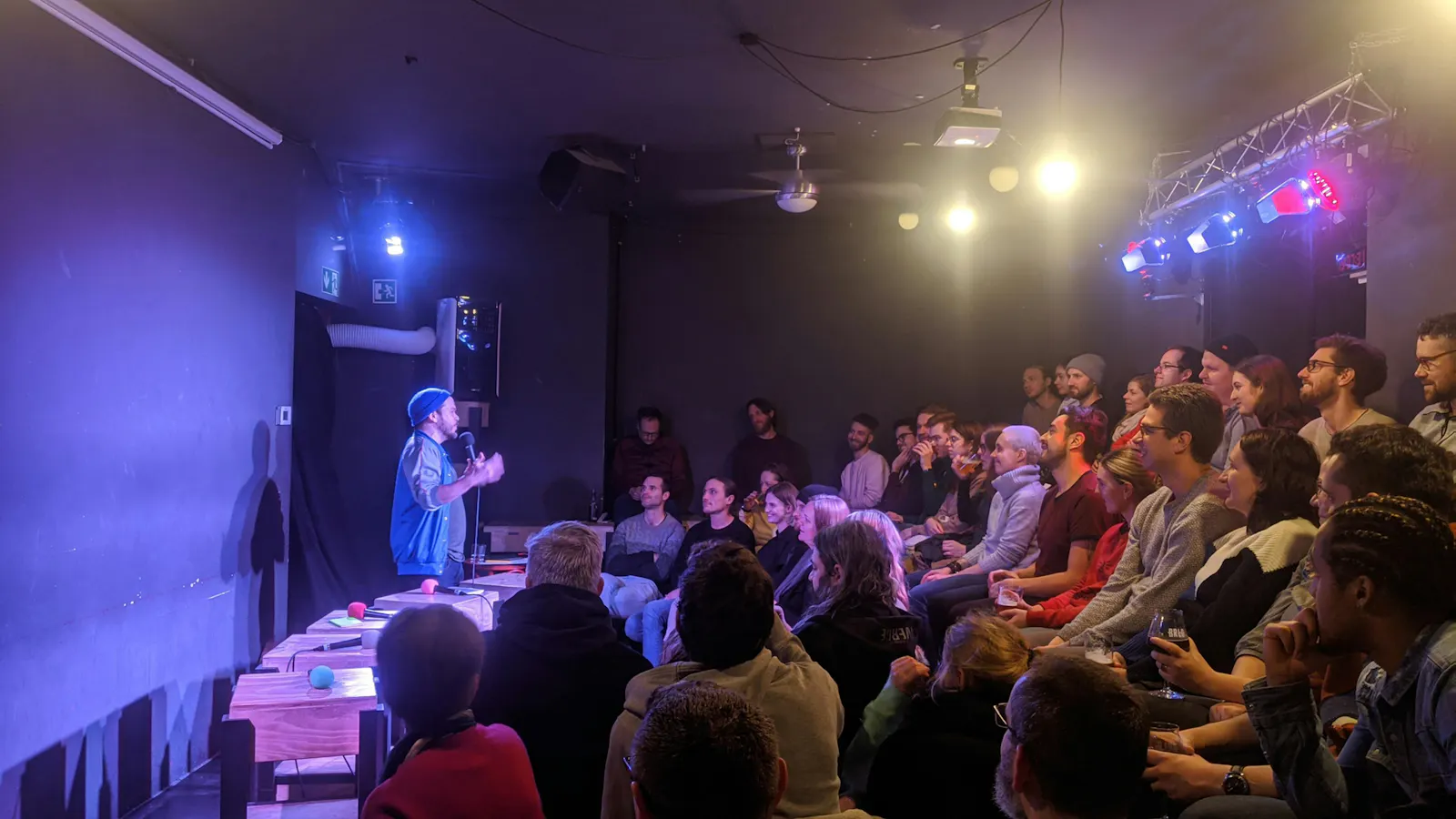 Dan Stern recording a podcast live show at PodFest Berlin (Opens in a new window) 2021
What inspired Radio Spätkauf to do live podcasting?
"I love listening to podcasts recorded in front of a live audience," says Dan. "I feel much more performed to…I think some people really love the intimacy of sitting in on a conversation between two or three people in a room. I like hearing what someone has decided to say to an audience really actively."
Radio Spätkauf started in the backroom of a Berlin jazz bar, and was recorded there, too. Politely asking the saxophonist to shut up was just part of the programme.
Inspired by podcasts like The Bugle (Opens in a new window) and How Did This Get Made?, (Opens in a new window) the team dropped their obsession with not ruining the audio to start doing live shows.
Why live shows make you a better podcaster
Half of Radio Spätkauf's audience do not live in Berlin, which might be shocking for a local news podcast. So with a large chunk of Radio Spätkauf's listeners unable to pop down to sit in the audience of the monthly live show, why do live recordings?
1. Live feedback helps you gauge the quality of your material
"All good podcasters acknowledge the people listening. But also for me trying to be funny on the podcast, having a live audience was a lot better than having hosts who are afraid of ruining the audio and not laughing and leaning away from the mic. I was like, 'Guys, no, we need someone here to react to me or I'm going to sound insane.'
Having an audience there helps you to gauge what you're saying as you're saying it. You can look around and go 'Oh, wow, bunch of blank faces.'"
2. The audience is more forgiving
"Your listeners are going to be more forgiving because they understand the difference between something that's recorded in a live room."
3. You need fewer edits
"I find we need less edits than we do in a privately recorded podcast because we're not able to retake."
4. The audience helps keep the pace
"We don't have time to stop to think about what we have to do. Unlike when you do a studio recording and don't have an engineer producer sitting there telling you to speed up or slow down."
How live shows help grow your podcast audience
1. Your fans can bring a friend
"I think it's one thing for someone to hear, 'Hey, you should listen to this podcast.' And maybe you do or don't do it when your friend says that. But 'Hey, come out with me to check out this thing': that's inevitably in every single live recording we've done. There are people there who have come with friends to watch it, who do not listen to it."
2. The venues for the live shows can bring their own audience
"If you're at some venue that has its own built-in audience, or people who want to show up to see something happening live, you'll grow."
3. Open-air events are especially good for attracting curious passersby
"There are people there who have never heard of the show but just saw a thing happening."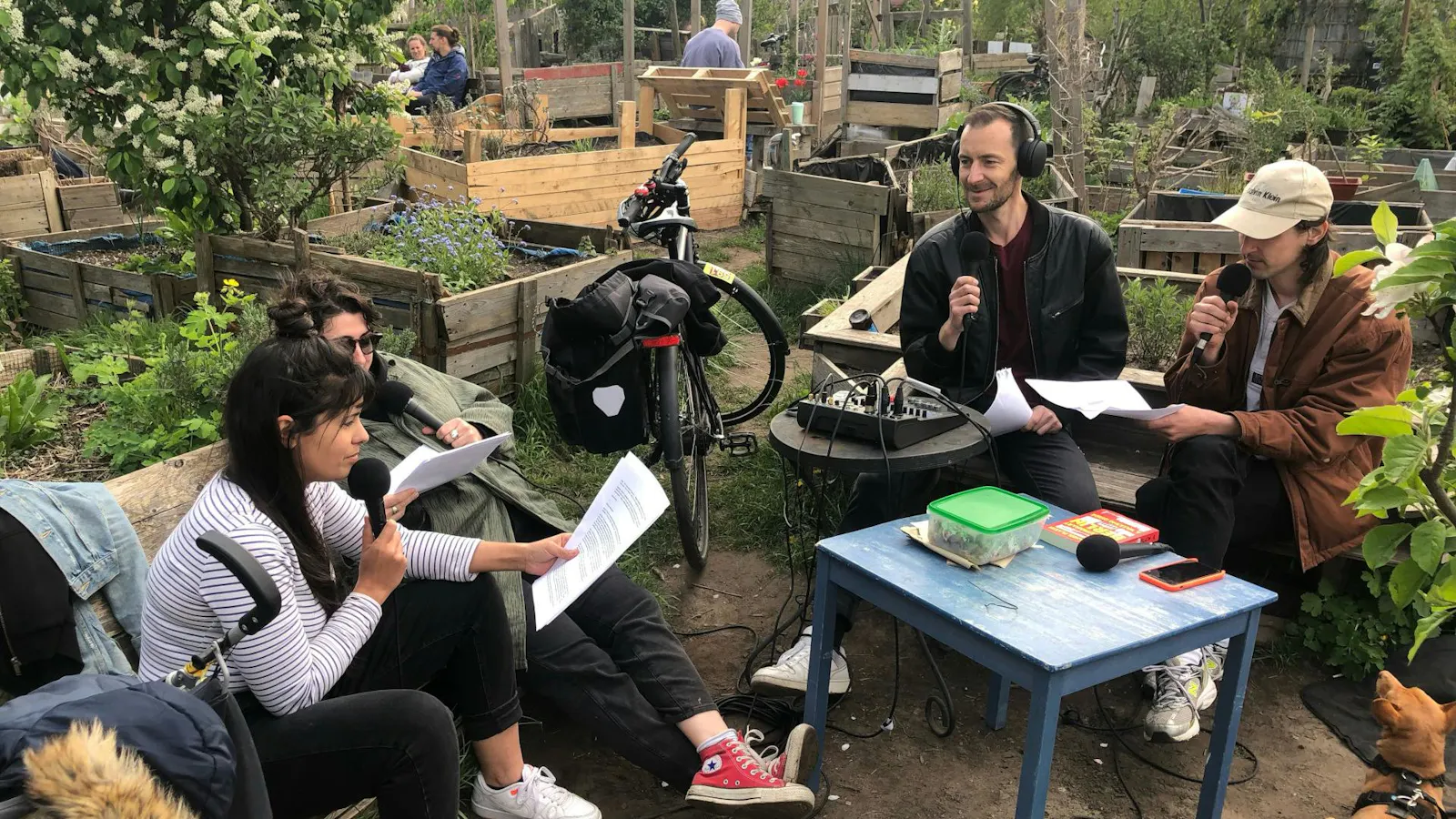 Radio Spätkauf (Opens in a new window) recording a live podcast show on Tempelhofer Feld, Berlin
Radio Spätkauf lets its paying members attend live shows for free
Offering your members the opportunity to come along and co-create the show is a great way to inspire your fans to become active and engaged.
"Each person's audience and their voice is different, and they need to figure out how to make those connections."
How Radio Spätkauf uses their membership programme
The Radio Spätkauf team are not interested in adding paywalls to their content or providing extra perks, but the membership model still works for them.
"What I know we could do is post it more often – remember to put the link in our show descriptions. And we have a sort of somewhat unhealthy disregard for the money. But at least we know that anyone who is subscribing really wants to do it…
Separate from the money it's the reward of being like, Oh, I earned that doing what I like."
https://www.sterndaniel.com

(Opens in a new window)
Topic
Content Creation
Read more from Steady Magazine