End of year rush: 5 tips for attracting new members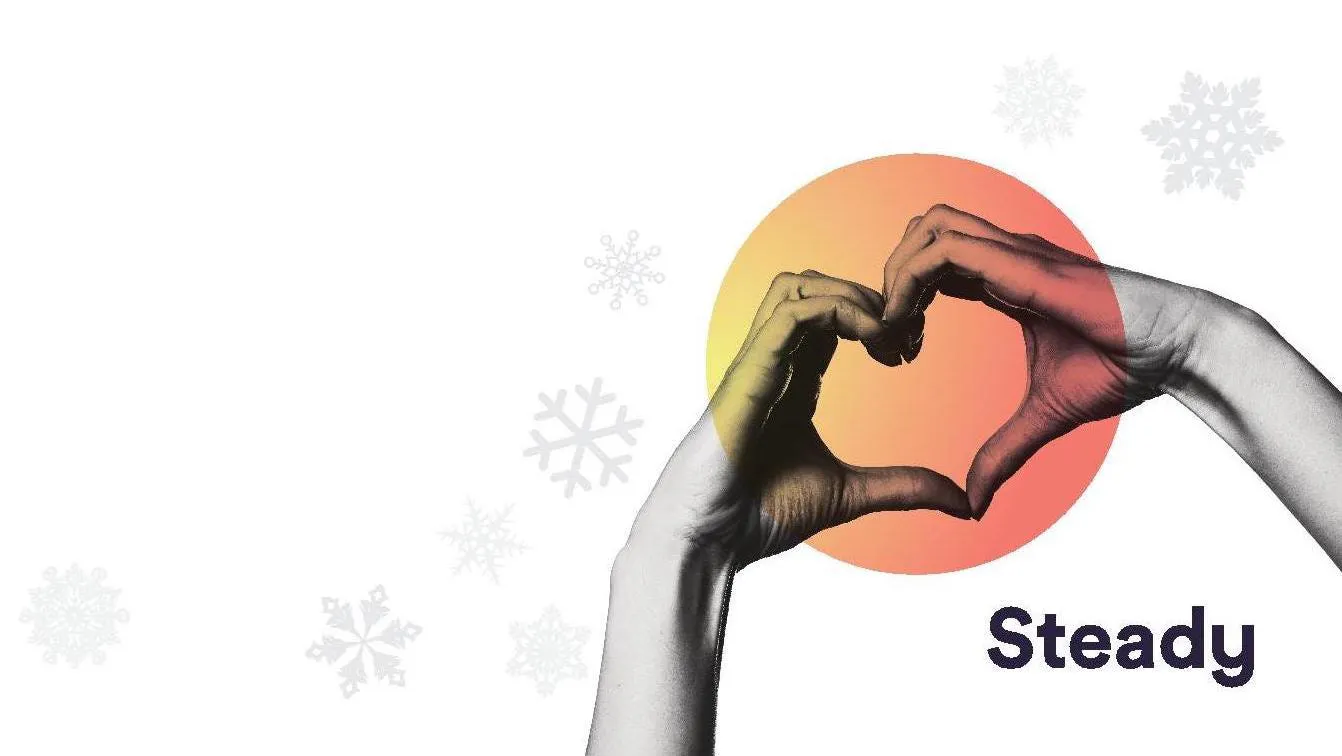 Vouchers, special holiday membership plans, or a thank you note – all great ways to get your community moving:
1. Give the gift of memberships
In order to promote memberships as gifts, you first need to make sure you're offering at least one plan with guest access. Then people from your community can buy this plan for themselves, using the guest access to invite one of their friends or acquaintances to use the plan as well.
If you don't already have a plan with guest access on Steady, here's how it's done:
Create a new plan and set the number of guest accesses
Make your community aware of your holiday offer (write a newsletter, post it on your social media channels, promote it in your podcast)
People from your community can then go ahead and buy the plan (or, if they are already a member, they can switch plans). When it's time to hand over the gift, they can share the good news with the recipient with a homemade note or a voucher – here's a handy template.
Then your members can invite their friend to use their plan as a guest for free (more about how to invite guest members here). The lucky gift recipients will then receive an email from us, confirming their guest status.
You can find out more about guest access in the Launchpad.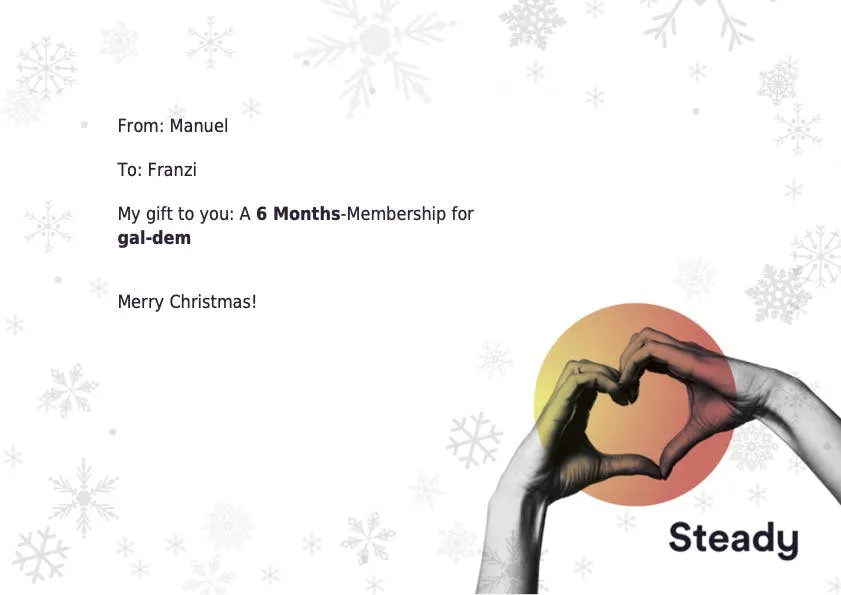 We have prepared a handy voucher template which you can send to your members or link to in the plan description.
2. Spread holiday joy
Even if you don't want to start a Christmas campaign, the Advent season is a great time to check-in with your community. Use this opportunity to thank your members for their support in 2021 and send them some warm holiday greetings.
In our experience, offering some extra insight into your process goes a long way towards fostering a sense of community. Tell your members how 2021 went for you and your project. What were you able to accomplish thanks to their support? What wouldn't have worked without them? How many members signed up this year? Then you can use the occasion to ask for their continued support.
3. Offer a special holiday plan for a limited time only
Why not use the Advent season to offer a membership at a special price? That way you can allow people who might not normally be able to afford it to become paying members.
Alternatively, you could tie a plan to some special content. For example, you could offer the chance for your community to receive a personal holiday postcard from you when they sign up for your plan during the holiday season.
You can do either of these options very easily by creating a new plan — either at a more affordable price or with a special benefit. Just check the "Countdown" box to set the plan's duration. After the expiration date the plan will no longer be available. Of course, everyone who bought the plan before the deadline will remain a member of this plan.
4. Drum up support for an end-of-year goal
Advent is a great chance to set your community a short-term common goal. The goal could be, for example, to sign up 30 new members by New Year's Eve, with the added motivation that if you reach the goal, you will produce a bonus podcast, blog post or video for your members.
You'll need to create a new plan and set a plan goal. You can specify a certain number of members as the goal. Spread the word about your goal to get your community excited and activate potential members. And make sure you ask everyone who is already a member to do some promotion for your goal — your members will be glad to help you.
5. Say "thank you" with an exclusive plan
The end of the year is also a great time to thank the people in your community who are especially loyal to you. For example, you can make your newsletter subscribers or Instagram or Twitter followers an exclusive offer: a membership at a lower price or with a special benefit.
It's easy to do this by creating a Inew plan and setting it to "invisible". That way, the plan won't appear in the Steady Checkout or on your Steady page. So only those who have the link to the plan can bNuy it. Simply copy the plan URL and send it to the people who deserve a treat.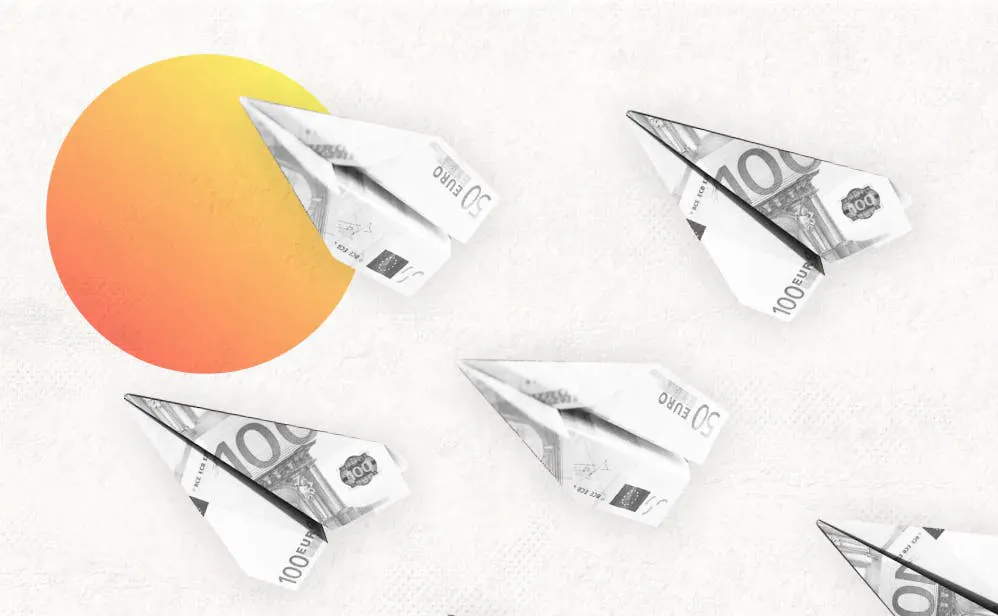 These are just five ideas for sprinkling some festive joy as a Steady publisher this year. But maybe you have your own ideas: You can use all the Steady features however you want. Just don't forget to tell your community about how you're spreading the holiday cheer this year!
Not offering memberships yet?
Start a project on Steady now. It's free and only takes 10 minutes to get set up.
Success stories from Steady publishers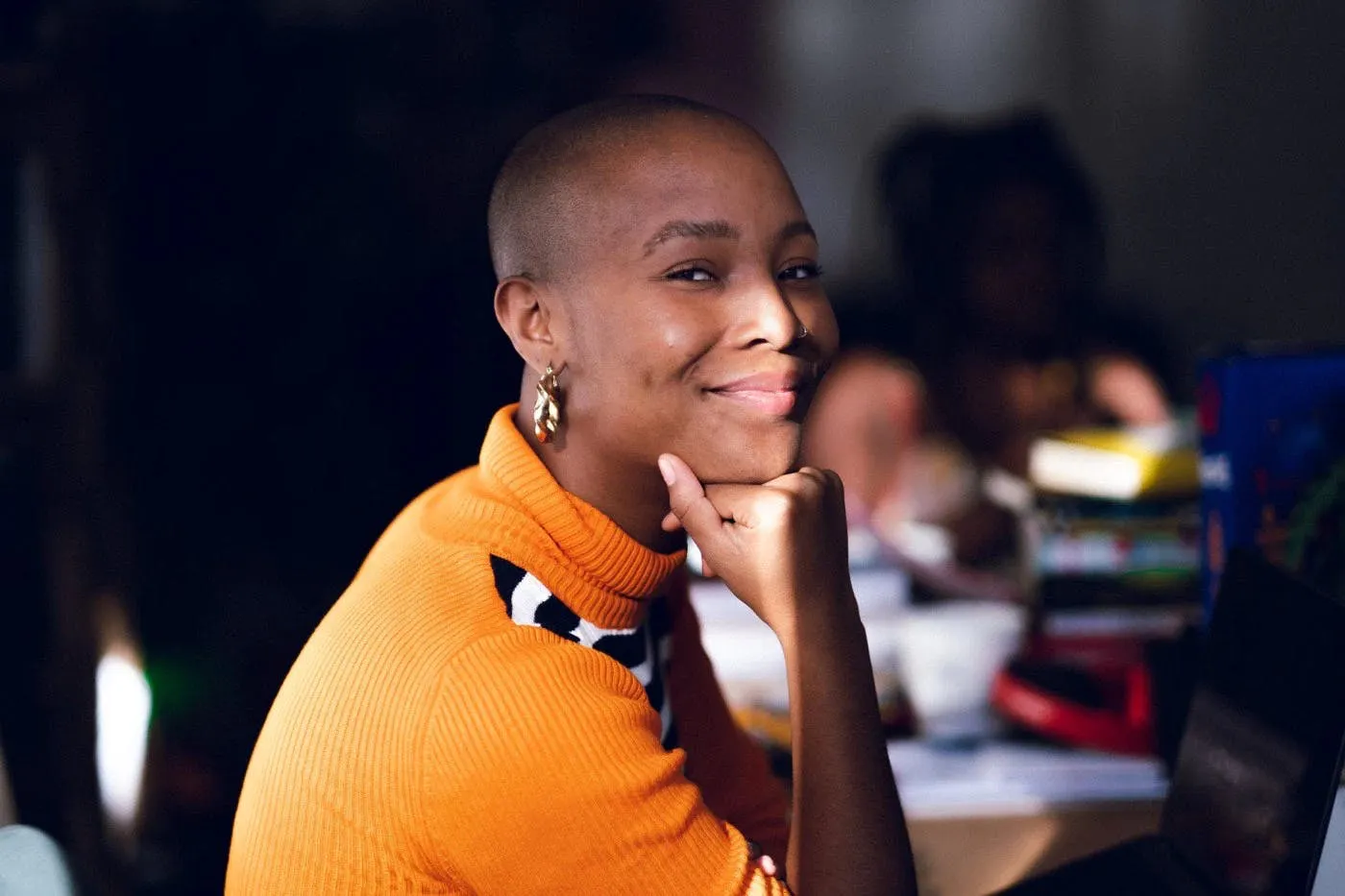 Liv Little, founder of gal-dem. 📸: Shopé Delano.
December 15, 2021