GAY TIMES CEO Tag Warner on combining print subscriptions & online memberships
The magazine's membership programme aims to draw its global audience closer, while developing a new revenue stream dedicated to funding more original content
A recent selection of GAY TIMES magazine covers.
Veteran LGBTQ+ magazine GAY TIMES (Opens in a new window) saw the crisis as the perfect time to strengthen its relationships with its readers, while developing a new revenue stream. Memberships have allowed the magazine to do both, resulting in GAYTIMES+, the magazine's new membership programme with a host of new, seriously tempting membership benefits driven by readers' requests.
Steady: How did you go about preparing your membership programme, GAYTIMES+? What were the key considerations?
The main reason we wanted to offer memberships was to have a closer connection with our audience. We also wanted to invest more into content. The reason we thought a membership scheme would be good for that was because we could have a formalised relationship with the key set of audience members that wanted to feel closer to GAY TIMES. Because we literally have a relationship with them through Steady, we get to speak to them, we get to ask them their opinion and they get to tell us what they're enjoying and what they're not.
The second thing was, we wanted to try and find a way to fund content the way we wanted to create it. Like most media companies in 2020, financing media is incredibly challenging. But subscriptions, and memberships in particular, were a key route for us to create revenue that would all be reinvested in content, without a brand partner. There's nothing wrong with brand partner work. Some of our best work is with our brand partners, but obviously you're dealing with another stakeholder.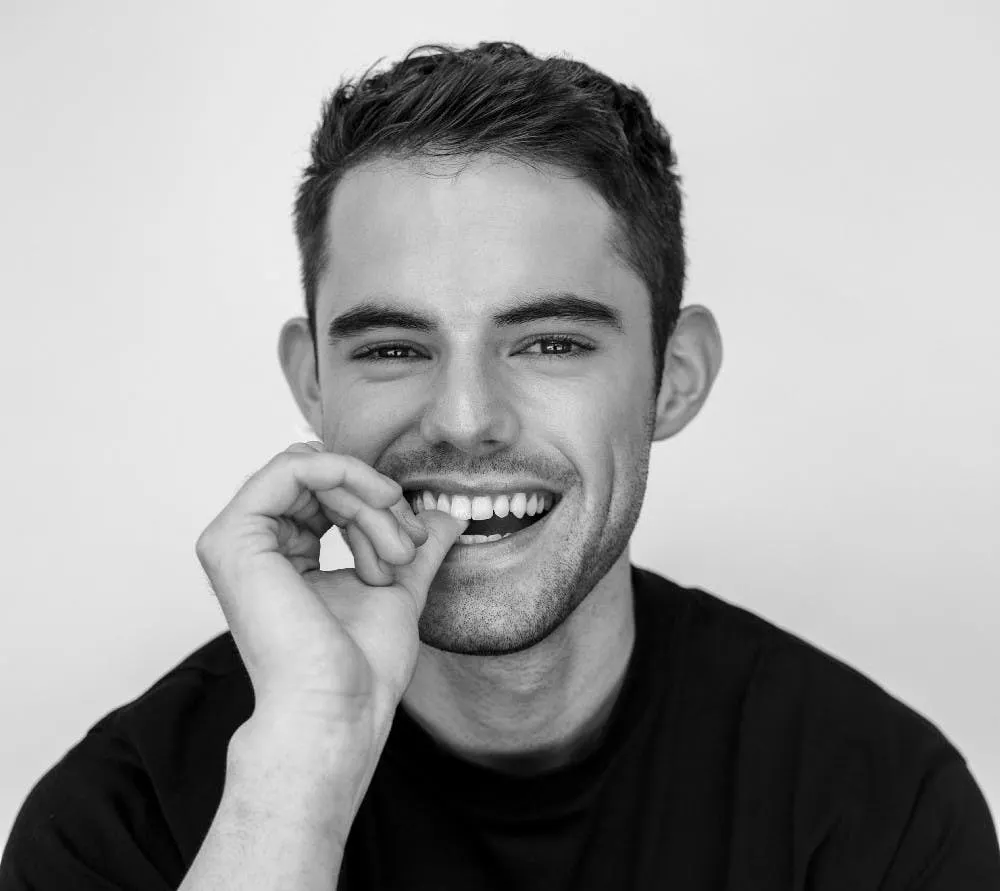 GAY TIMES CEO Tag Warner.
Our membership programme was kicked off by Coronavirus, to be totally honest. As soon as Coronavirus's impact started to hit, and we realized this wasn't just going to be a few weeks, we wanted to have a closer digital relationship with our members on a global platform. We had been relying on legacy systems around the UK and the US, but we want to open that up to what is our very global audience.
As a print and digital magazine, you've had to navigate running both subscriptions and memberships. Could you talk us through the strategy here — how does it work and how have you communicated this to your community?
We felt like having a subscription-based product and a membership-based product was going to be too confusing, because one of our membership plans does include the print product.
We worked really hard to consolidate all of our existing subscribers into GAYTIMES+. That was a huge communications task and it was a huge IT infrastructure change. We were incredibly successful in that we moved about 98% of our subscribers successfully onto a GAYTIMES+ membership.
My advice for anybody doing this would be to keep it simple for the customer. The minute you alienate your customer or membership base it's quite difficult to get them back, especially if they've been loyal to you over the years.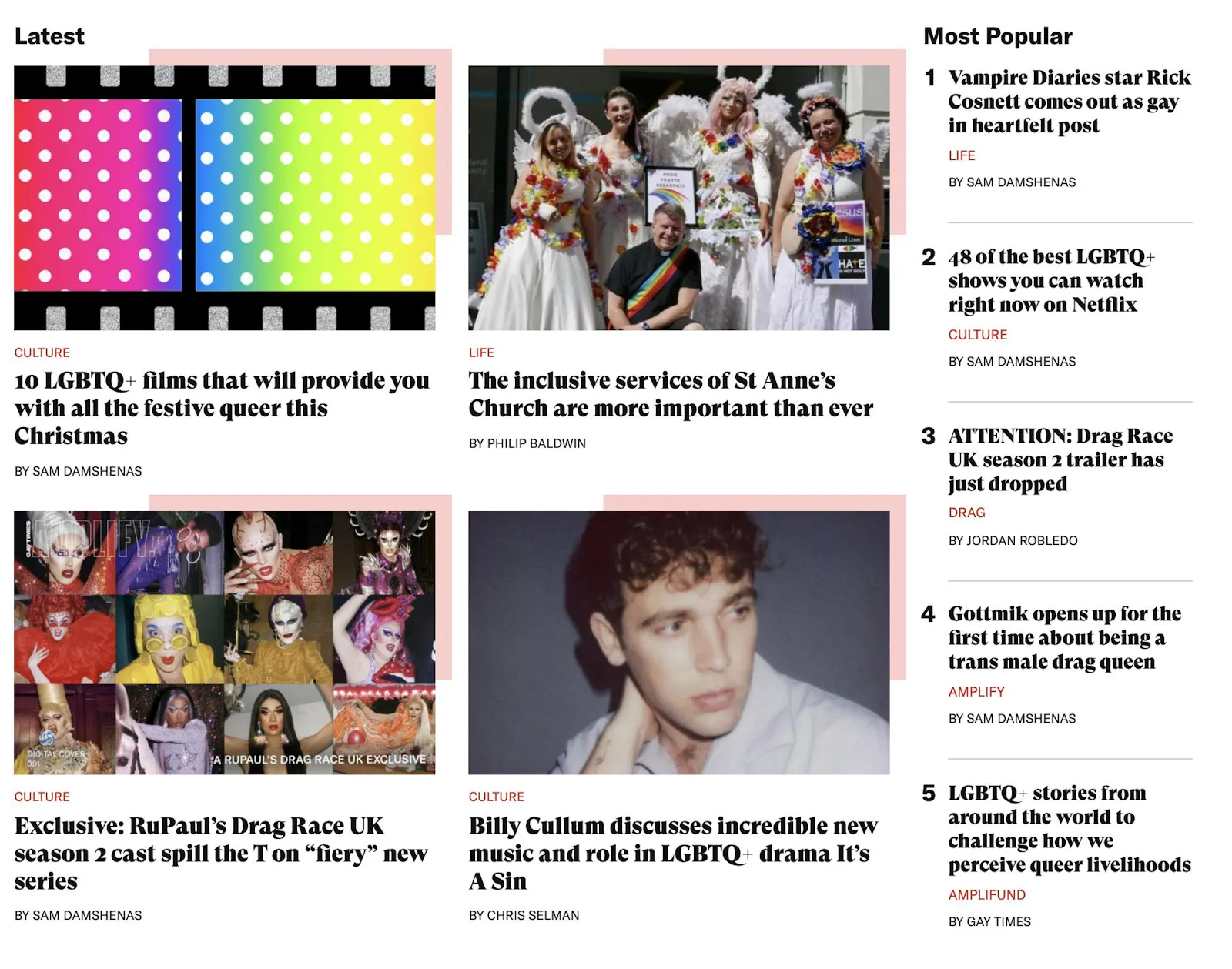 A selection of articles on gaytimes.co.uk.
What benefits do you offer your paying members?
Our benefits are grouped into three distinct areas. The first is the Best of GAY TIMES. Within that you can get the print publication sent to your door anywhere in the world with postage included, which was something our members said they really wanted. You can also read the digital edition via our own app. And we've also got a really exciting benefit coming soon, where you can read GAY TIMES magazine in Apple News+ as part of your GAYTIMES+ membership, for no extra cost. We also send out curated newsletters of all of our online digital content and they're all preceded by an editor's note. Again, just to try and help the members feel a bit closer to the team.
The second round of benefits are events and that's all about meeting the real people that are making change in our community in a live environment. These are fortnightly live streams, but of course you can also watch them later. The reception has been brilliant so far. Post-Covid we definitely see those events becoming real-life events, but they're always filmed so anyone in the world can enjoy them.
The third set of benefits is the space we're most excited about for GAYTIMES+, and that's all original content that you won't find anywhere else. We're kicking off with podcasts and instead of having bonus content, all of our podcasts are going to be original formats with some familiar faces that our community will probably know, all from within the GAYTIMES+ universe. We're really incentivising people to come in and become a member and start enjoying that. For the future, we'd love to see that develop over time into other content platforms.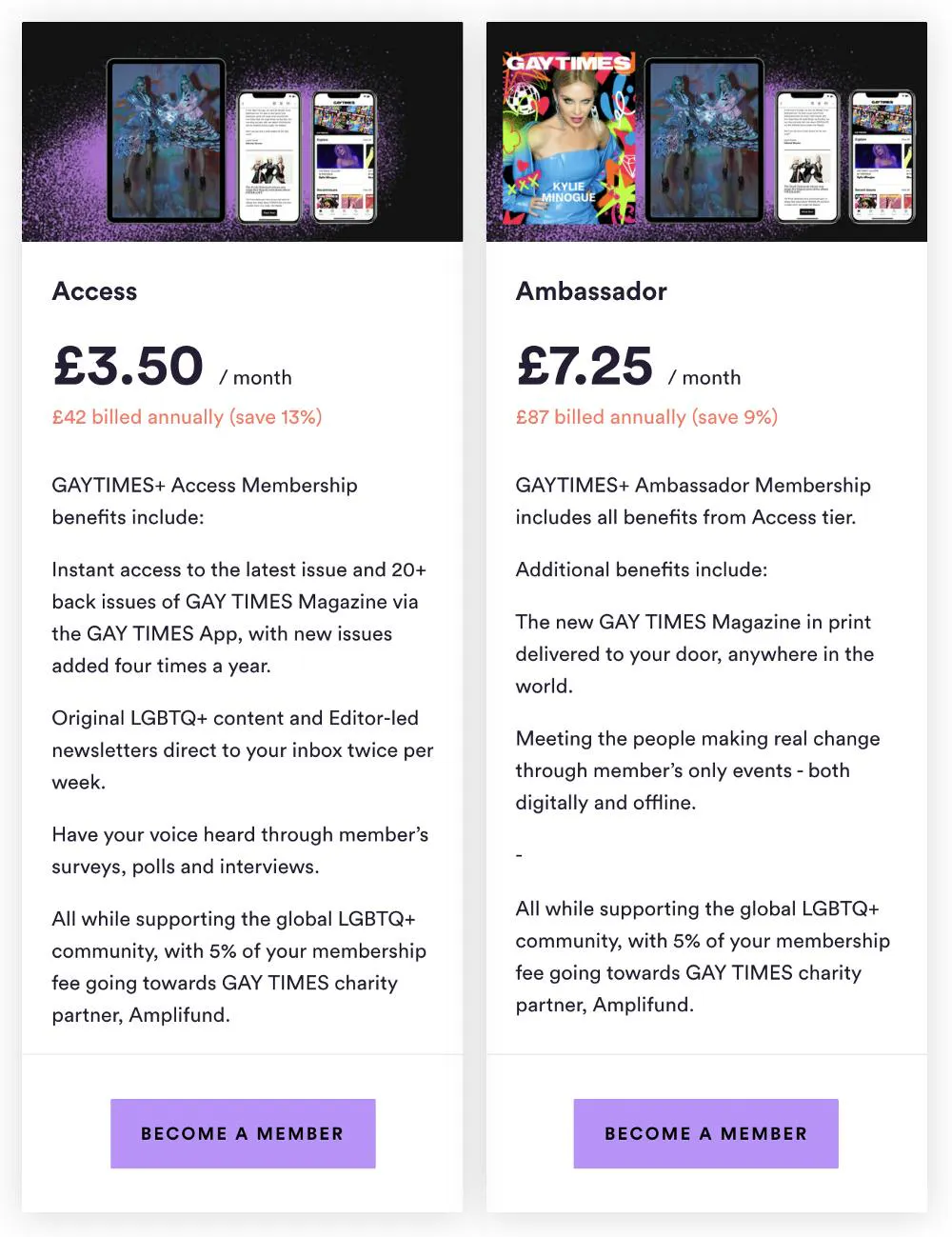 The two membership plans on GAYTIMES+.
What has your community's feedback on GAYTIMES+ been like so far?
The feedback has been really positive. The first couple of months, we did have some bumps, because we were dealing with multiple legacy subscription systems, which came from three different platforms and we wanted to consolidate all of those. That was a huge task. Feedback, to begin with, was really around people understanding how they could come into GAYTIMES+ and what their options were.
Since then, we've had consistent feedback from the members, which has been brilliant. That's allowed us to consolidate our efforts and focus on what they want. We're really answerable to members as our biggest stakeholder in GAYTIMES+, and what they'd like to see. One thing that they've told us is they want to have more original content that feels tailor-made for them, so that's where we're making our biggest investment.
How are you finding using Steady so far?
I think Steady is a really good platform, if you are looking for a really well-built, professional, one-stop shop for a membership experience.
I couldn't recommend it enough, if you're one of the smaller publishers who doesn't have a big team, or people that are running memberships as their full-time job. What we're doing is using the best of the Steady platform — the payments and the actual membership account system — and then building on top of that.
As a publication that works to fill a representation gap, what does being reader-funded mean to you?
I personally think this is the way forward for the media. When you look at the landscape of digital advertising revenues, once seen as a sort of golden goose of media, and see that they are disintegrating beneath us, when we're looking at a world where print advertising has nearly completely stopped, then we're looking at a world where branded content is also being squeezed by various different means through agency structures. The real route forward for us is a reader-funded model, and we're excited to develop that.
Become a member of GAYTIMES+ on Steady (Opens in a new window)
More Steady publisher success stories
Topic
Success Stories
Read more from Steady Magazine