Let's find a (graphic) identity. Connect the dots.
French and Italian version below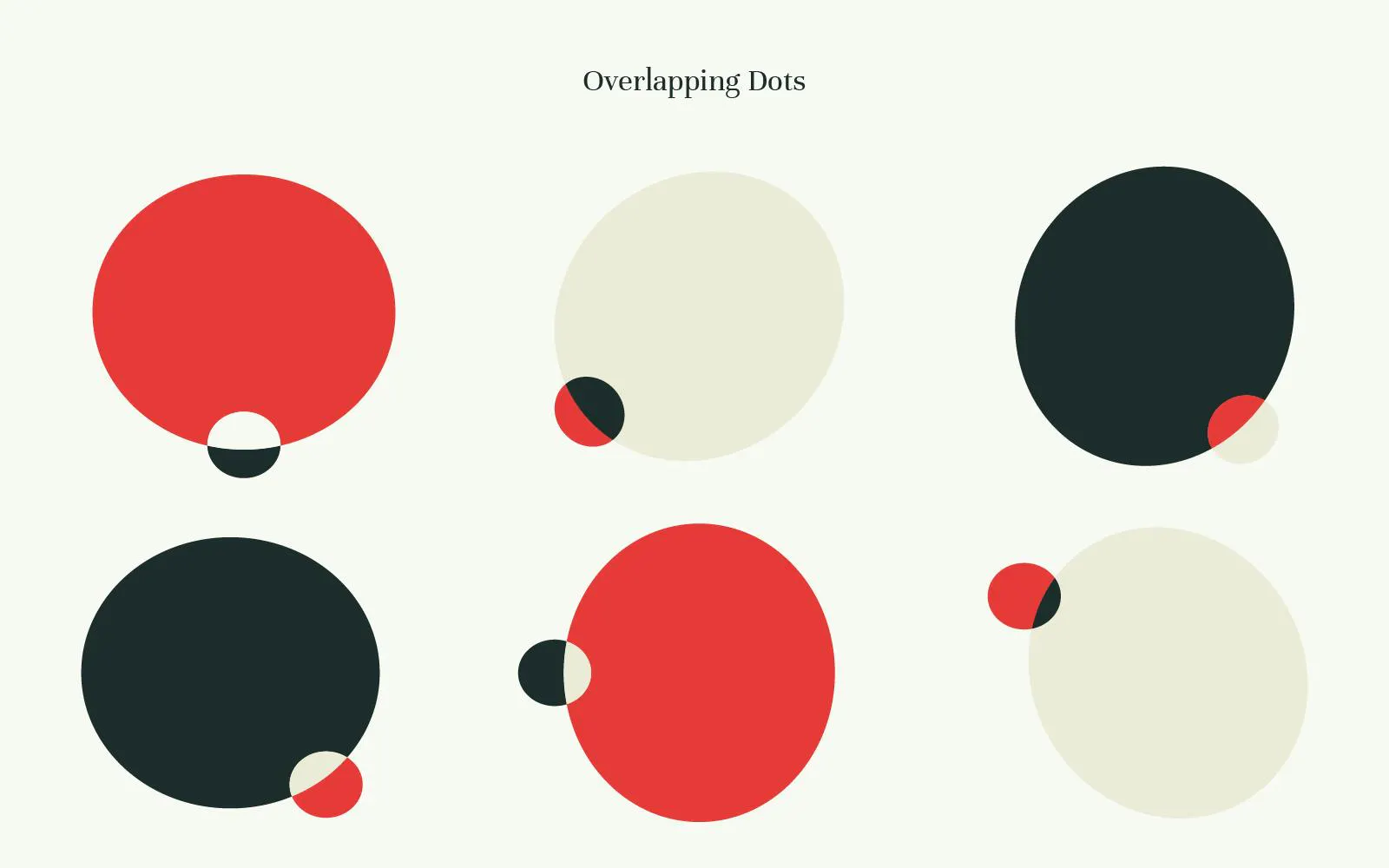 Transparency.
Precision.
Joining the dots.
Establishing a graphic identity is a complex exercise of synthesis, but it's absolutely essential. It's a process that has forced us to take the first 'dramatic' decisions about the media platform that is soon to come.
Ereb's graphics and logo are the fruit of weeks of work and discussion with Alessando Corgna, a freelance graphic designer based in Rome.
We settled-on the symbol of the dots after a long reflection about our vision of an open community: they are an emblem of a transnational group, bringing together a diverse range of profiles and uniting them in the ambitious project that is ereb.
These are free-floating dots that contaminate and multiply. They never retreat into themselves.  
These are dots which will - sometimes - turn red in recognition of the urgency of the themes we are confronting: the climate crisis, social inequalities, the role of technology in our societies and migrations.
We have no intention of "wielding these dots" to close-off the themes at the core of ereb. On the contrary, the logo does not actually end with the dots, it follows on from them. This is the symbol of our ambition to contribute to a public debate, to re-think stories that seem like they're already finalised. To "put the ball back" in play and directly involve our members in a renewed debate about the stories we'll publish.
Having now developed this graphic identity, we'll be asking ourselves in the coming weeks how to make ereb a true community media, one able to gather together the precious contributions of members and transform these into a new 'added value.'
We hope that the dots will multiply over time, expanding the scale of participation in the future platform ever more broadly.
Our foundations are solid: the community is already made-up of more than 30 women and men, professionals and enthusiasts that have already decided to become members and 'connect the dots.' To build ereb we also need you.
Want to know more about ereb, or let us know your thoughts? We're waiting for your questions and comments at membership@ereb.eu (Opens in a new window)
version française
Donnons-nous une identité (graphique). Point.
Transparence.
Rigueur.
Relier les points.
Se donner une identité graphique est un exercice de synthèse complexe, mais fondamental. C'est un processus qui vous oblige à faire des premiers choix drastiques.
Le graphisme et le logo d'ereb sont le résultat de semaines de travail et de discussions avec Alessandro Corgna, graphiste indépendant basé à Rome.
Nous avons choisi le symbole des points après une longue réflexion sur notre vision d'une communauté ouverte. Les points comme emblème d'un groupe transnational qui rassemble les profils les plus divers. Tous réunis autour de l'ambitieux projet d'ereb.
Des points libres qui contaminent et multiplient, sans jamais soustraire.
Des points qui, à certaines occasions, seront teintés de rouge, pour rappeler l'urgence des thèmes auxquels nous serons confrontés : la crise climatique, les inégalités sociales, le rôle de la technologie dans nos sociétés et les migrations.
Loin de nous l'idée de prétendre « mettre un point » sur les questions au cœur des récits d'ereb. Le logo ne se termine pas par un point mais, au contraire, le suit. Un symbole de notre volonté à contribuer au débat public, à retisser des histoires qui semblaient terminées. Pour « remettre la balle » - le point - au centre, et impliquer nos membres avant tout dans un débat renouvelé autour des histoires que nous publions.
Après l'identité graphique, ces dernières semaines, le développement du site web nous interroge sur la manière de faire d'ereb un véritable média communautaire. Une plateforme capable de recueillir les précieuses contributions de ses membres et d'en faire une de ses valeurs ajoutées.
Nous espérons que les points se multiplieront avec le temps, élargissant de plus en plus la participation au média en devenir.
Les bases sont solides : une communauté qui rassemble déjà plus de 30 personnes. Des femmes et des hommes, professionnels ou passionnés, qui ont déjà décidé de devenir membres et de « relier les points ». Pour construire ereb, nous aurons aussi besoin de vous.
versione in italiano
Diamoci un'identità (grafica). Punto.
Trasparenza.
Rigore.
Unire i punti.
Quello di darsi un'identità grafica è un esercizio di sintesi complesso ma fondamentale. È un processo che obbliga a fare le prime scelte 'drastiche' riguardo al media che sarà.
Le grafiche ed il logo di ereb sono il frutto di settimane di lavoro e confronto con Alessandro Corgna, graphic designer freelance con sede a Roma.
Abbiamo scelto il simbolo dei punti dopo una lunga riflessione sulla nostra visione di comunità aperta. I punti come emblema di un gruppo transnazionale che riunisce i profili più diversi, riuniti intorno all'ambizioso progetto di ereb.
Punti liberi ma che si contaminano e si moltiplicano, che mai sottraggono.
Punti che in alcune occasioni si tingeranno di rosso, a richiamare l'urgenza dei temi che affronteremo: la crisi climatica, le disuguaglianze sociali, il ruolo della tecnologia nelle nostre società e le migrazioni.
Lungi da noi però pretendere di "mettere un punto" ai temi al centro delle storie di ereb. Il logo infatti non termina con un punto ma, al contrario, lo segue. Un simbolo della nostra ambizione a contribuire al dibattito pubblico, a riannodare storie che parevano concluse. "Rimettere la palla" - il punto - al centro e coinvolgere in primis i nostri membri in un rinnovato dibattito intorno alle storie pubblicate.
Dopo l'identità grafica, in queste settimane è lo sviluppo del sito web a interrogarci su come rendere ereb un vero media di comunità capace di raccogliere i preziosi contributi dei suoi membri e trasformarli in uno dei suoi valori aggiunti.
Speriamo così che i punti si moltiplichino nel tempo, allargando sempre più la partecipazione al media che verrà.
Le fondamenta sono solide: una comunità che riunisce già più di 30 persone. Donne e uomini, professionisti o appassionati che hanno già deciso di farsi membri e 'unire i puntini'. Per costruire ereb avremo anche bisogno anche di te.
Vuoi sapere qualcosa in più su ereb o dire la tua? Aspettiamo domande e considerazioni a membership@ereb.eu (Opens in a new window)