Newsletter No 9 - The MOVE 9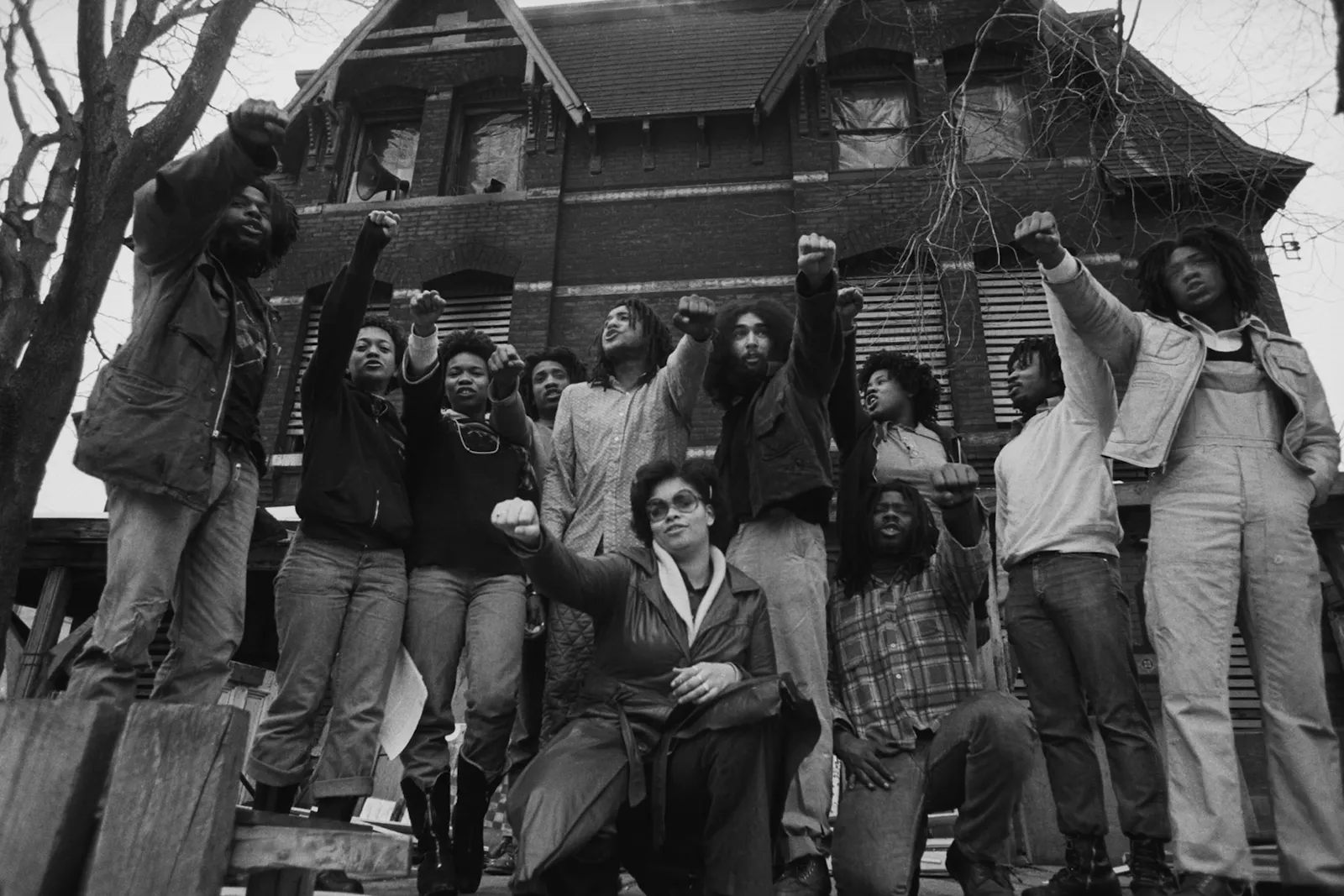 Good morning, afternoon and evening, family,
Welcome to Newsletter No 9.
Im continuing my theme of sharing stories deemed too controversial for our beloved social media algorithms.
This week we will be looking at the MOVE 9. I first found out about this story in 2017. I had just started sharing posts on social media and came across the story of the Detroit bombings of 1967, which somehow led me to MOVE and the Philidelphia bombing of 1985. This, in turn, led me to contact Mike Africa jr, whose father was one of the incarcerated members of the MOVE 9. This was a really emotional time as Mike jr was very close to securing his father's release from prison. We managed to get an interview lined up for the following year. However, our meeting never happened for the best reason ever: Mike Africa Senior's release after nearly 40 years of imprisonment.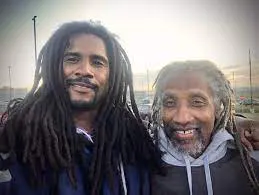 Honestly, I've never been happier to have someone cancel on me than I was then. Afterwards, I remember typing up my social media post about MOVE and the bombing, fully expecting it to go viral and getting nothing but crickets. The post received about seven likes; this was the precise moment I realised all the talk of shadow banning and suppression of information was true, and I was experiencing it in real-time. After that, for the next few months, the reach of everything I posted was down and stayed down. Over time I learned the rules the platforms were playing by and how to navigate them more skillfully, eventually circumventing them entirely through my podcast, the use of other outlets and now this newsletter.
I say all this to make it clear that versions of what happened to MOVE are still playing out today. Different ways of living and thought are suppressed covertly and overtly. What we see in the mainstream media, which includes social media,  is often a very sanitised version of what happened.
So with all that said, here is a brief overview of the MOVE 9 and the 1985 Bombing.
I hope you enjoy it.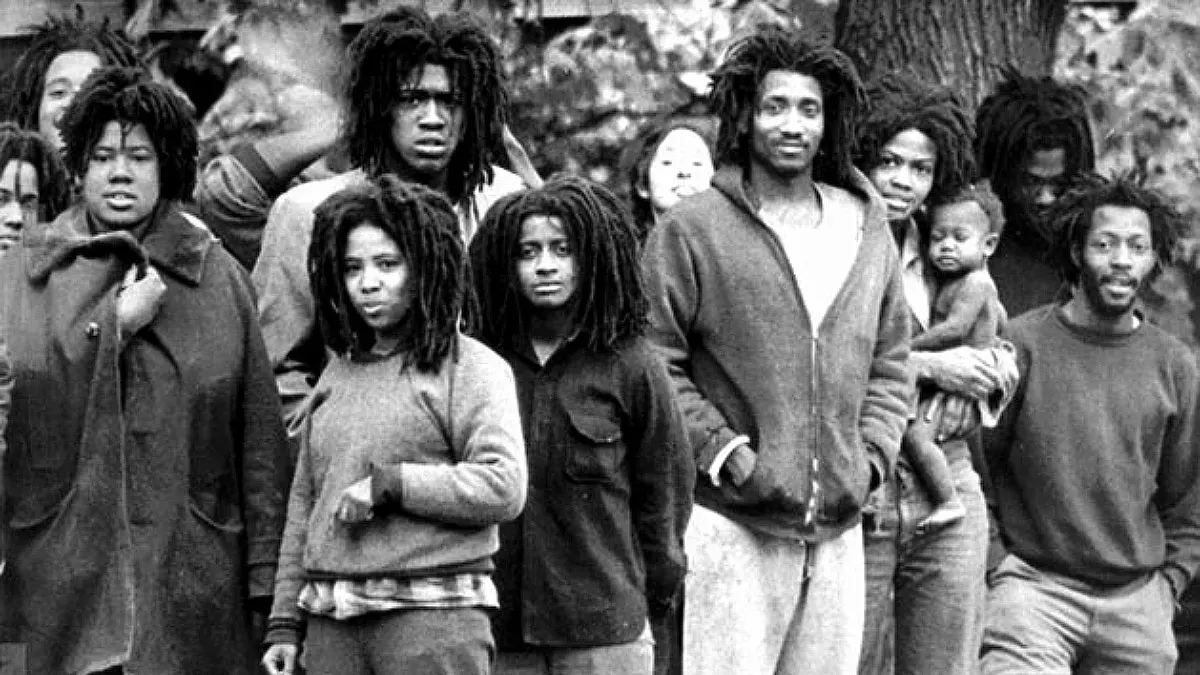 The MOVE 9 case is a complex and controversial event involving several years of conflict between the MOVE organisation and Philadelphia. Here's an overview breakdown of the events that took place:
Build-Up: MOVE was established in 1972 as a black liberation and environmental group that advocated for animal rights, natural living, anti-capitalism and an end to police brutality. The group lived communally in a house in the Powelton Village neighbourhood of Philadelphia, and their confrontational tactics drew attention from the police and city officials.
The group's founder John Africa named the group as a way to remind members to be active in his words.
"Everything that's alive moves. If it didn't, it would be stagnant, dead."
As activists, they staged demonstrations against institutions such as zoos, and In 1977, three MOVE members were jailed for inciting a riot, ratcheting up the tensions between the group and local police enforcement.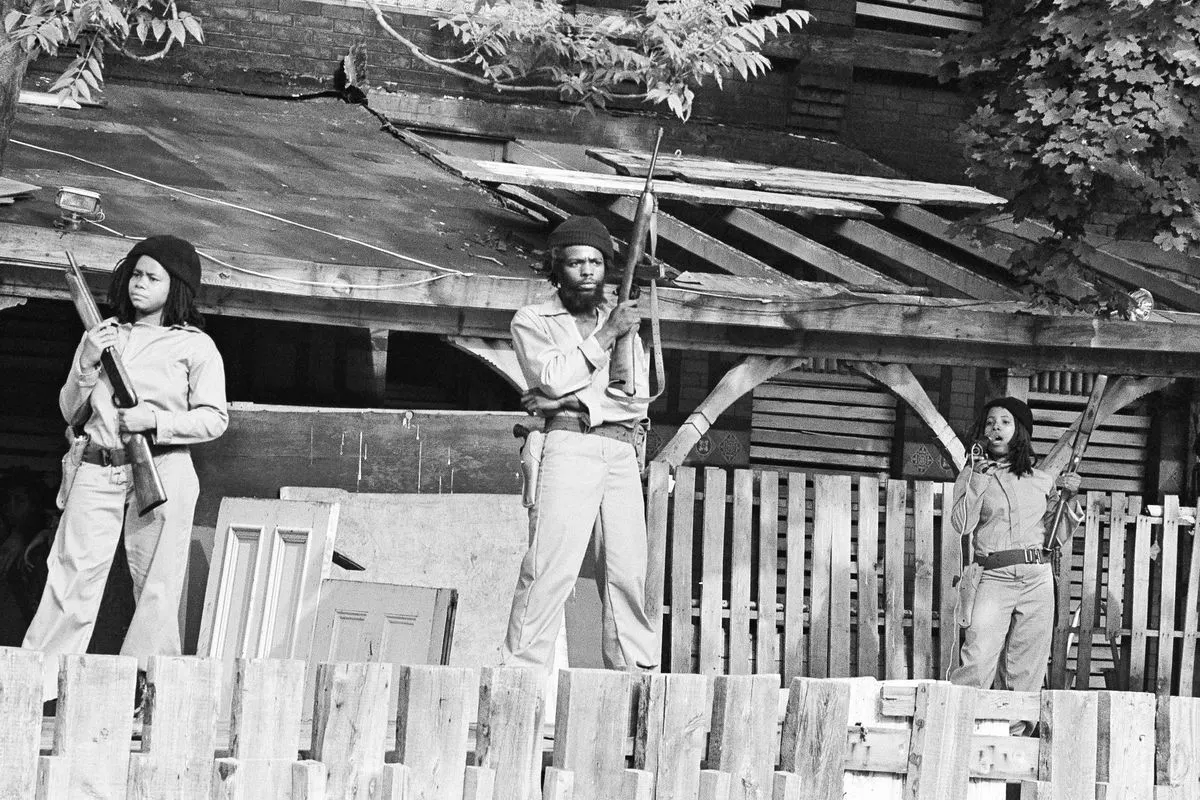 Conflict with the Police: Over the years, MOVE members were arrested for various offences, including weapons violations, disorderly conduct, and assault. In 1978, the city of Philadelphia became increasingly concerned about the group's activities and obtained a court order to evict them from their Powelton Village home. In response, MOVE members fortified their homes and allegedly stockpiled weapons, leading to a tense standoff with police, which resulted in the shooting of police officer Ramp and injuries to 16 police officers and firefighters.
MOVE representatives claimed that officer Ramp[ was facing the house at the time and denied that the group was responsible for his death, insisting that he was killed by fire from fellow police officers. Prosecutors alleged that MOVE members fired the fatal shot and charged Debbie Sims Africa and eight other MOVE members with collective responsibility for his death.
According to a 2018 article in The Guardian,
"Eyewitnesses, however, gave accounts suggesting that the shot may have come from the opposite direction to the basement, raising the possibility that Ramp was accidentally felled by police fire. MOVE members continue to insist that they had no workable guns in their house at the time of the siege. Several months earlier, in May 1978, several guns – most of them inoperative – had been handed over to police at the MOVE house; however, prosecutors at the trial of the MOVE Nine told the jury that at the time of the August siege there had been functioning firearms in the house."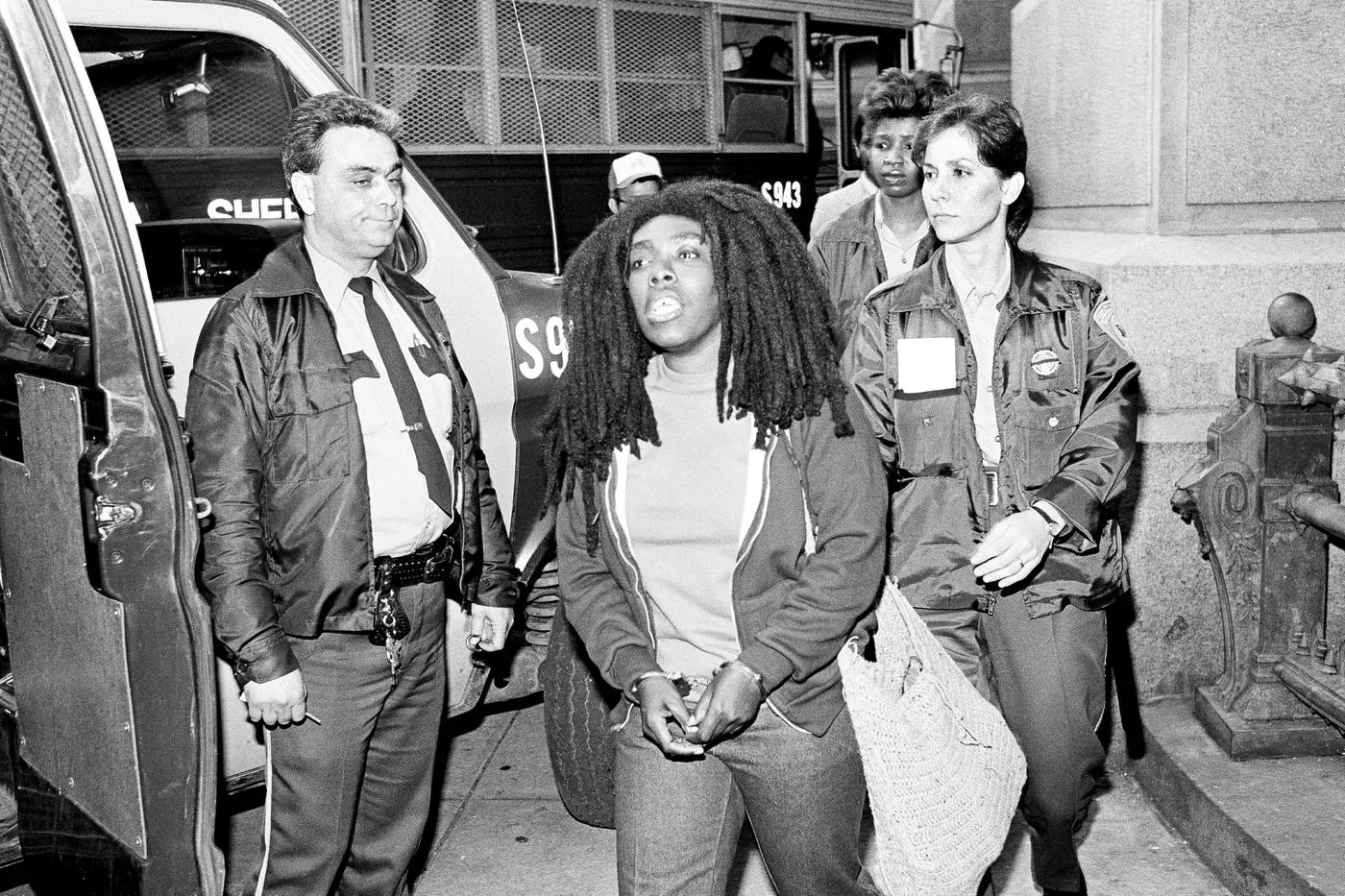 The nine members of MOVE who were charged with third-degree murder in connection with the death of Officer Ramp were known as the MOVE 9. They were each given a sentence of up to 100 years in prison.
The Bombing: In 1981, MOVE moved to a row house located at 6221 Osage Avenue in the Cobbs Creek neighbourhood of West Philadelphia. Over the years, neighbours had lodged complaints against the group regarding the accumulation of trash around the building, confrontations with neighbours, and the use of bullhorns to make sometimes obscene political announcements. Three weeks before the police bombing, the bullhorn was broken and non-functional.
Police obtained arrest warrants for four MOVE members in 1985, charging them with crimes such as parole violations, contempt of court, illegal possession of firearms, and making terrorist threats. Mayor Wilson Goode and police commissioner Gregore J. Sambor declared MOVE a terrorist organization. Before their action, police evacuated residents from the neighbourhood and told them that they would be able to return to their homes within 24 hours.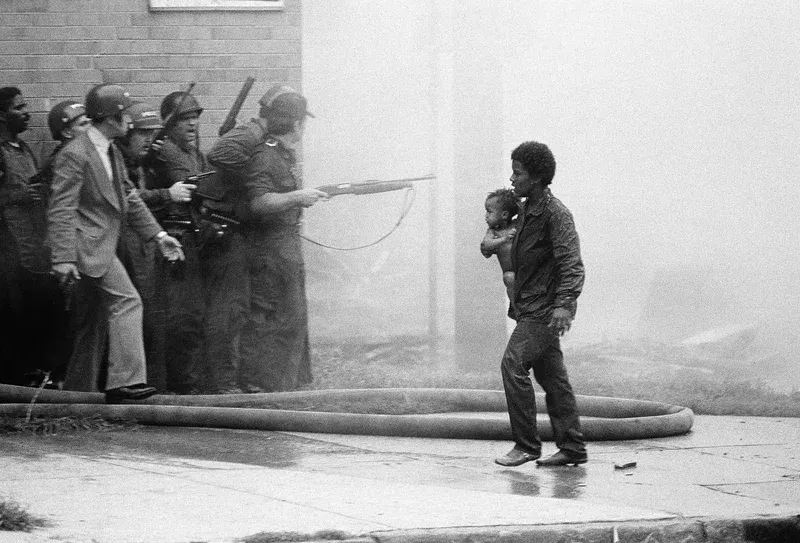 On Monday, May 13, 1985, nearly five hundred police officers and city manager Leo Brooks arrived and attempted to clear the building and execute the arrest warrants. Residents in the surrounding area were evacuated, and water and electricity were shut off in an attempt to force MOVE members out of the house. When MOVE did not respond to Commissioner Sambor's speech addressing them to abide by the laws of the United States, police decided to forcibly remove the 13 members, which included seven adults and six children.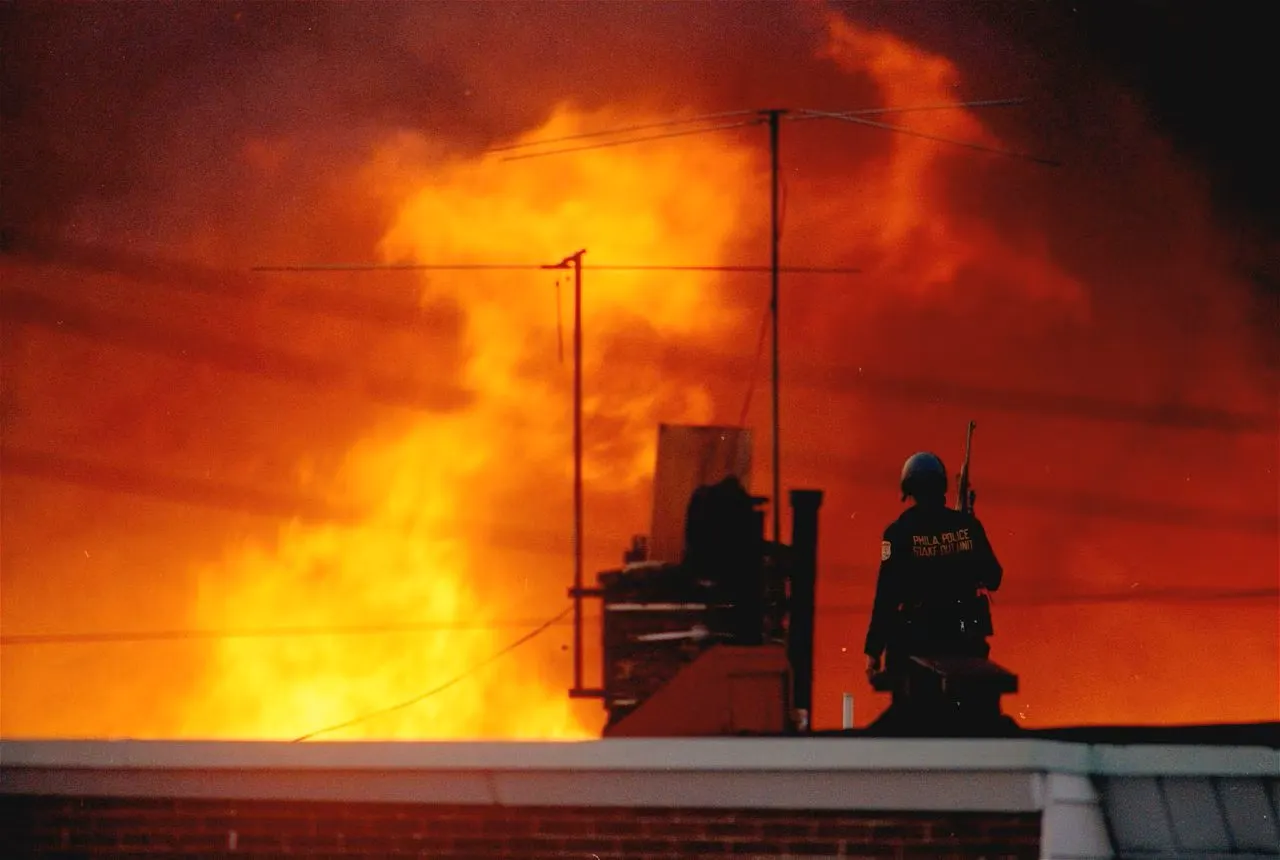 The situation escalated into an armed standoff, with police tossing tear gas canisters at the building and MOVE members firing back. After a 90-minute gunfight, during which one officer was injured by gunfire, Commissioner Sambor ordered the building to be bombed. From a police helicopter, Lieutenant Frank Powell dropped two one-pound bombs made of Tovex supplied by the FBI, targeting a cubicle on the roof of the house. The resulting fire killed 11 people, including John Africa and five other adults and five children aged 7 to 13, and destroyed approximately 65 nearby houses on Osage Avenue and Pine Street, leaving hundreds of residents homeless. The fire was so intense that it required firefighters to let it burn itself out. 
Ramona Africa, one of the two MOVE survivors from the house, claimed that police fired at those attempting to escape.
Events After the MOVE 9 Were Arrested: The MOVE 9's case has been the subject of ongoing controversy and legal battles. The group and their supporters maintain that they were wrongly convicted and that the evidence against them was circumstantial and unreliable. The case has received attention from human rights organisations, activists, and the media and continues to raise important questions about the fairness and reliability of the criminal justice system.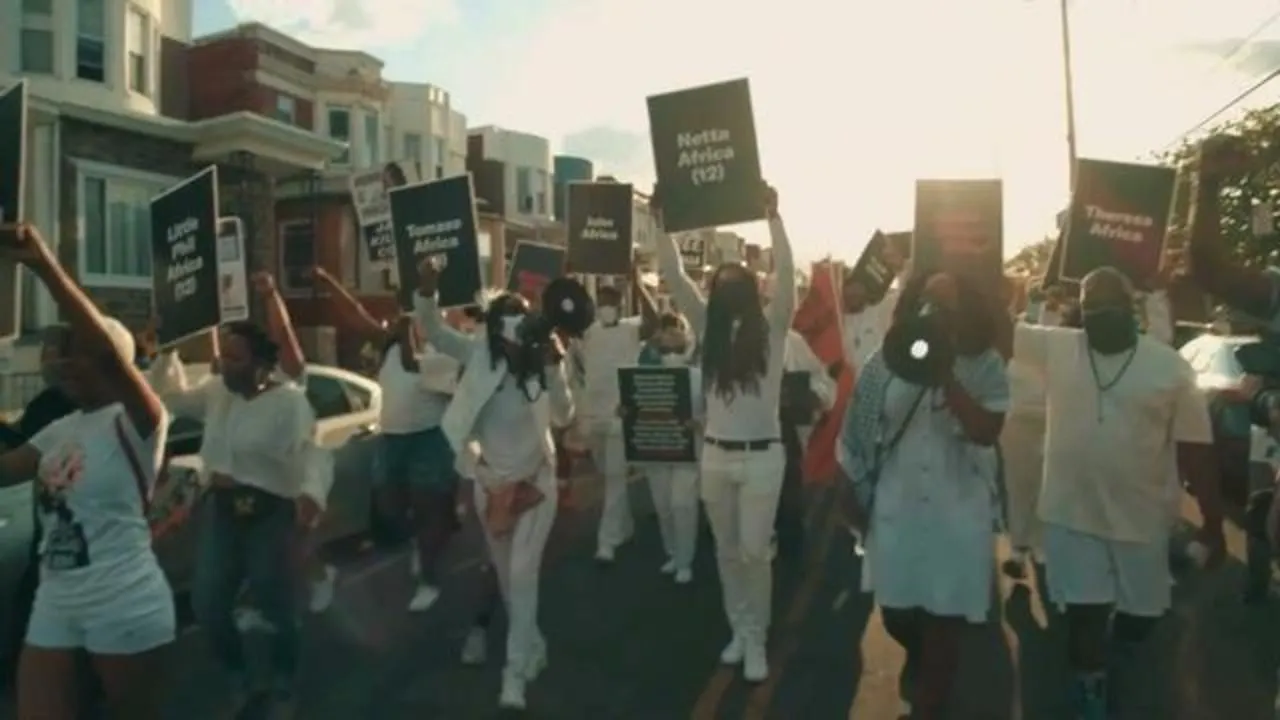 The MOVE 9 are Debbie Sims Africa, Janet Hollaway Africa, Janine Philips Africa, Williams Philips Africa, Delbert Orr Africa, Michael Davis Africa, Charles Sims Africa, Edward Goodman Africa, and Merle Austin Africa3.
In 1998, Merle Africa died in prison at the age of 47. The seven surviving members of the MOVE 9 became eligible for parole in 2008, but their requests were denied. Parole hearings for each of these prisoners were held annually thereafter. Phil Africa died in prison in 2015 at the age of 59.
The first of the MOVE 9 to be released was Debbie Sims Africa in June 2018. She was 22 when she was sentenced and spent over four decades in prison. Her release was met with renewed attention on members of MOVE and the Black Panthers who were still imprisoned in the US from the 1960s and 1970s, of which there were at least 25 as of June 2018.
In October 2018, Michael Davis Africa, Debbie's husband, was released on parole. Janine and Janet Africa were released in May 2019 after 41 years of imprisonment. Eddie Goodman Africa was released in June 2019, and Delbert Orr Africa was granted parole in December 2019 and released in January 2020. Chuck Sims Africa was the last of the MOVE 9 to be released on parole, which he was in February 2020 after 41 years of imprisonment. Sadly, Delbert and Chuck both died of cancer in 2020 and 2021, respectively.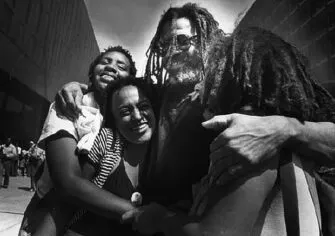 As I said at the beginning of this piece, different ways of thinking and doing things were and are actively being suppressed and fought.  In the case of MOVE and several other activist organisations, it ended with incarceration and death, today it might end with 'Cancellation' and loss of employment, but we cannot let these threats stop those of us who are progressive from actively seeking change we have to keep moving in the words of John Africa.
 "Everything that's alive MOVES"
So keep pushing forward with the things you are advocating for and don't give up because only dreams die when the people who have them stop moving.
If you enjoyed this overview and want to learn more, check out the documentary at the bottom of this newsletter (it's excellent and free !)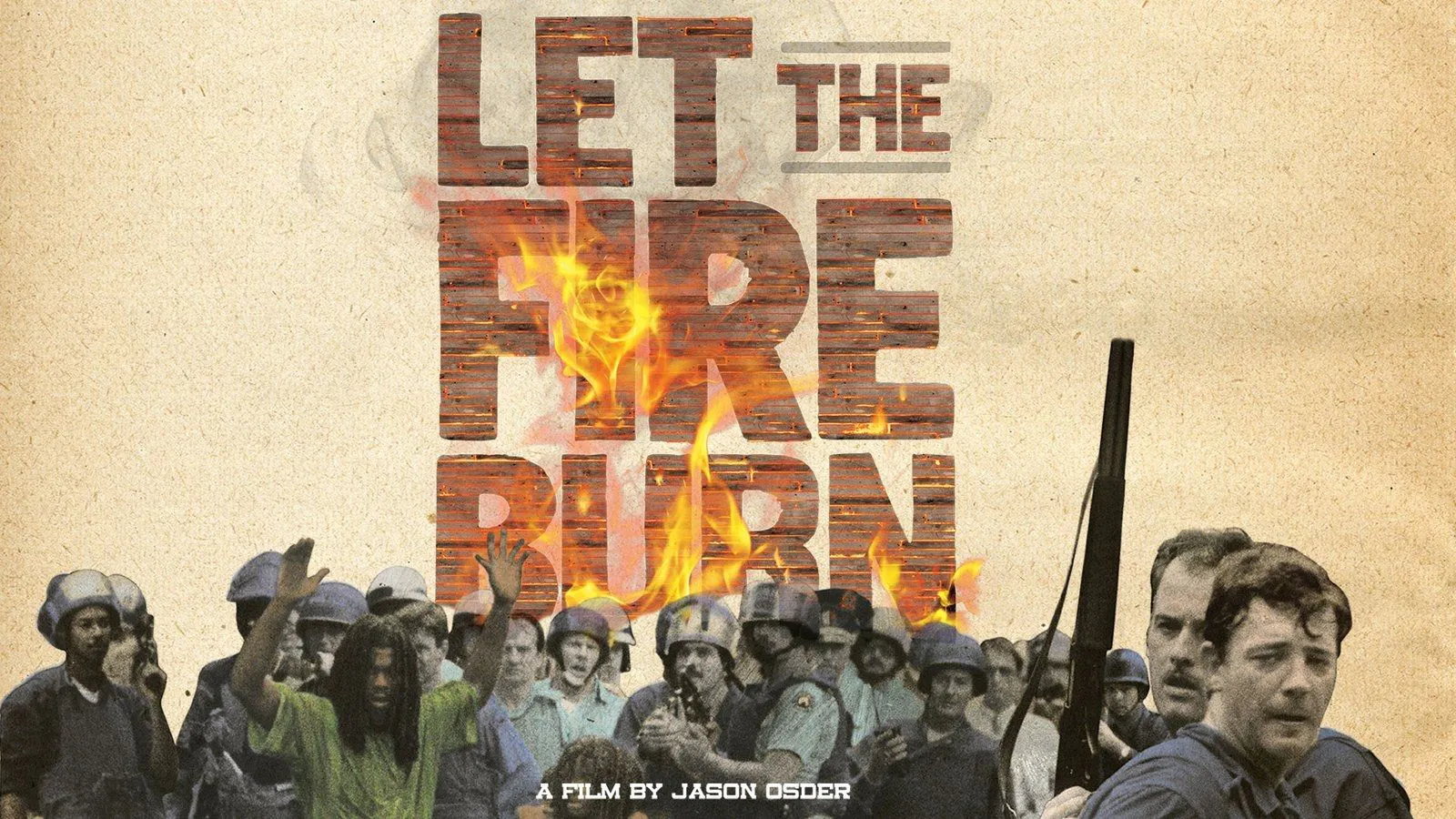 This is part of the newsletter where I ask you to join my membership site. 
Though content I make is free to consume, it's not free to make; it costs me time and money to buy research materials, website hosting, recording equipment and blah blah blah; we all have bills; if you enjoy my content and want to encourage me to make more (or stop lol) hit the membership button below:
Until next week, stay strong, stay wise, and remember black history is world history.
Blessings,
KK
Here's the doc for your viewing pleasure.
https://dai.ly/x1w62it

(Opens in a new window)
Topic
Newsletter