Great Question
Monday, 28th of August 2023  
Introducing you to the power of asking questions one Great Question at a time.
What are simple things in your life that bring you great joy?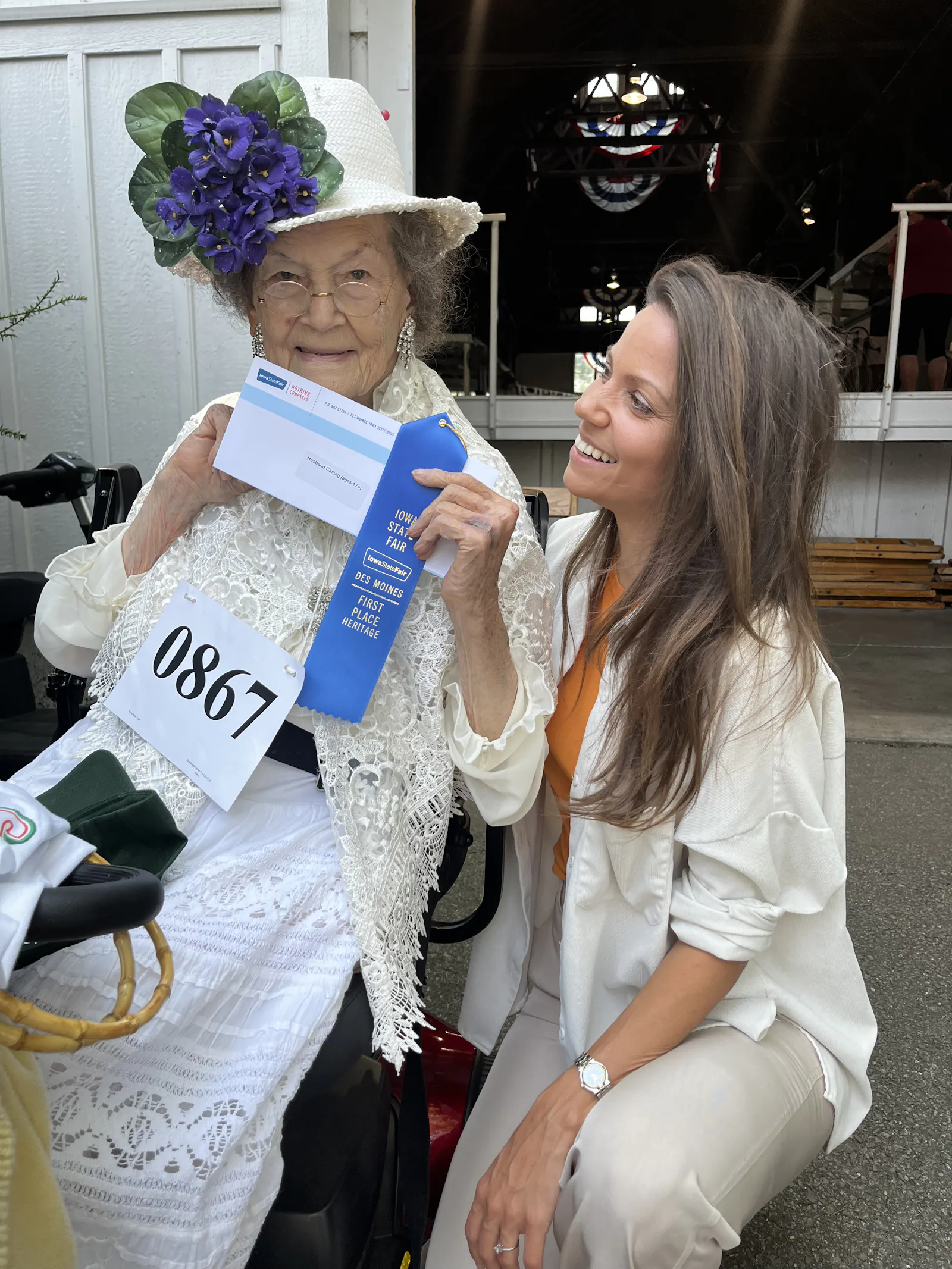 The 94-year-old Bonnie Swalwell Eilert has won it again, the Husband Calling Contest at the Iowa State Fair. As the name implies, the contest is about calling out husbands on stage. Bonnie has been participating in the competition for 40 years. Ever since, she brings her camper to the fair grounds and stays there for the whole time (10 days) with a tight schedule. This annual event gives her freedom, purpose and meaning. Everyone knows her, approaches her, greets her. People stop and take pictures with her. "It makes me feel alive." It is Bonnie's escape from reality, her adventure, her moment to shine and probably her secret for a long and fulfilling life.
At the Iowa State Fair in Des Moines, everything revolves around contests. There's an Ugly Cake Contest and even a Cow Chip Throwing Contest. The locals seem to be obsessed with it. It's wild, it's strident and for an outsider like me, it is extremely bizarre. Spending two days on the fair and speaking to many people involved, I understood that there is more to it.
These contests are very basic contests, that anybody could join. There are no elaborate skills required. It is something very simple in a world that has become overwhelmingly complex. "People are needing and wanting the escape of simplicity, to walk away with happiness and joy that THEY created. We offer that to people" is how Regina, one of the organizers, put it.
Action:
Seeing it from this perspective, these crazy contests suddenly made sense to me, and I wondered how this can be applied to my, to your reality. Questions like these could help to break it down:
What do I perceive as complex in my reality?
What would be the contrast to it?
How can I incorporate these contrasting elements into my everyday life?
Which simple things are already present?
How can I embrace them more consciously?
As we saw it with the 94 year old Bonnie, sometimes the simplest things can bring the greatest joy. It's never too late.
Share: Would love to hear which simple things bring joy to your life and if you have established any routines to foster them.
PS: I took part in the Husband Calling Contest too. Sneak peek in the TikTok video below or stay tuned on my Insta for the whole TV segment, that is going to be aired soon on RTL. And yes, I agree, taking part in the contest was a simple thing that brought great joy to escape the complex world for a bit. Plus it challenged me a lot, which is a good thing too, I guess.
https://www.tiktok.com/@mintmobile/video/7268825082498288942?_r=1&_t=8f6XZQDHAuW

(Öffnet in neuem Fenster)
Mehr von Johanna Schnüpke