The war in Ukraine changed everything. The challenges we had before might seem irrelevant today. As a journalistic and activist network working in 10 countries of Eastern Europe, Central Asia, and Caucasus, we've seen our members impacted by the war in a variety of ways. Some had to flee from the war and are now rebuilding their lives, others remained and now struggle to get by. While Unit's focus remains on supporting journalistic and creative projects on queer topics, we need to help our colleagues affected by the war in Ukraine.
Who we are and what we do
Since Unit's launch in 2018, we've supported journalists in the creation of dozens of  publications, including reports, interviews, art projects and podcasts. Here are some of the recent pieces we backed:
Unit is part of n-ost, a Berlin-based media NGO connecting journalists across borders. We are a community of more than hundred journalists and activists working with LGBTIQ+ topics.
Check out our website to get to learn our members and partners and read more articles. Here's a chart to give you a feeling of what we've been up to and how the project has been growing so far: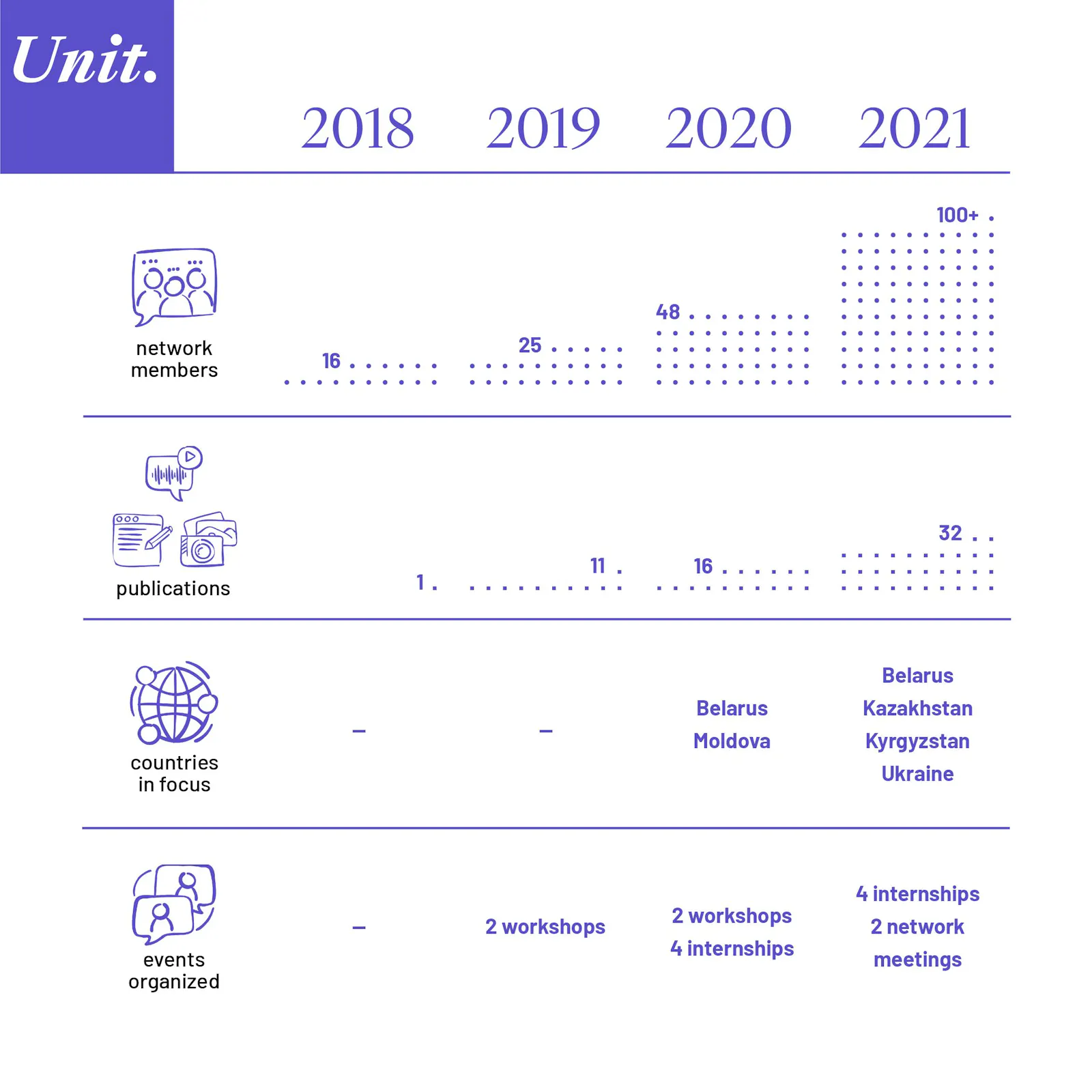 Thanks to our members' help, we've been able to offer more grants funding LGBTIQ+ themed projects. At the moment, however, there is a much more pressing need. Queer journalists and activists affected by the war need to get by and rebuild their daily lives. This is where you come in.
How your money is spent
The money you pledge is transferred directly to those journalists and activists from Unit's network who are affected by the war, with no mediators involved. It helps to cover their daily expenses, whether they need to relocate, to recover from leaving the country, or simply to get along.
Many many thanks to our current and past Steady members, as well as our donors, the EVZ Foundation and the Federal Foreign Office of Germany.
If you want to stay in touch and follow LGBTIQ+ stories from Eastern Europe, Central Asia, and Caucasus: