Rural proofing – do it future-wise
April 2022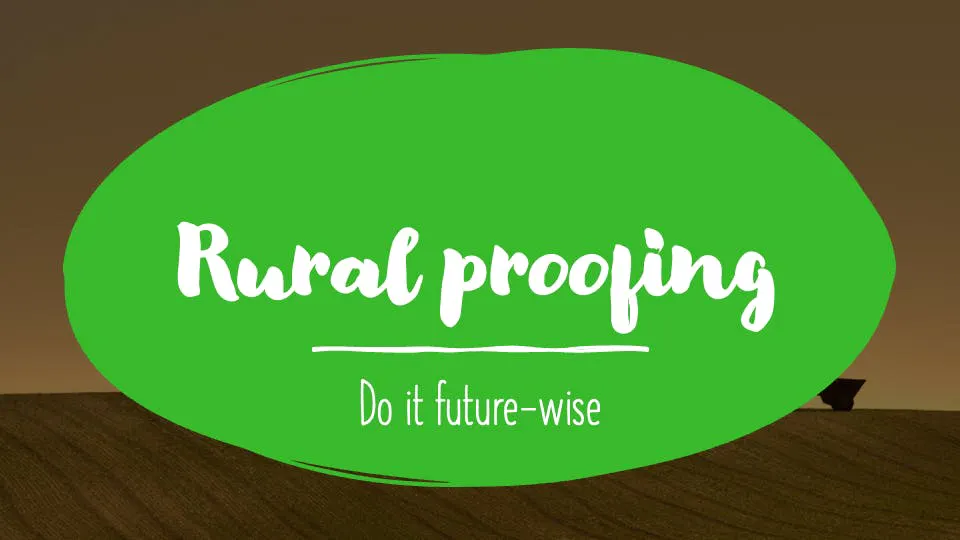 Most territories of the EU are rural areas and about 30% of the EU population lives in rural areas, i.e. municipalities with low population numbers and density. Europe's rural areas are very diverse. Variations in natural and climatic conditions, geographic features, historic and cultural developments, demographic and social changes, national and regional specificities and economic prosperity mean that no two rural areas are alike. This has among others been pointed out in various ESPON studies on rural areas.
Despite this diversity, the social and economic changes of the last decades put a particular stress on many rural areas. This includes e.g. the risks of erosion of rural infrastructure, declining provision of services of general interest, as well as shrinking population figures and employment opportunities. However, rural areas hold also many potential, which deserve more attention.
Rural proofing could offer an opportunity to increase the awareness of (spatially blind) policies concerning their potential impacts on rural areas. In the long run, this would help making policies more fit for rural areas.
In this light, the Long-term Vision for the EU's Rural Areas (Opens in a new window) highlights the idea of rural proofing as a mechanism to assess the impact of major legislation and initiatives on rural areas. It would screen major legislation and initiatives through a 'rural lens'. In doing so, rural proofing could help revitalising rural areas and close the rural-urban gap by ensuring relevant policies are aligned with rural needs and realities.
What is rural proofing ?
Still, there is no one definition of and methodology for rural proofing, neither at EU level nor in the member states.
Topic
Cohesion (policy)