Joscha Sauer: "I can work on new projects instead of worrying about the rent."
The Nichtlustig cartoons gained German artist Joscha Sauer his fame, but they are by no means his only project. In this interview Joscha reveals how memberships helped him to achieve creative freedom.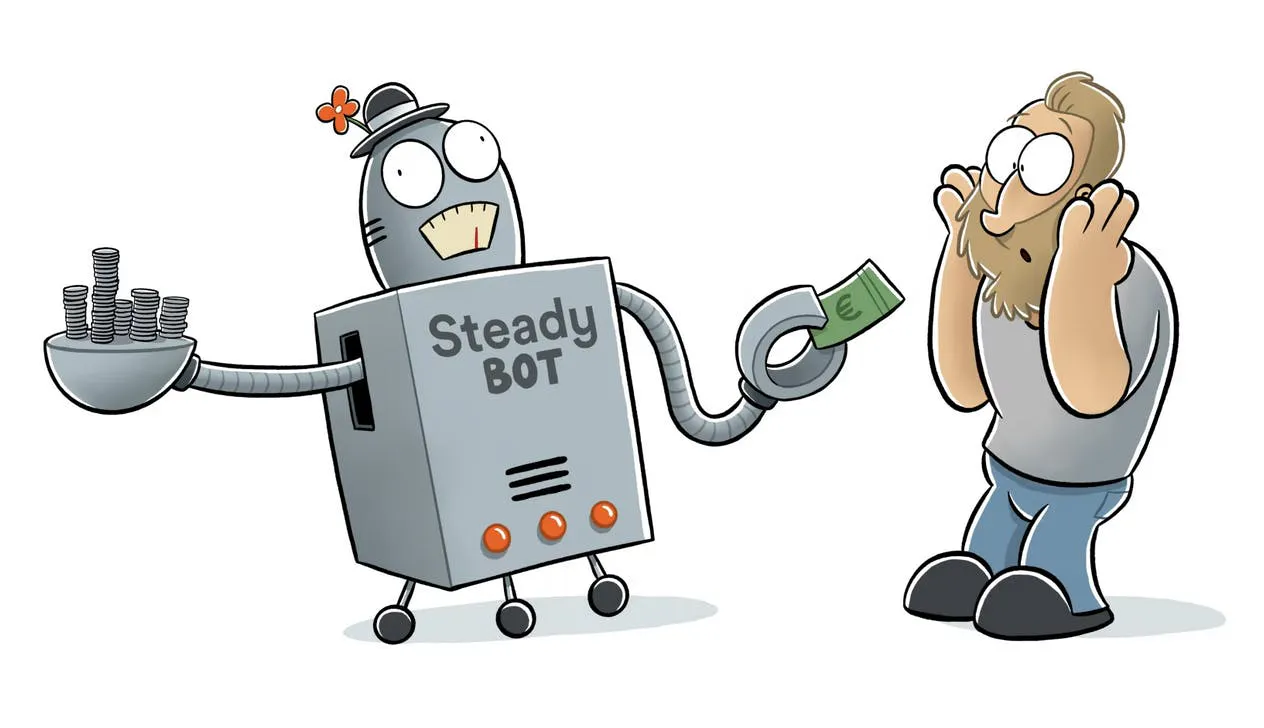 Joscha Sauer started drawing his satirically funny Nichtlustig cartoons about 20 years ago. Despite his huge success with them, he didn't want to limit his creativity by becoming a one-trick pony. Now he's also the creator of an animated film series, a blog, a newsletter, and he also makes podcasts and videos.
In April 2020, Joscha started a Steady project. Since then, many members have signed up to support his work. In this interview, the cartoonist explains why a lot of his members don't care about receiving a tangible return on their subscriptions – and how this helps him maintain his financial and creative freedom.
When you started your cartoons, did you imagine your professional future to be as it is now?
Not at all. There was no big plan. The internet was still very much in its infancy at that time and my cartoons were nothing more than a hobby. For me, it was just nice to publish things on the internet and live out my creativity.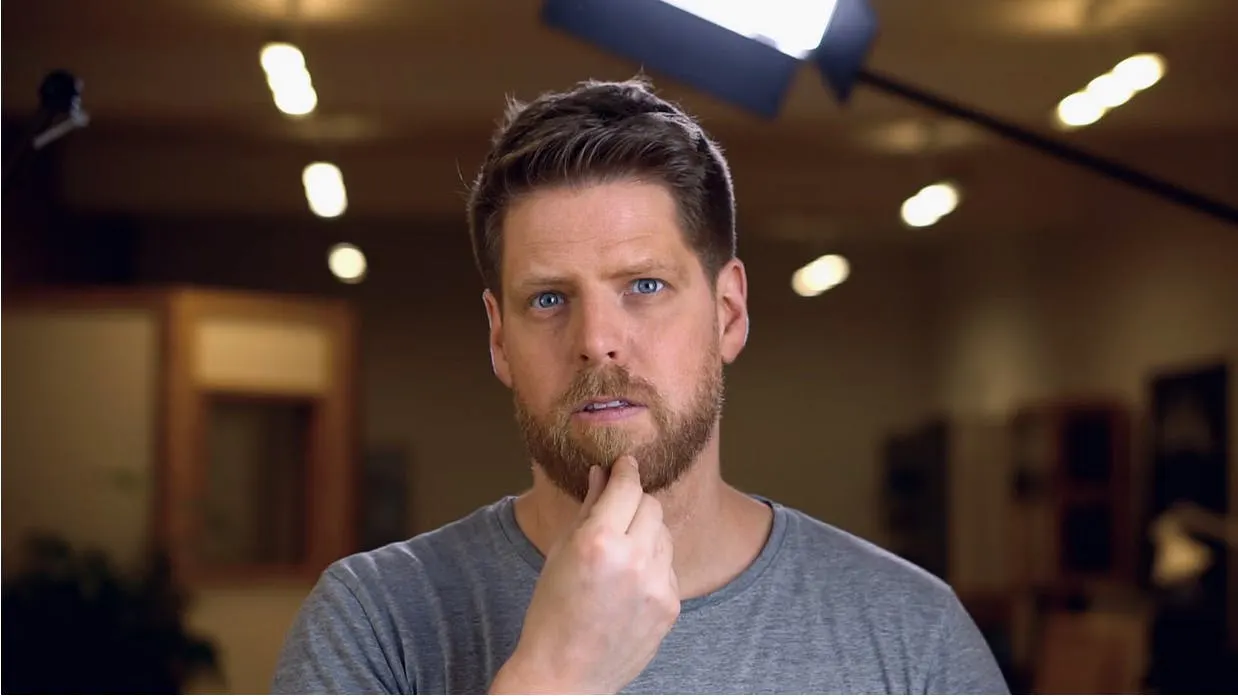 After taking a break, Joscha is now busy drawing Nichtlustig cartoons for his members again.
Then one day just playing around on the internet turned into something bigger?
Yeah, at some point I had a vision: I wanted to see all the cartoons I had already made in print. That wasn't so easy, because at that time it was poison for publishers if I said to them: 'people are already looking at these cartoons on the internet.'
I tried to get by with commissioned work or by selling cartoon licences. But I didn't really make much money with that.
Eventually, I did find a publisher, and when the first book came out in 2003 and the first edition completely sold out within a week, I breathed a sigh of relief for the first time and said: ok, after three years this finally seems to be a real profession!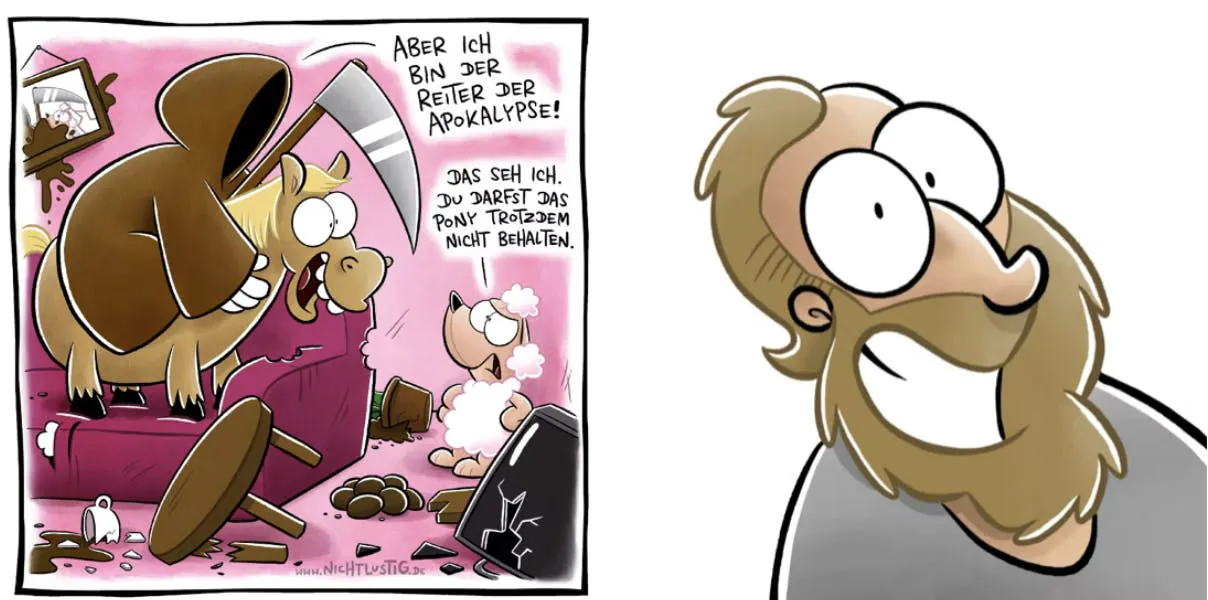 A Nichtlustig cartoon and a self-portrait of the cartoonist.
So in a way, the internet was your gateway to becoming a cartoonist.
Yes, at that time I did exactly what publishers today often take for granted: I built up a community before I could publish my work in book form.
But at some point you said goodbye to the Nichtlustig cartoons. Why?
Over time I got caught up in a lot of hamster wheels. A lot of people were benefiting from my work, but I myself had less and less fun with it because there was always this pressure to function and deliver.
I then decided to stop with many projects because I was no longer creatively fulfilled – and sadly also a bit burnt out. I wanted to have the freedom to work on other projects and not always have to run after the next assignment.
That did me good and allowed me to concentrate on a project close to my heart: The Nichtlustig animated series. Over the last few years, I've been working on it with a small team. That was also exhausting, but creatively much more rewarding than working alone.
You've now started posting Nichtlustig cartoons again. You also launched your Steady project in the spring. Is that your way of maintaining the creative and financial freedom you want? Does it work?
Absolutely. At first, I wasn't really interested in Steady. Mainly because I thought that it would create exactly the pressure that I didn't really want to have anymore – always having to produce new gags and constantly having to do exactly this one thing that I had already been doing for over 15 years of my life.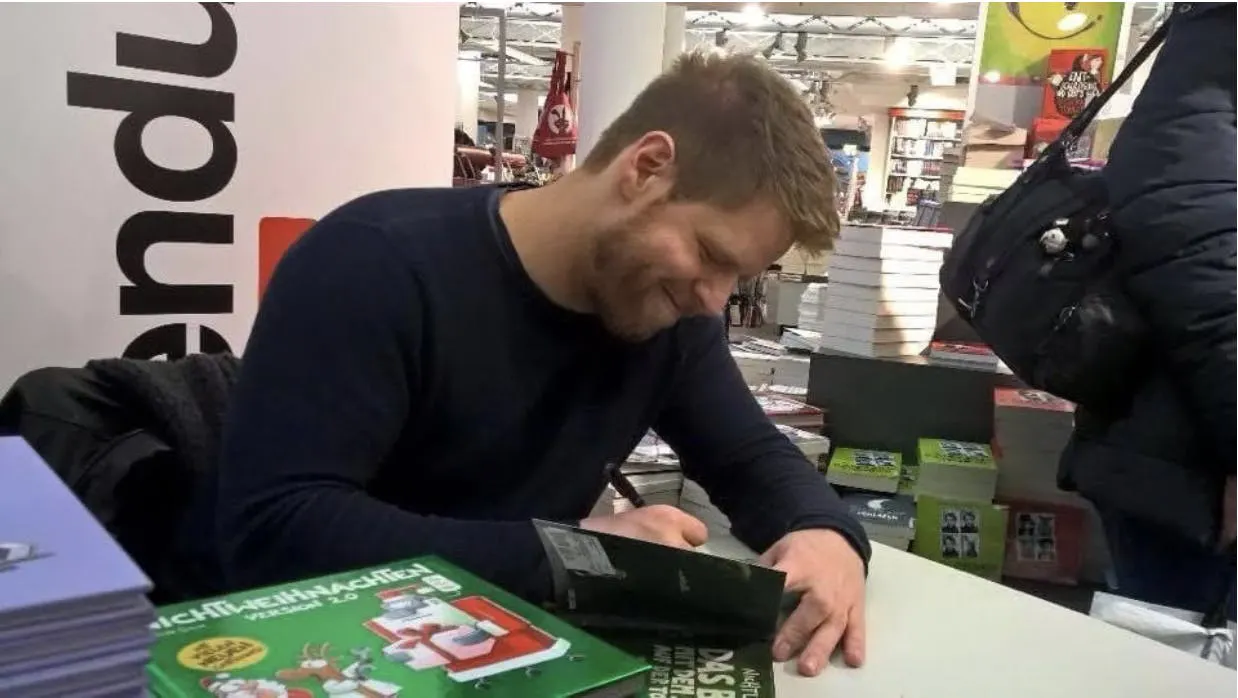 Joscha Sauer at a book signing.
I then had very long conversations with Gabriel from Steady – who I have to thank for how patiently he explained to me again and again that memberships can be a way for me to free myself from this hamster wheel because many of my fans primarily want to support me and not just pay for content.
That was the biggest barrier in my mind: thinking that people only pay for a concrete value. In the meantime, I know that there are a lot of people who support creatives in this way. Because they are aware that content that is published on the internet requires work, and that artists also have phases in which they work longer on something or cannot work for a period of time.
I can now work on new projects instead of worrying about how to pay the rent and fill the fridge.
Of course, not everyone feels that way. There are also members who are there mainly because of the additional bonus content. And that's definitely okay too. But it's nice to see that many people support me just because they have the confidence that I'm doing something good with this financial freedom.
How does it feel to have such trust placed in you?
It has given me a creative push. Suddenly it's no longer about: Can I sell this now? It's about: Is this something good that I want to do? I have that freedom now and this is very important for me.
The idea of support is at the forefront of your membership offer, instead of a concrete reciprocation of goods: all members get the same, no matter how much money they support you with. Nevertheless, part of your strategy is to keep delivering new exclusive content for them.
Exactly. I always post a cartoon that everyone can see. And then for every free cartoon, there's a bonus panel just for members. This is an additional cartoon that takes the same gag and continues it as a little sequel.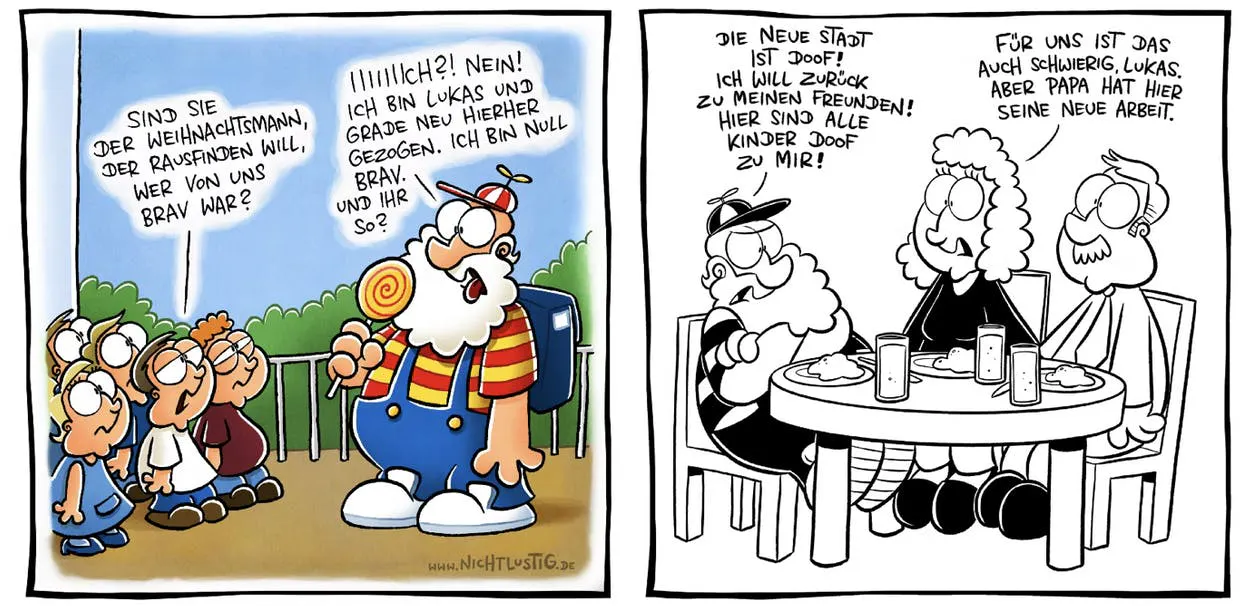 A Nichtlustig cartoon with the accompanying bonus panel.
Why did you decide on this strategy?
With the bonus panels, I want to motivate my fans to take out a membership. But above all, I needed a way to keep referring to my Steady project without just doing some clumsy advertising.
Because that is of course a big hurdle: getting over feeling uncomfortable about asking for financial support. But with a large community and especially on social media, where you can easily get lost in the background noise of the many posts, it is very important to keep pointing this out, because otherwise, no one will notice.
And exclusive content – these little bonus panels – were a great way for me to constantly draw attention to my Steady project without it always being the same old story.
https://youtu.be/uE8b0xA34h8

(Opens in a new window)
And is the plan working?
Very well so far. I've been quite surprised at how well the bonus panels work. Not just by how well they are received by the fans, but also by how good they work in terms of content. I'm really proud of them because I think they bring in another level of humour. I've had this idea for a long time. It's fun to realise it now.
With the bonus panels, you have fulfilled an old wish, so to speak. What else do memberships enable you to do?
In a strange way, the bonus panels are a bit of time travel for me, because I continue to think about cartoons that popped into my head 20 years ago. It's also a very strange kind of self-reflection. I remember what life situation I was in at the time when certain gags came to mind.
Apart from that, the memberships have mainly given me what I mentioned before: more creative freedom. I can now work on new projects instead of worrying about how to pay the rent and fill the fridge.
Do you think your membership programme is also doing so well because you were already very well known and had many fans before?
Sure, that is an important point. For me, the conditions were different than for someone who didn't have a fan community yet. You can't fool yourself and think: I'll start a membership programme and then the big money will come in immediately. Of course, that doesn't work.
I was lucky that I had already built up a large community and had proven through other crowdfunding campaigns that I could be trusted when I needed support for projects. I don't think you should underestimate that you need a lot of time and energy for this whole building process.
You've been doing it for a long time – but your membership offer is very new. Have the memberships changed the exchange with your community?
Not much, I would say. I notice that I've become more relaxed about my work and that I simply have more fun interacting with the fans. I like what I do and so I like to talk about it.
Through the memberships, and also through the fact that I see which people look at the bonus panels and how they react to them, the communication has become a bit nicer and more personal.
On Steady, anyone can become a member and support Joscha Sauer (Opens in a new window)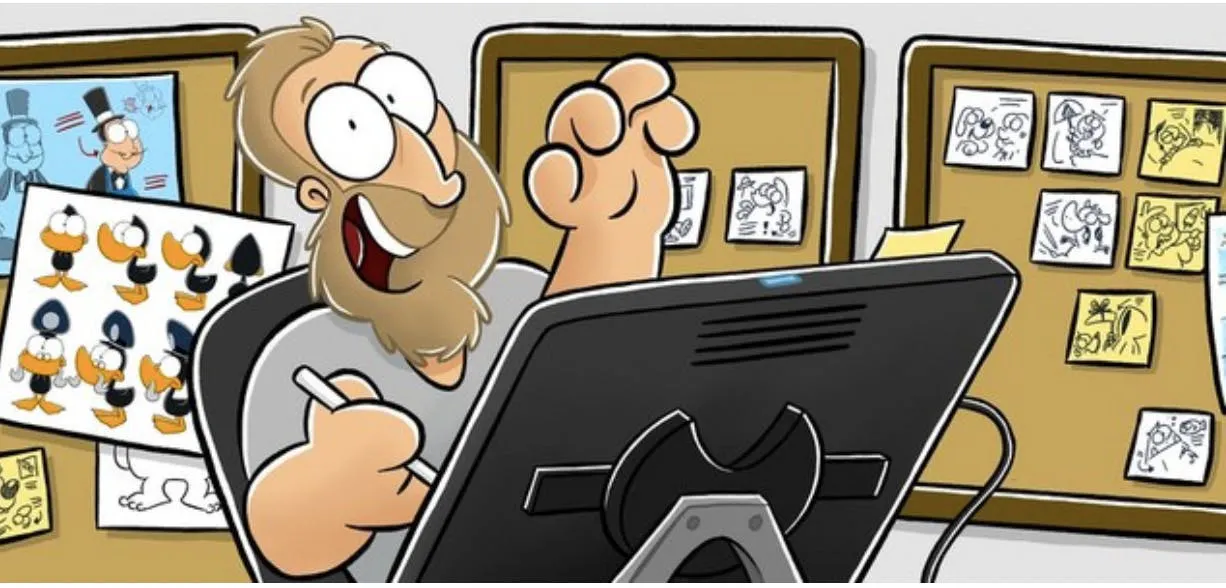 Joscha Sauer
For many years I have been publishing most of my work for free on the internet. I think it's nice when many people see my stuff and have fun with it. However, until now this also meant that I had to find additional ways to finance my creative work. Unfortunately, I don't earn anything just from the fact that many people look at my stuff.
Topic
Success Stories
Read more from Steady Magazine