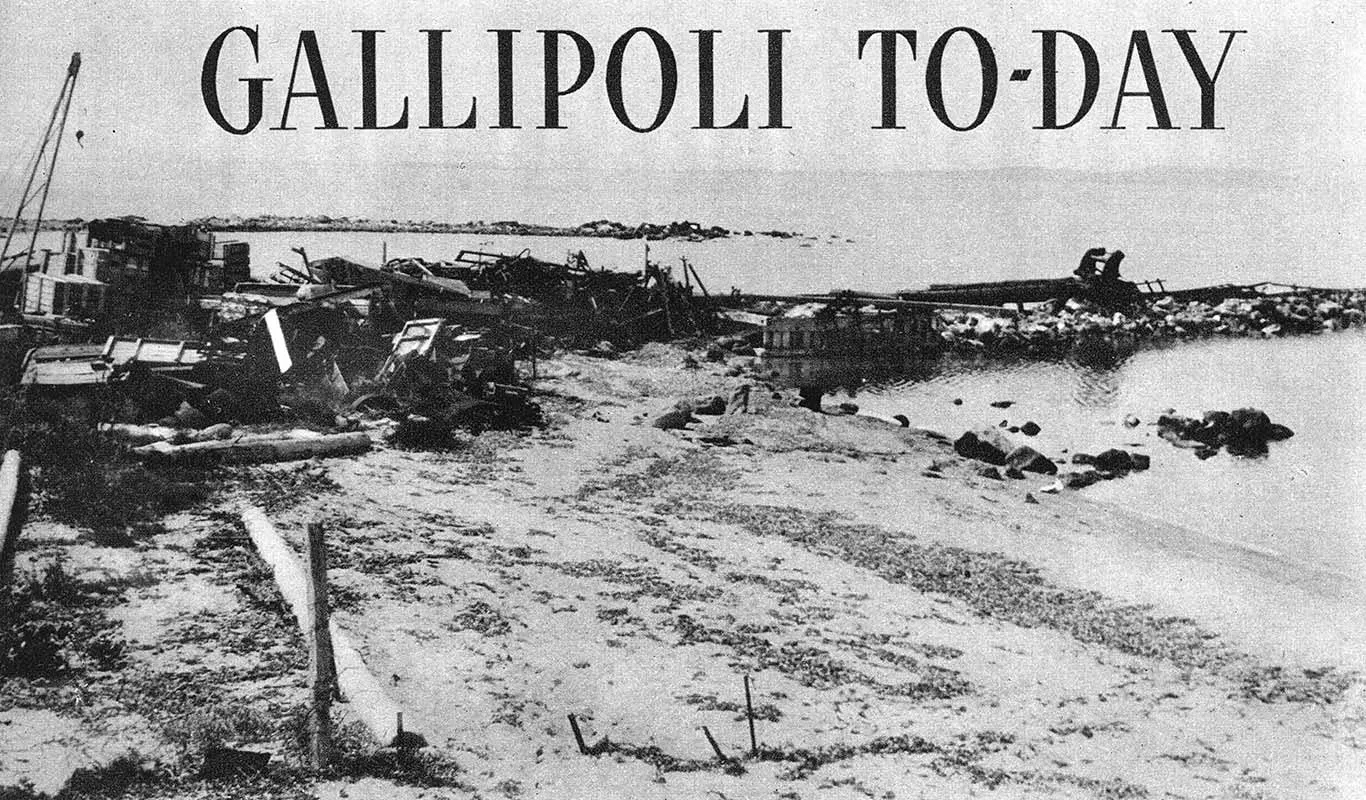 V Beach is a strip of sand between Cape Helles and the old castle of Sedd-el-Bahr. In this photograph the jetty seen in the centre was used by the Imperial War Graves Commission in their work of cemetery-construction. The broken cases and the crane still give this part of the beach a slight resemblance to what it was in 1915. On the left, in the background, can be seen the remains of the jetty built out to the River Clyde.  (Photo: Alec Riley)
Twenty Years After: The Battlefields of 1914–18, Then and Now was a magazine-style part-work published in England in the late 1930s.
The editor-in-chief, Major-General Sir Ernest Swinton, KBE, CB, DSO, was a retired British Army general and professor of military history at the University of Oxford. As a soldier, he'd played an important role in the development of the tank during the First World War. As a writer, he'd been one of the first war correspondents on the Western Front. He also wrote, under the nom-de-plumes of Backsight Forethought and Ole Luk-Oie, three volumes of fiction, several of the stories being set in the near future.
The contributors to Twenty Years After were all men who had served in the First World War. Some were professional soldiers, others had joined the army for the duration of the war. 
'In every case,' wrote the editor, 'the contributors to Twenty Years After have been selected for their knowledge of the events of those four tragic years and for their ability to write about the war as the men who served knew it to be.'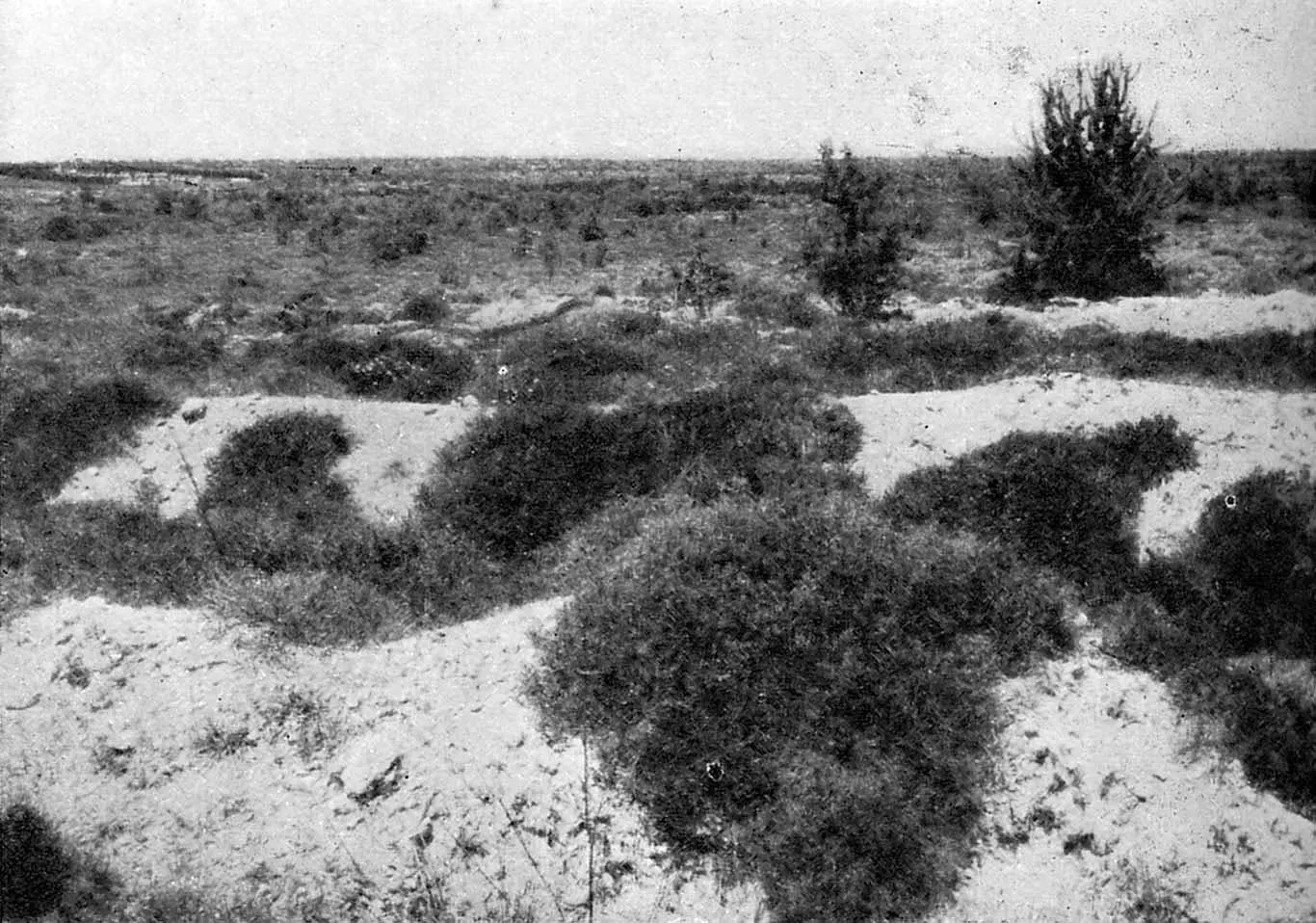 Redoubt Line trenches. Another modern view of trenches left untouched by Man, and but sparsely covered by Nature, during the twenty years since "Gallipoli " ended. Those who fought here will readily identify the site; others may be assisted by noting Twelve Tree Copse cemetery, in the far distance on the extreme left.  (Photo: Alec Riley)
But who wrote the Gallipoli sections? 
In his introduction to Part 8, the editor says: 
The ill-starred attempt to occupy the Gallipoli Peninsula is the task allotted to Major E.W. Sheppard, OBE, MC, who served there and in Egypt and France, being wounded three times. Major Sheppard is an able writer and writes of that which he knows. The author of many books and articles, he has a graphic writing style, coupled with the ability to paint a colourful picture.
(See our brief bio on Major Sheppard at the bottom of the page.)
Twenty Years After was initially planned as a set of 40 weekly issues, but would eventually comprise 64 parts. Volumes 1 and 2 were made up of 42 parts (20 parts in Volume 1, 22 parts in Volume 2), while the third supplementary volume comprised 22 parts.
Groundbreaking was the magazine's use of 'then and now' photographs that contrasted wartime images with a similar composition taken in the 1930s. 
These were especially popular with readers, although the editor noted that not everyone was pleased with the 'now'! 
A colonel who was showing a friend one of his favourite war-time spots in France, twenty years after, spluttered and foamed at the mouth until his friend was afraid he was going to have a fit. Then he managed to blurt out, "It's unbelievable. Look what they've done, they've spoilt a b—— good battlefield!"
The genesis of our project can be traced to Parts 34 and 35 of Twenty Years After which featured a Gallipoli soldier's evocative description of the abandoned battlefield at Helles. The search for the anonymous author of 'The Silent Nullahs of Gallipoli' led us to Alec Riley.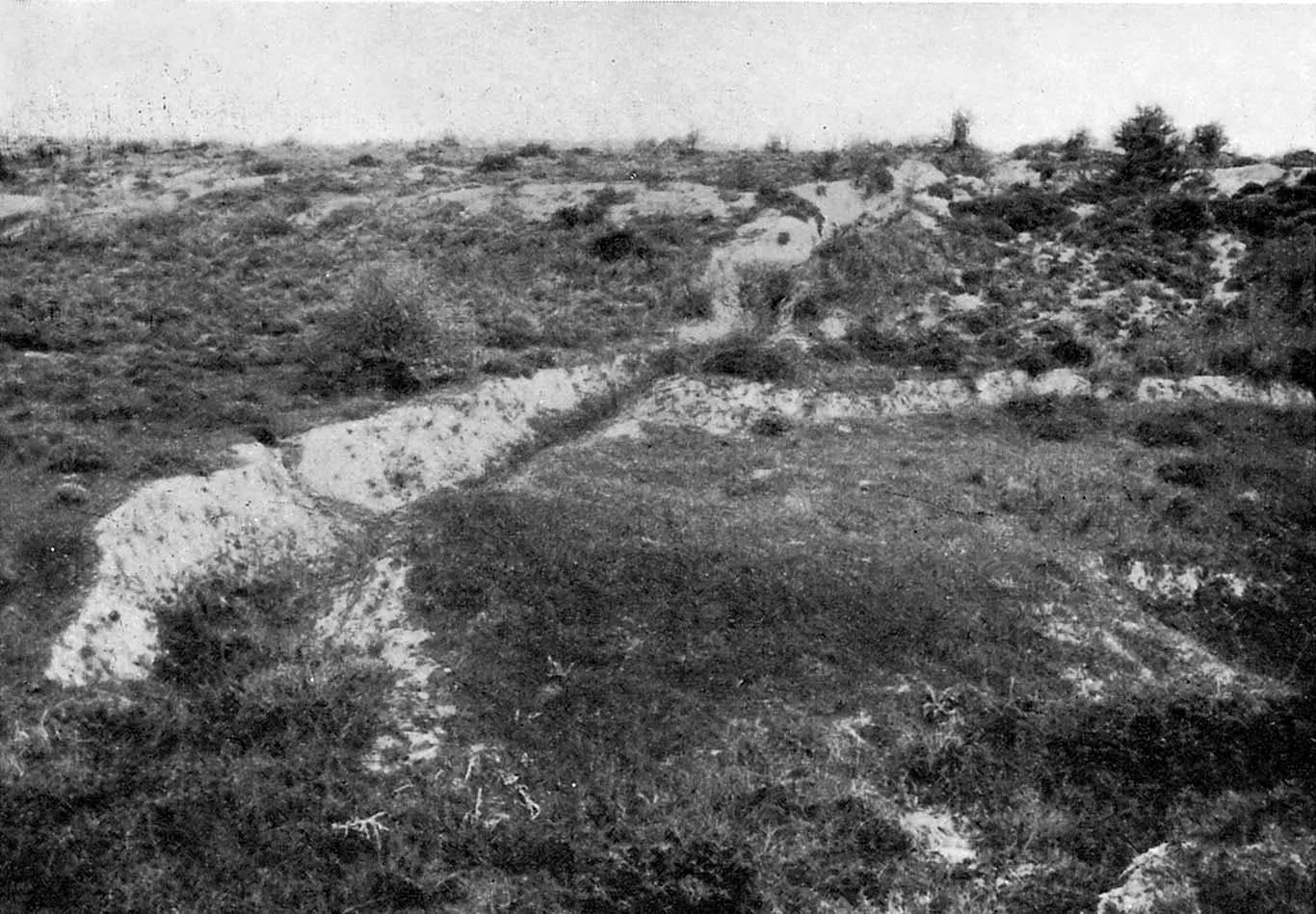 After two decades—Turkish trenches. This contemporary photograph shows a line of Turkish trenches near Achi Baba Nullah, or Kanli Dere, which runs parallel with the Kirte Dere down the middle of the toe of the Peninsula, eventually emerging into Morto Bay. The ancient furrows scarring the lonely ground were identified by the photographer as Turkish from the cartridge-clips still lying about. (Photo: Alec Riley)
Our edition of Riley's Gallipoli diary includes 'The Silent Nullahs…' as an appendix, alongside a similarly-themed but shorter piece entitled 'Gallipoli under tranquil skies' that Riley wrote for The Daily Telegraph and Morning Post in 1938. These texts are illustrated by most of Riley's photographs for Twenty Years After. (Not included in our edition are images of Anzac and Suvla, and a handful of images of Helles, two of which are included in this blog post.) In total, Riley is credited with 41 photographs in Twenty Years After.
What follows is an index to articles in Twenty Years After that have a Gallipoli significance. We've also added some notes regarding the accompanying photographs. Wartime images have typically been sourced from the Imperial War Museum, and will be familiar to readers. Contemporary 'now' scenes, if not sourced from Alec Riley, were attributed to the Central Press agency.
We hope you find this index useful. Please let us know if you have corrections.
Volume 1
'An Empire in Arms' – Part 7
Chapter XIV, starting page 226
Includes a photograph of Lone Pine cemetery and memorial, credited to Central Press.
'What of the Dardanelles?' – Part 7
Chapter XV, starting page 241
Includes photographs of 'Asiatic Annie' and several 'now' photographs of Gallipoli, including the Narrows from Chunuk Bair, Suvla, and V Beach and Cape Helles. The 'now' photos are all credited to Central Press.
'The Navy in 1915' – Parts 7 and 8
Chapter XVI, starting page 247
Includes photograph of New Zealand memorial at Chunuk Bair, credited to Central Press.
'The Epic of the Gallipoli Landings' – Part 8
Chapter XX, starting page 289
'The Navy's Stranglehold' – Part 11
Chapter XXIV, starting page 368
'Sorrowful Weeks Before Achi Baba' – Part 12
Chapter XXVI, starting page 400
This chapter is the first to feature photographs credited to Alec Riley, the very first being a view of the water condensers on the beach at Anzac. Also included is the 'amusing and unusual pair of Then and Now photographs' showing the waterfall in Krithia Nullah near Redoubt Line.
'The Battle of Suvla Bay' – Parts 13 and 14
Chapter XXIX, starting page 467
Includes photographs credited to Alec Riley.
'Gallipoli Today' – Part 14
Photo essay, pages 485–488
All photographs credited to Alec Riley.
'Last Months at Gallipoli' – Part 17
Chapter XXXVII, starting page 589
Volume 2
'The Silent Nullahs of Gallipoli' – Parts 34 and 35
Chapter LXXV, starting page 1224
The author is not named, a policy which applies throughout Twenty Years After, but it is indisputably Alec Riley. Includes photographs credited to Alec Riley.
Errata – Parts 42
Two notes relating to Gallipoli content can be found on pages 1487–1488.
Volume 3
Both part and page numbers restart in this supplementary volume.
'On Pilgrimage to the Near East' – Part 10
Chapter XXI, starting page 340
An account of the St Barnabas pilgrimages to Salonica and Gallipoli in 1926, and to Egypt and Palestine in 1927. Photographs include disembarking at V Beach, the Helles Memorial and a view of V Beach, all attributed to Central Press, and the cemetery at East Mudros by E.N.A.
'The RASC in the minor theatres' – Parts 17 and 18
Chapter XXXVII, starting page 610
'We will remember them' – Part 21
Chapter XLVI, starting page 751
Includes a photograph of Twelve Tree Copse cemetery on page 767, attributed to Central Press.
How to get a copy
If you're looking to buy Twenty Years After, individual issues and complete sets often come up for sale on auction sites. Last year, Naval & Military Press (Opens in a new window) reprinted all parts in three volumes. The Vickers Machine Gun (Opens in a new window) blog is progressively uploading digital scans that you can download free.
Alec Riley's Gallipoli Diary 1915 features his Gallipoli photographs of 1915 and 1930 as well as 'The Silent Nullahs…' and can be purchased from bookstores and Amazon:
Disclosure: As an Amazon Associate, we earn a small commission if you decide to make a purchase after clicking these links. There is no cost to you.
The elusive Major E.W. Sheppard, OBE, MC
Eric William Sheppard (1890–1975) was educated at Trent College and at Hertford College, University of Oxford, where he gained first-class honours in history. He was a second lieutenant in the 10th Battalion Manchester Regiment, Territorial Force, in 1911 when his first book, a study of a campaign in the American Civil War, was published. He became a prolific author of military history, his best known book being A Short History of the British Army that saw three revised and enlarged editions after its initial release in 1926. Sheppard was also a military correspondent to a number of newspapers, including The Times and The Spectator, and contributed to the journals of the Royal United Service Institution and Society for Army Historical Research.
Sheppard's military career is somewhat difficult to disentangle and we haven't been able to track down his Gallipoli service. He may have received his knowledge second hand, or been sent out with a draft of replacement officers during the campaign. What we do know is that he was a lieutenant in the Officers' Training Corps at public school, then, in July 1910, commissioned 2nd lieutenant in the 10th Battalion, Manchester Regiment. After war broke out in August 1914, Sheppard joined the 19th (County of London) Battalion, London Regiment, but by Christmas Day had transferred to the Royal West Kent Regiment. His medal index card gives his theatre of entry as France, 14 February 1915. From June 1915 until February 1916, he was attached to the East Surrey Regiment (this regiment did not serve at Gallipoli), returning to the RWKR in July 1916. Shortly afterwards, on 1 August 1916, he was attached to the Lancs Fusiliers where, as an acting Captain, he commanded a company. Sheppard, by now a lieutenant, returned to the RWKR on 23 October 1916. During 1916, he was awarded the Military Cross (London Gazette, 26 September 1916). The citation read: '2nd Lt. Eric William Sheppard, R.W. Kent R. For conspicuous gallantry in action. He went forward under heavy fire and brought back a clear report of the situation. Though wounded, he insisted on remaining at duty.' From 20 October 1917 to 9 February 1918, Sheppard was 'specially employed' at the War Office, following which he was made temporary Captain and General Staff Officer, 3rd Grade. In 1919, he was awarded the OBE. Sheppard was also mentioned in despatches. Until 1936, when he was invalided out of the army, Sheppard was an officer in the Royal Tank Corps.
Surprisingly, for a widely published writer, we have found no biography on Sheppard, only brief introductions that typically mention his service at Gallipoli, Egypt and the Western Front, and his long tenure as a military historian.