A vision for the development of the Baltic Sea Region in 2040
June 2023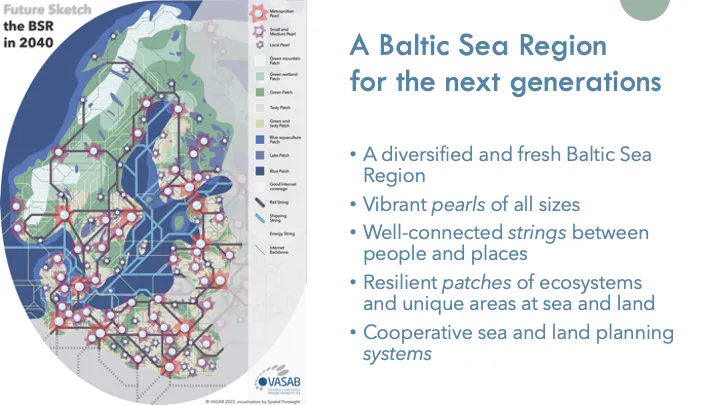 Visions are powerful because they define a desirable picture of the future that derives from the common caring and the common aspiration for a desired change.
On 02 June 2023, a new vision for the Baltic Sea Region was endorsed at 9th VASAB conference of ministers responsible for spatial planning and development of the Baltic Sea Region. The conference took place in Wismar, Germany.
VASAB has been a pioneer in developing spatial visions for the Baltic Sea Region. Already after the lift of the Iron Curtain, the VASAB's Long-Term Perspective developed a desirable future for its places and people. The new vision adjusts the existing vision or long-term perspective to recent trends and developments. Sadly, this also includes a changed delineation of the area. Traditionally, Russia and Belarus have been active partners in the VASAB cooperation. Following Russia's war on Ukraine, this changed. Halfway through the elaboration of the new vision, the geographical delineation was adjusted to new geopolitical realities.  
However, as the new vision looks towards 2040, there might still be some hope that by then things may change to the better, and some of the previous cooperation can be taken up again. Last but not least, visions are about desirable futures, albeit ones which are shared by the involved players, and which are based on common values.
What can be a desirable future for the Baltic Sea Region?
The Baltic Sea Region for the next generations will be a region which has achieved the sustainable, digital and just transition utilising its territorial specificities. It is a spatially balanced and interconnected region where a healthy Baltic Sea is the central asset around which the region prospers.
Going back to the powerful metaphors developed for the first VASAB vision in 1994, the new vision for 2040 is structured along four territorial elements represented by four different metaphors: pearls, strings, patches and systems.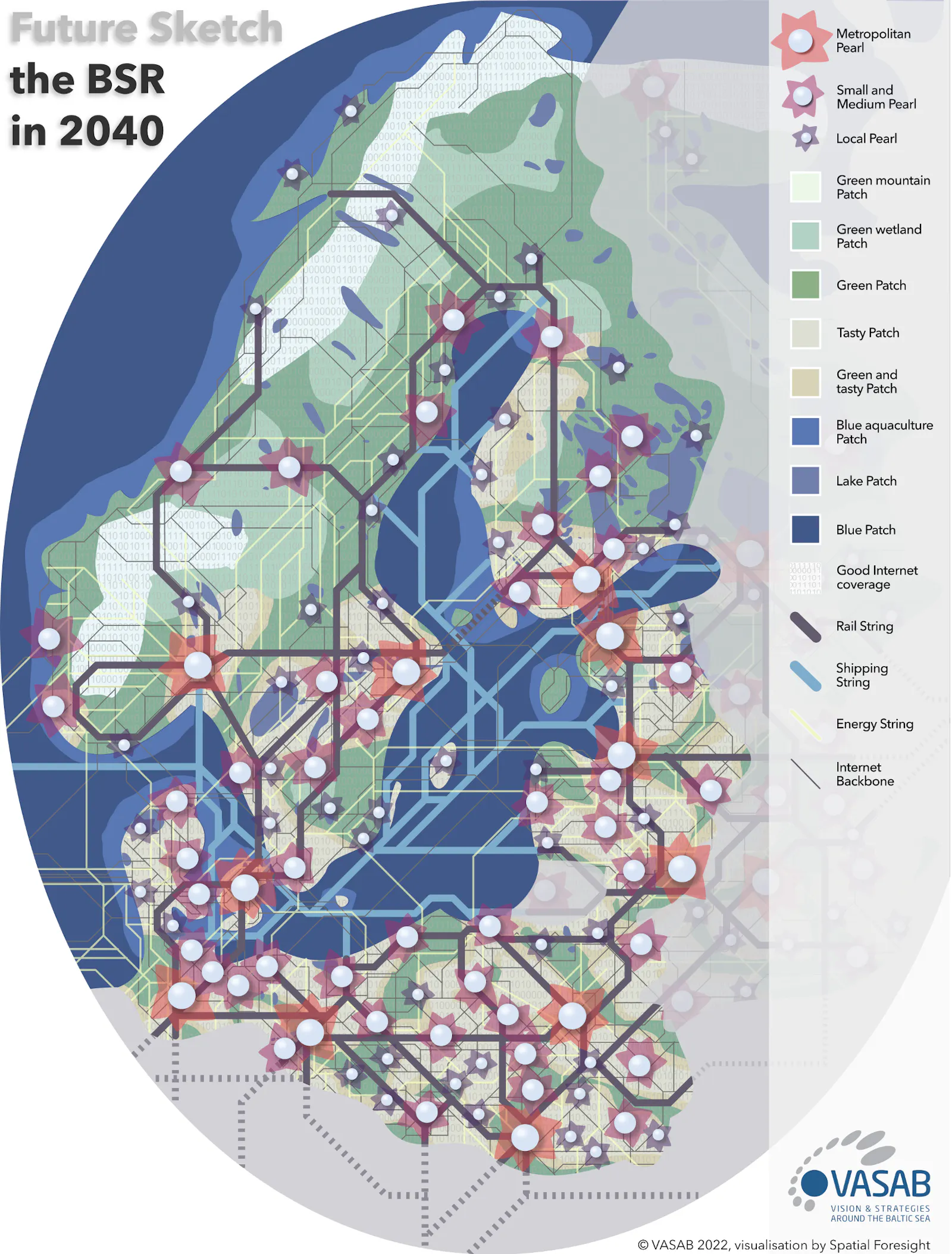 Vibrant Pearls of all sizes
Pearls describe the urban and rural network and settlement structure of the region. They are the anchor points of spatial development, and by clustering people and ideas they are important drivers of change towards a green and digital transition. They offer high quality of life, and are well networked, with pearls building on their own comparative advantages, capabilities and complementarities between them. Rural areas are the local pearls of the Baltic Sea Region. Small and medium-sized towns are the gears of the Baltic Sea Region. Green, blue and vibrant metropolitan areas characterise the Baltic Sea Region internationally by 2040.
In particular demographic forecasts about population ageing, decline and increasing concentration towards urban centres, make this vision a tall order. Considerable coordinated policy efforts will be necessary to ensure that small places in the North of the Baltic Sea Region and along the EU external borders in the East will be able to live up to this vision. This is fully in line with the idea that small places matter, put forward by the Territorial Agenda 2030.
Well-connected Strings between people and places
Strings describe secure rail, road, maritime physical and virtual connectivity and energy networks across and within the Baltic Sea Region. They support interaction and cooperation between people and businesses, including knowledge sharing. The strings are characterised by a sustainability, digitalisation and innovation shift together with responsible consumption and connect different places and people. By 2040 the rail, road, maritime and virtual connectivity for both goods and people is green, efficient, safe, reliable and affordable all over the region. Energy production will be carbon-neutral, secure, decentralised and well-connected throughout the Baltic Sea Region.
Almost unnoticed, airports and flight connections have not found any space in this vision for a sustainable Baltic Sea Region. Sustainable transport focuses very much on rail, ships and digital connectivity. To make this happen rail infrastructure and services will need major revamps, comparably with the Rail Baltica which was a result of earlier VASAB efforts. Just this time, the efforts need to materialise much faster in new transport services and connects.
Resilient Patches of ecosystems and unique areas at sea and land
Patches represent a sustainable management of the commons where natural resources are in balance with human activities. They are larger geographical areas which are important for ensuring a good quality of life, ecological livelihoods, sustainable production and resilient supplies in the region. The mosaic of sea and land environments of the region has high levels of biodiversity, intact, continuous and unbreakable ecosystems, and overall a healthy nature securing the livelihood, production and good quality of life. Besides green and blue, there are also tasty patches which stand for sustainable agriculture and regional food production.
Compared to previous versions of the visions, the metaphor of the patches changed meaning. In the vision for 2040 it stands for the necessity of a green transition, and which allows for a balance between the use of natural resources and human activities. A particular focus is on the intact environment and biodiversity, ensuring people's livelihood. This follows the call of the UN Sustainable Development Goals and EU objectives to become climate neutral and strengthen biodiversity. Also, here the pleasant reading of the vision text is a call for substantial policy transitions.
Cooperative sea and land planning systems
The systems describe the terrestrial and maritime spatial planning systems, which are essential for putting the long-term perspective into practice. By 2040 they will be all better integrated and communicate smoothly across sectors, administrative levels and national borders. Planning systems will be efficient and interoperable and help improve the resilience and security.
Although planning systems have become considerably more interoperable in recent years, it probably will take until 2040 to reach this vision. Given today´s complexity of planning laws, administrative systems and planning practices, it will require considerable efforts to push along these lines. Possible further accelerations in the employment of artificial intelligence in planning may help.
Overall, the new VASAB vision for the Baltic Sea Region is 2040 sketches a region where the next generations will be able to enjoy a high quality of life based on our mindset shift towards sustainability in all aspects of life, on more cohesion, integration, solidarity and macro-regional cooperation, and on a wiser use of technology for the common good of places and people. To get there, this vision will have to inspire and guide transformative decision-making in the years to come.
The full text of the vision is available here (Opens in a new window).
by Kai Böhme
https://steadyhq.com/en/spatialforesight/posts/211eef0f-a9a9-4db1-b960-e9bf64514446

(Opens in a new window)
Topic
Scenarios & visions
Read more from spatialforesight