Europe's transition to a sustainable bioeconomy
May 2022
Climate change and the increasing depletion of fossil fuel sources require our economy to shift to renewable resources. This put the focus on bioeconomy as an opportunity to reconcile economic growth with environmentally responsible action. In other words, our future lies in the transition to a sustainable bioeconomy.
Basically, bioeconomy means using renewable biological resources from land and sea, and the conversion of these resources and waste streams into value added products. Consequently, bioeconomy covers all sectors and systems that rely on biological resources (animals, plants, micro-organisms and derived biomass, including organic waste). It includes and interlinks: land and marine ecosystems and the services they provide; all primary production sectors that use and produce biological resources (agriculture, forestry, fisheries and aquaculture); and all economic and industrial sectors that use biological resources and processes to produce food, feed, bio-based products, energy and services.
Regions pushing for bioeconomy
The transition to a bioeconomy is already underway. A recent study (Opens in a new window) conducted for JRC shows that 194 regions in the EU have strategies that relate in one way or another to bioeconomy or tackle it from different angles. Going into more detail, the study identifies:
fully dedicated bioeconomy strategies in 28 regions, plus 1 region currently elaborating such a strategy,

strategic frameworks with a strong bioeconomy focus in 62 regions, plus 7 regions currently elaborating such strategies, and

strategies with a minimum bioeconomy content in 94 regions, plus 2 regions currently elaborating such strategies.
Bioeconomy sectors
Many of these 194 regions even have several strategies, addressing different economic sectors. The economic sectors addressed in the various types of regional bioeconomy strategies vary depending on where in the bioeconomy value chain a region puts the emphasis:
Biomass supply is often addressed with focus on agriculture and forestry, but also organic waste. Depending on a regions geography also fisheries and aquaculture can be included in the strategies.

Biomass processing and conversion is often addressed in relation to energy, bioenergy, agri-food or construction.

Bio-based products are often addressed in relation to plastics or biorefinery products.

Bioeconomy research is a relevant topic in many Smart Specialication Strategies and Regional Innovation Plans. Sometimes, it is also linked to regional energy strategies.

Other sectors like tourism and transport can also be relevant in bioeconomy strategies, but this is rarely the case.
Overall, bioenergy, agriculture and forestry are the sectors most frequently addressed in regional bioeconomy strategies (see graphic). This is followed by agrifood and organic waste.
The sectoral emphasis is also echoed in the types of biomass resources addressed in the strategies. Forestry and wood-based biomass the most frequently mentioned sectors, followed by agricultural biomass and agricultural residues. Furthermore, different forms of waste (food, organic household and industrial waste) are mentioned frequently in the strategies. Aquatic biomass is also mentioned.
Territorial variations
In geographical terms, Italy is the country with the largest number of regions with strategies related to the bioeconomy, followed by Sweden, France, Spain, Finland and Poland. The most important territorial differences are also shown in the map.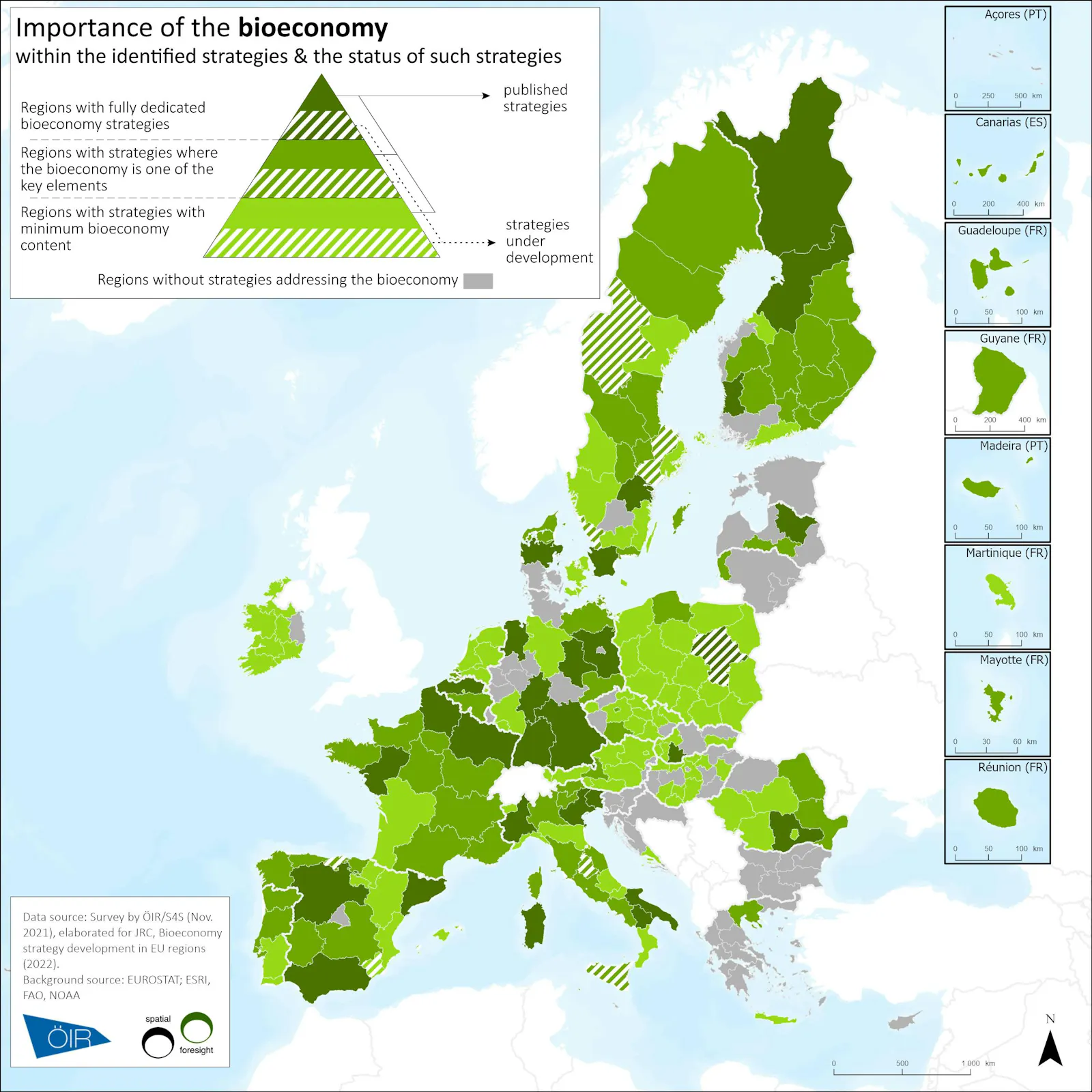 The study points also out that Interreg programmes play an important role for the development of regional and, especially, multi-regional bioeconomy strategies. Interreg projects are often mentioned as origin of regional strategic frameworks or action plans in countries without a systematic deployment of the bioeconomy at the regional level. They are the often motor behind all multi-regional bioeconomy.
The study shows that many regions in Europe are working on the transition to a bioeconomy. The full report is available here (Opens in a new window).
by Kai Böhme, Silke N. Haarich & Stephanie Kirchmayr-Novak
https://steadyhq.com/en/spatialforesight/about

(Opens in a new window)
Topic
Resilience & transition
Read more from spatialforesight