Cohesion Spirit Compass
November 2021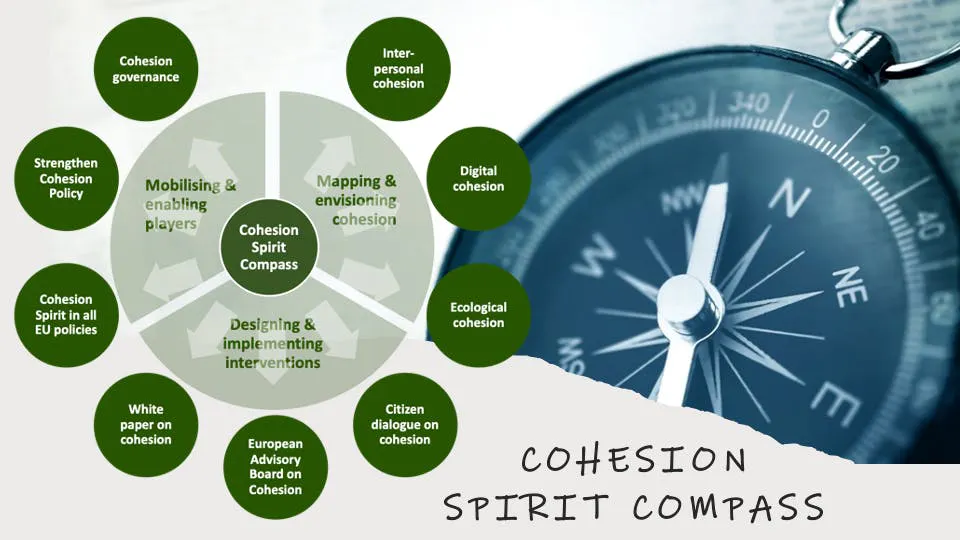 Increasing inequalities between places and societal groups challenge the future of Europe. To avoid fragmentation putting an end to European integration, we need to rethink cohesion and act on it. What does the aim of economic, social and territorial cohesion laid down in the Treaty on the European Union (Article 3, TEU) mean in the light of today's societal challenges?
A new take on cohesion is needed
In a recent study for the European Committee of the Regions (Opens in a new window), we have operationalised this general aim, and identified cohesion principles and dimensions. These help to better understand the 'Cohesion Spirit' of European policy making. A review of 15 rather varied EU policies showed that the 'Cohesion Spirit' is mostly present in the aims of the policies. However, it fades away when moving to the policies' specific priorities and implementation.
Putting it bluntly, the aim of cohesion is largely left to Cohesion Policy. At the same it is clear, that cohesion is a very abroad aim which cannot be delivered by a single policy – however large it is. Indeed, given the size of the cohesion challenge, there is no single EU policy which can do so. If cohesion is wanted in Europe, we need to mean it. We need more than Cohesion Policy & lipservice by other EU policies.
Furthermore, limiting the cohesion debate to economic, social and territorial cohesion is no longer timely. In the light of today's grand societal challenges, we need to broaden the understanding of cohesion. It needs to also address interpersonal, digital and ecological cohesion. Basically, cohesion needs to be made more tangible to the people in Europe. Bringing Europe closer to the citizens must also mean to involve them in defining and delivering cohesion. This needs to correspond to their varied and subjective understand of cohesion – often linked to their personal well-being and future prospects. This means, Europe must engage in a public debate about the meaning of cohesion. This debate needs to feed into policy making and preferably a European white paper on cohesion outlining how Europe understands cohesion in the light of today's challenges and how to deliver on this.
Doing so would have the potential of clear cut economic benefits as shown in a recent discussion paper by JRC (Opens in a new window). Modelling two scenarios, the papers shows that a cohesion aim of all policies would help to increase cohesion in Europe substantially. For instance, increasing investments in education and training in regions lagging behind in the EU Innovation Scoreboard could reduce economic disparities in Europe. 1 EUR of investment returns 1.79 EUR in GDP in the low innovation regions, compared to 1.29 for the mean EU member state.
In other words, strengthening the 'Cohesion Spirit' in EU policies would pay off even economically. While at the same time, counting to ignore cohesion as an underlying aim and value of the EU will further increase inequalities and fragmentation – between places and between people in Europe. Without cohesion the backing of the European idea risks to decline.
Cohesion must shift from a 'flanking policy' to a policy objective in its own right, in line with Article 3 TEU. Cohesion as a policy objective has to be adjusted to today's societal challenges. The understanding of cohesion ha to go beyond the economic, social and territorial cohesion. As EU policy making increasingly understands the necessity to reach out to citizens, an interpersonal cohesion dimension could be in place. Increasing digitalisation could be acknowledged by updating our understanding to incorporate digital cohesion. Given the challenges of climate change and loss of biodiversity, ecological cohesion must be considered.
Moving EU policy making to embrace cohesion will require many different steps. The most important we have collected in the 'Cohesion Spirit Compass'. It contains nine concrete proposals on how to better define cohesion, how to deploying impactful interventions and how to empower relevant players.
Envisioning 'Cohesion Spirit'
We need to envisage what cohesion means today, thinking beyond economic, social and territorial cohesion. Showing what a new 'Cohesion Spirit' could look like, when putting citizens and the transition to a digital and green future first, might help to make the idea of cohesion more tangible.
Interpersonal cohesion. Cohesion is more than a figure in some EU policy tables, comparing countries or regions. Cohesion is often subjective, place and context related and time-bound. It actually has a lot to do with personal well-being and solidarity between people rather than countries. Interpersonal cohesion reflects the idea of cohesion to improve people's lives and future outlook. It is about taking cohesion to the citizen level, in terms of cohesion between individuals.

Digital cohesion. Increasing digitalisation of our society creates new possibilities for increasing or reducing imbalances. A digital cohesion dimension would emphasise the need to shape Europe's digital future for all people and places. It would help avoid a digital future where 'the winner takes it all'. Increasing digital divides both as regards the access to digital infrastructure and services and the ability to benefit from digitalisation must be addressed.

Ecological cohesion. Climate change, the loss of biodiversity and a green transition will be a driving factor for the coming decades. This transition will change many parts of our society and economy, and it will bring winners and losers. Ecological cohesion is important to ensure that the transition does further increase social and economic disparities. It is also important to address imbalances concerning access to a healthy environment and good ecosystem services.
Designing 'Cohesion Spirit'
We need to identify and deploy impactful interventions to achieve cohesion. This needs to be done in a collaborative spirit with the citizens and relevant policy makers across all sectors and governance levels.
Citizens' dialogue on cohesion. Today cohesion is basically absent in broad public debates at EU level, e.g. the Conference on the Future of Europe or the New European Bauhaus. This is a pity, as the 'Cohesion Spirit' of EU policies may be strengthened more by public debate than by legal requirements. This could help to modernize the idea of cohesion, both in terms of topics which are important for cohesion beyond GDP, growth and jobs. It could also help to sharpen the understanding of cohesion principles, such as mutual interdependencies, equality, equity and justice.

European Advisory Board on cohesion. A Europe-wide reflection on the new 'Cohesion Spirit' should ideally be started by the European Commission, urged by the Council, the European Parliament, the Committee of the Regions, etc. An Advisory Board on Cohesion could link the public debate to concrete policy processes and initiatives. Such a board could propose long-term policy perspectives for cohesion. It could be the conveyor of a European vision for all places that reconciles different interests and utilises the diverse potential of places within the EU.

Commission White Paper on cohesion. Lifting cohesion higher up the EU political agenda needs a clear proposal. The need, approach, expected results, envisaged support and involvement by other sectors and citizens must be explained. To do so, the public debate on cohesion as well as the division of labour between EU policies to deliver cohesion should come together in an EU Commission White Paper on Cohesion. This idea has also been put forward on the 2021 annual Barometer of the European Committee of the Regions (Opens in a new window).
Enabling 'Cohesion Spirit'
Empowering stakeholders to implement cohesion, will need a strong Cohesion Policy, a clear 'Cohesion Spirit' in all EU policies and multi-level governance arrangements involving local and regional authorities as well as civil society.
Cohesion Spirit in all policies. Cohesion goes far beyond infrastructure development, human capital, innovation and technology policies. Consequently, all EU policies should consider how cohesion is carried through into policy delivery and implementation. A wide range of polices need to address growing inequalities, including harmful economic, social and political consequences, as well as a cohesive digital and green transition. No single policy can address all facets of cohesion without becoming unfocused and risking aiming for everything but achieving nothing.

Strong Cohesion Policy. Strengthening the 'Cohesion Spirit' in all EU policies is no argument for reducing the importance and funding of Cohesion Policy. Even if all other EU policies are underpinned by a 'Cohesion Spirit' and contribute to cohesion, there is a need for one strong policy focusing entirely on the cohesion objective. A stronger Cohesion Policy is indispensable to achieving cohesion.

Cohesion governance. To move from words to action the governance arrangements must support cohesion. Rethinking of the governance system is crucial. First, multi-level governance arrangements are essential to capture the many facet of cohesion. Second, new governance structures and procedural flows are needed to involve citizens in defining the purposes of cohesion and negotiating desirable futures for people and places that (1) combine the diversity of people and places, and (2) bridge the interests and roles of all levels of government in the EU
Taken together, these nine points of the 'Cohesion Spirit Compass' will allow for a shared vision (or narrative) on cohesion and the future of Europe to be embedded in relevant policies and decision-making processes from local to European level.
The full study is available with all the details on the understanding of cohesion and the proposal of a 'Cohesion Spirit Compass' is available at here (Opens in a new window).
by Kai Böhme
https://steadyhq.com/en/spatialforesight/about

(Opens in a new window)
Topic
Cohesion (policy)