1000 members pay to access Maja's cleaning tips on Instagram
More than 11,000 people follow cleaning coach Maja Wörner on Instagram and tune in to watch her tidying up. Now many of them also pay for the privilege, which has allowed her to quit her day job. In this guest article, Maja reveals how she came to earn 9,000 EUR a month from her cleaning content.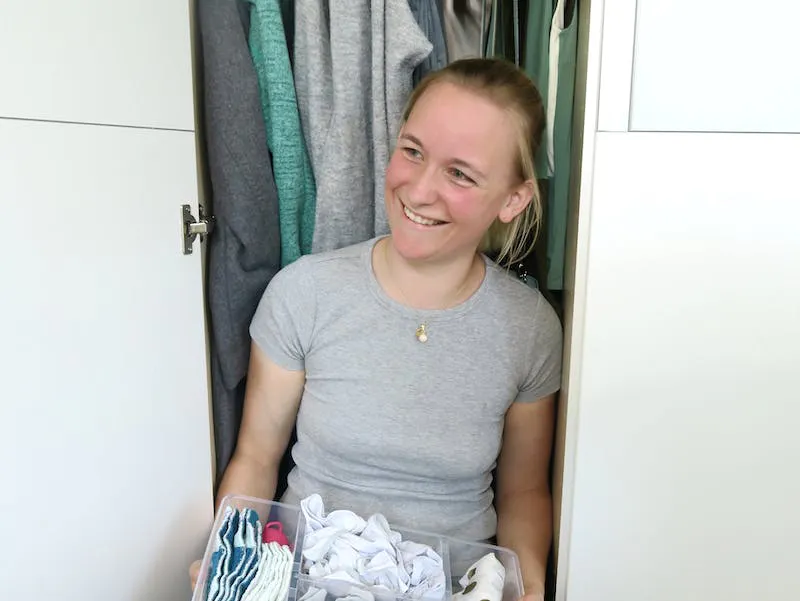 By Maja Wörner of @eswirdnochbesser (Opens in a new window)
Update: at the time of publishing in July 2021, Maja was earning 6000 eurs per month on Steady. As of February 2022, she has hit 1000 members and earns just over 9000 euros per month.
It was a pretty average day at my sister's house, the day we cleaned her apartment together. We do that often enough, and yet while we were emptying her drawers and wiping them out, sorting things out and putting everything away again, she was about to fundamentally change my life. Her idea was so simple, but it seemed absurd to me at first. I should turn my love of tidying into a job, she said. I should offer my cleaning coaching for a fee.
"Nobody's going to pay me to give tidying tips!" I said. But my sister argued back. "Maja, I'm sure they would! There are so many people who want to make their homes more beautiful. I've already been approached by a few friends to say how nice and tidy my home looks, asking if you would stop by their house to tidy it up for them."
I had to smile. "That would be something!" I thought. "I'd be doing my favorite thing and getting paid for it, too!"
Thanks to my members, I transitioned from a permanent job to self-employment while on parental leave with two young children.
Weeks passed, the idea grew and finally it became tangible with these words: "Just try Steady. It won't cost you anything!" That was my sister again. I probably owe her more than just a nice meal for her multiple pushes towards independence.
Because soon after trying Steady, it got to the point where I could quit my permanent job while on parental leave with two toddlers. By then, I had turned my initial Instagram hobby project into a successful business model.
Two years later, I'm lying in bed, typing these lines into my phone, and I have to take a quick look at my Steady page (Opens in a new window): 687 members are currently supporting me with 5,900 EUR a month. Who would have imagined? Not me.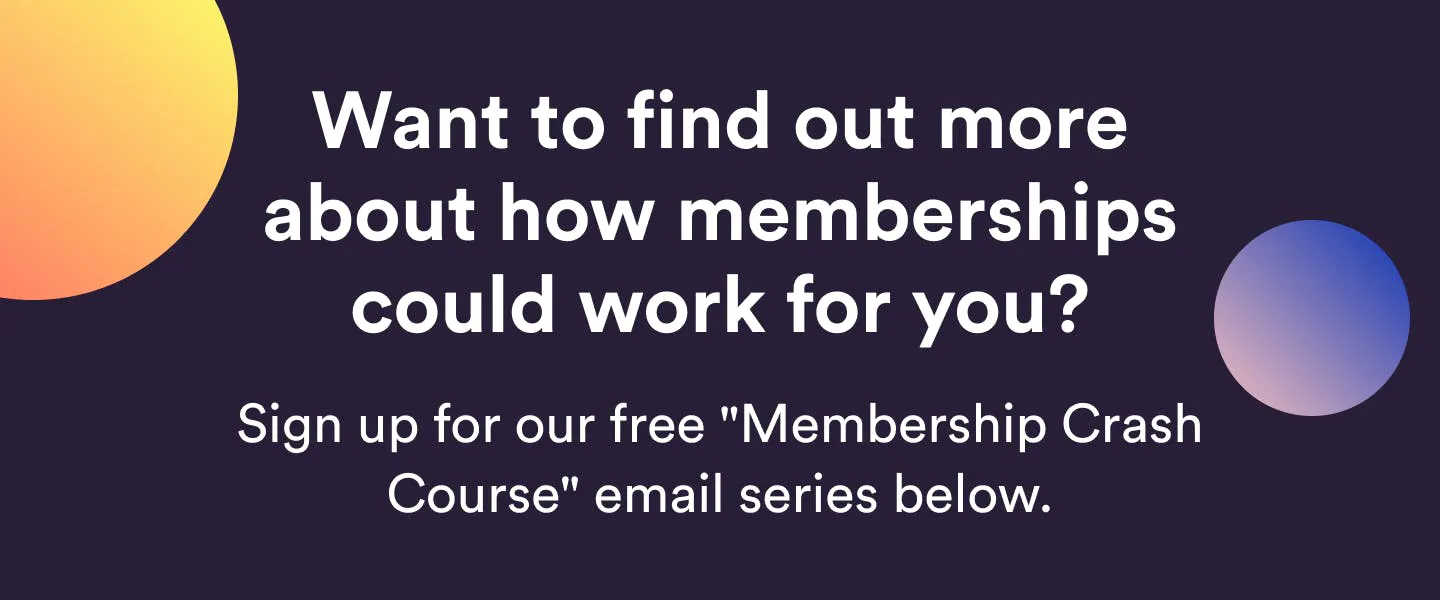 Sign up for our free Membership Crash Course email series (Opens in a new window)
Instagram and Steady go hand in hand
My business model is quite unique and not so easy to explain. Before I "just tried Steady. It won't cost you anything!", I had already built a small community on Instagram. I don't remember the exact numbers, but it must have been between 3,000 and 5,000 followers.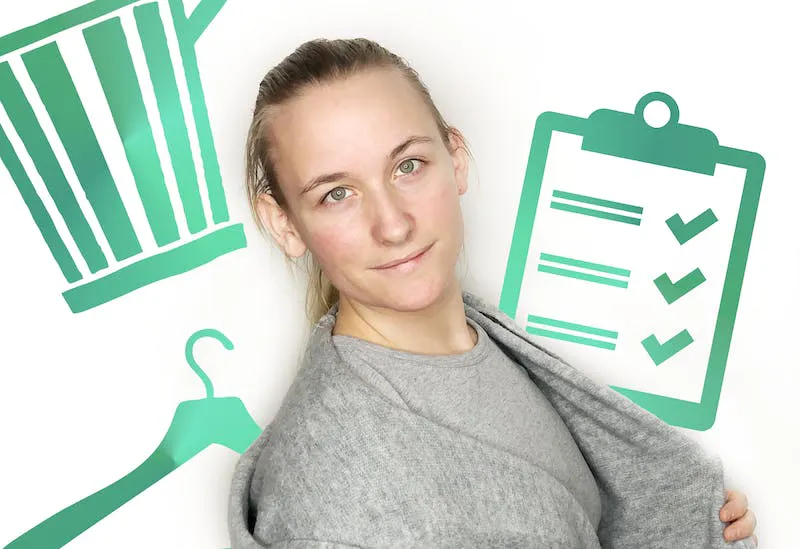 Not an audience of millions, but still enough to start a membership program and offer my community a paid plan. My first ad via Instagram Stories – "Join my cleaning coaching" – brought in the first 20 members right away.
If a follower had signed up for a membership through Steady and shared their Instagram name with me, I could add them to my second, private Instagram account. That way, each paying member had access to exclusive coaching stories and posts. If a person later quit Steady, I could remove them from the private channel.
What was initially just a gimmick and some nice pocket money grew into a serious business. In the meantime, I changed my strategy: no messing around with two Instagram accounts, just one. Whoever became a member, I added to the Close Friends list. This is a feature that allows parts of an otherwise public story to be visible only to "close friends" (in my case, paying members).
The words of my sister a year ago: "Just try Steady. It won't cost you anything!" I probably owe her more than just a nice meal for her multiple pushes towards independence.
So Instagram and Steady go hand in hand for me. One account can't exist without the other. Whoever becomes a member on Steady receives not only some nice goodies, but also a complete 24/7 decluttering coaching plan.
This includes, for example, a very detailed daily story, challenges and competitions, folding videos, Instagram Story stickers, PDFs with tidying tips and more. In addition, I have two complete workshops permanently online for 9.95 EUR, which is a ridiculously low price! Other coaches take many times that amount for a single workshop.
Because more than 10,000 people follow me on Instagram, I also have the option of including a swipe-up link in my Instagram Stories. With a single swipe of the finger, people automatically land on my Steady page.
The best thing: My public stories are both additional content and advertising at the same time. I clean, tidy up, offer small tidying tips, inspire, share some great tidying results and feedback from Steady members, take the followers with me through my everyday life... whoever follows me will inevitably be infected by my tidiness.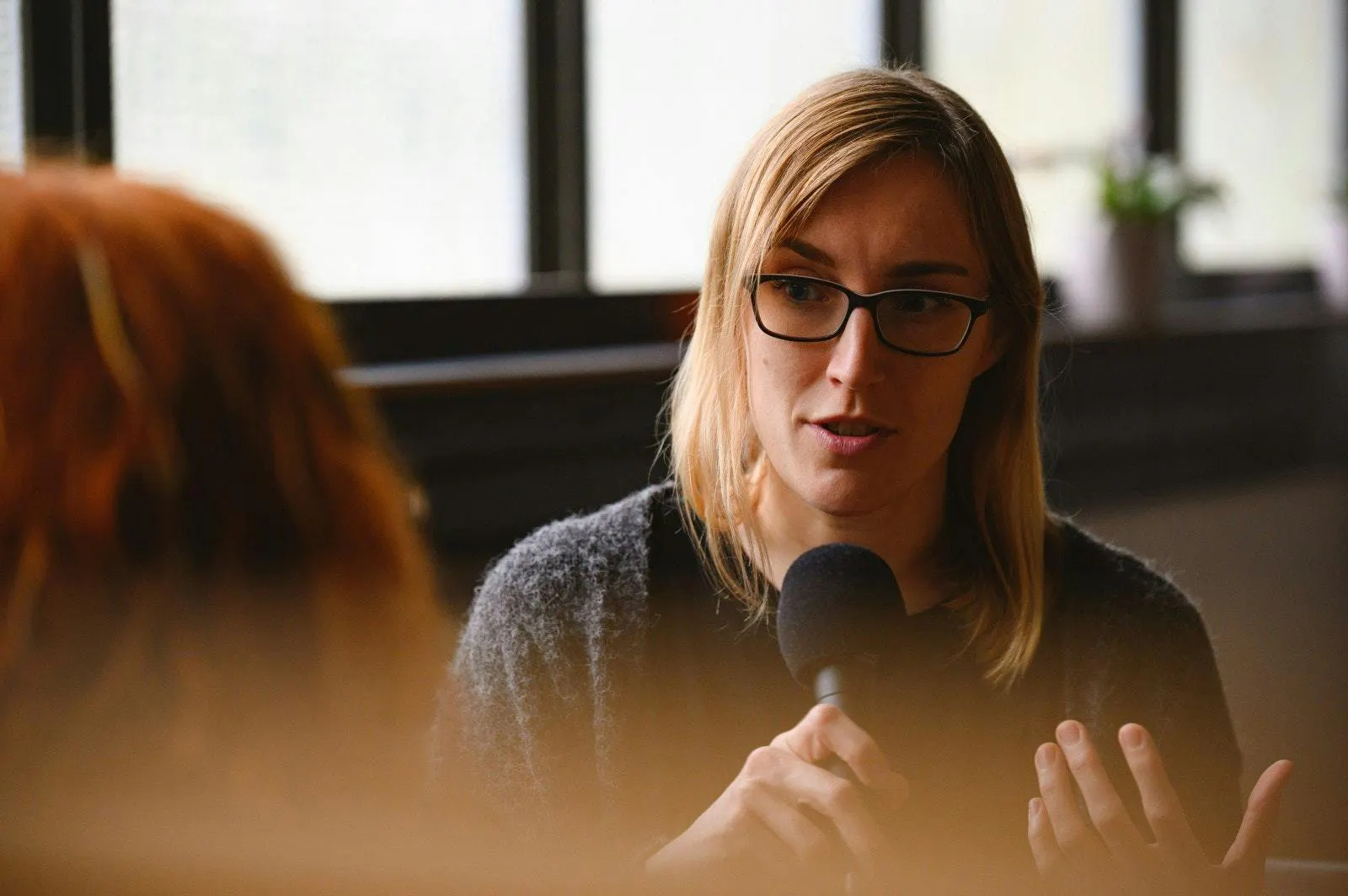 "Suddenly Steady has become my main source of income". Podcaster Juliane Fritz tells us how memberships help her generate sustainable income (Opens in a new window) despite her niche topic.
I'm always amazed at how quickly my membership is growing. It fluctuates, of course. But if you look at the increase in memberships since I started in August 2019, I get more than 30 new members each month.
My secret to this growth is a combination of three things:
The permanent placement of a link to my Steady page in various places on Instagram,

regular targeted advertising, and

and occasional larger promotions that bring me above-average traffic
Fans come across my Steady page simply by browsing
I've already mentioned my public Instagram Stories and posts: my free content presents my tidiness coaching and is perhaps the best advertising. In addition, there are more specific references to my Steady project that I've placed permanently on my profile. For example, the ads I put in my highlights. These are the saved stories that appear at the top of my profile. I only had to include these ads once and now my followers see them whenever they browse my highlights.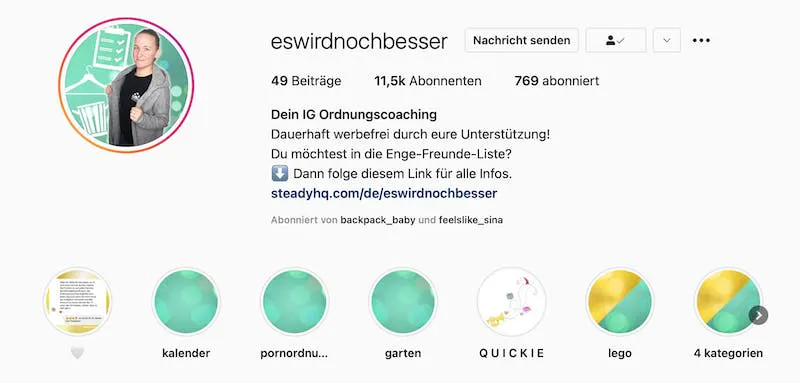 Maja has saved references to her Steady project within the highlights on her Instagram account @eswirdnochbesser.
One example is the highlight "4 categories", where I talk about four different categories of tidying up. Here I directly promoted my membership programme and explained the benefits of being a member.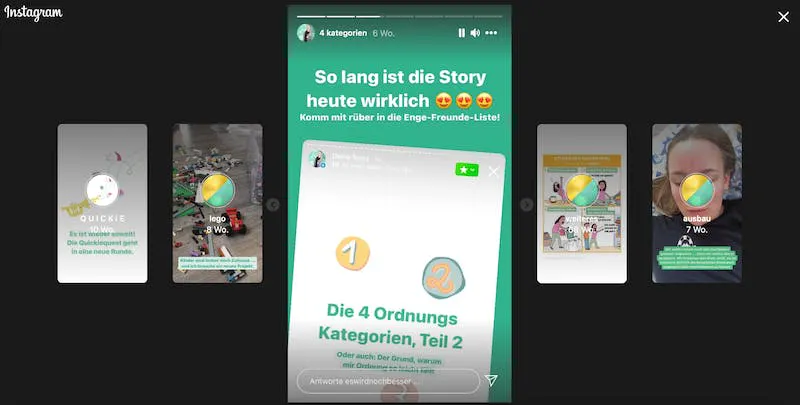 If you browse through the highlights on @eswirdnochbesser, you'll automatically come across references to Maja's Steady project.
Or slightly more subtly in the "🤍" highlight, I share feedback from my followers and members. It's a collection of recommendations from satisfied customers from my membership program. The feedback is really great and encouraging.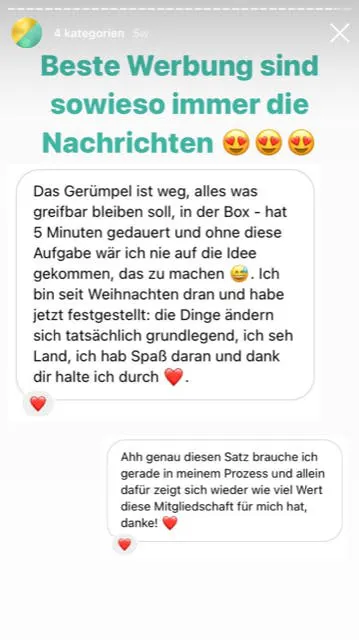 Give her some praise and poof, it lands in her highlights: This is another way Maja advertises her exclusive cleaning coaching.
In addition to the highlights, I also added the link to my Steady page in my bio. So the link is permanently in a prominent place on my Instagram profile.
With a mix of subtle and less-subtle methods (some feedback here, a link there, a hint at the exclusive member content over there) I actually point to my Steady project every day, which means new members keep trickling in without me having to do anything extra.
Each targeted advertisement brings in between 5 and 15 members
Nevertheless, I also run targeted advertising for my memberships. I don't do this very often – between one and three times a month, at most. Then I usually create three to five slides in my Instagram Story. That brings me between five and 15 new members each time I do it.
I think the combination of the subtle hints and the targeted advertising is very effective. I once read that it takes about five nudges before people are willing to spend money on something or try something new. My membership hints are constant nudges and my targeted advertising complements that.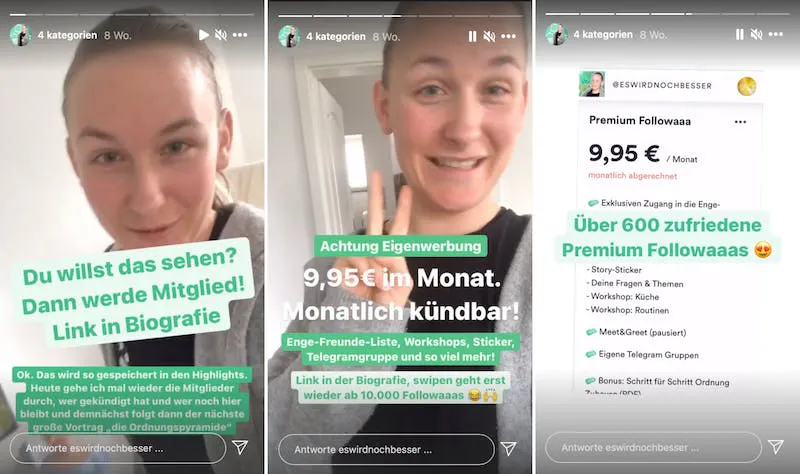 For targeted promotion of her memberships, Maja usually creates three to five slides for her Insta-Story. Each slide is 15 seconds long.
By the way, my targeted advertising works especially well towards the end of the month, because that's when I announce the start of the next Quickie Quest. This is a 14-day challenge, exclusively for members. This challenge means more advertising during these 14 days, because I can share the results of the challenge – and these results are then also shared by the followers themselves.
My little campaign that suddenly got bigger
Every now and then I also run a small campaign. The last one that really hit home was in February 2021, when I offered trial memberships for 24 hours. During that window of time, you could sign up for a free 30-day sneak peek at my coaching programme.
That was really special because I don't normally do an offer like that. Providing this much content for free for 30 days was an absolute exception and I probably won't be doing it again anytime soon, if ever. That's why I only activated the trial membership for 24 hours.
I wanted to crack 4,000 EUR by the end of the year, with healthy growth. But I've already greatly exceeded that.
And that's exactly how I announced it: "Only available for 24 hours! Join the Quickie Quest! Access to ALL content for a whole month! Free!" I also included a countdown with the date and time when I would "open the gates". While the campaign was running, I pointed out several times that it was a one-time only offer.
And when the countdown was over, I posted a story to let everyone know they had just 24 hours to enjoy the trial membership. In between, I kept reminding people, and just before the end, I announced it again with the note: "There are only X hours/minutes left." That really struck a chord!
I had expected to gain about 100 new members from the campaign. But in the end I gained about 400, which meant the total number of members had more than doubled! In total, I had well over 700 members after the campaign.
An average of 30 new members per month, plus a huge boost in February, when Maja offered free trial memberships for 24 hours.
But best of all, about 75 percent of those people stayed after the free month and became paying members. Of course, some also left. Still, I've already shot way past my goal for the year. I wanted to crack 4,000 EUR gross by the end of the year, with healthy growth. But I've already greatly exceeded that (at the moment it is almost 6,000 EUR).
I don't promise a cleaning miracle cure
I haven't conducted any research yet, but I'm still very sure that my biggest secret to success (besides my humour and incredible good looks) is vulnerability. I present myself exactly as I am: filterless, without make-up (I don't even own any make-up anymore!), unforced and genuine. I am not a loud coach, I don't make big pep talks with a fixed gaze into the camera, I don't promise a 100-percent guarantee of success, profit maximization or a cleaning miracle cure.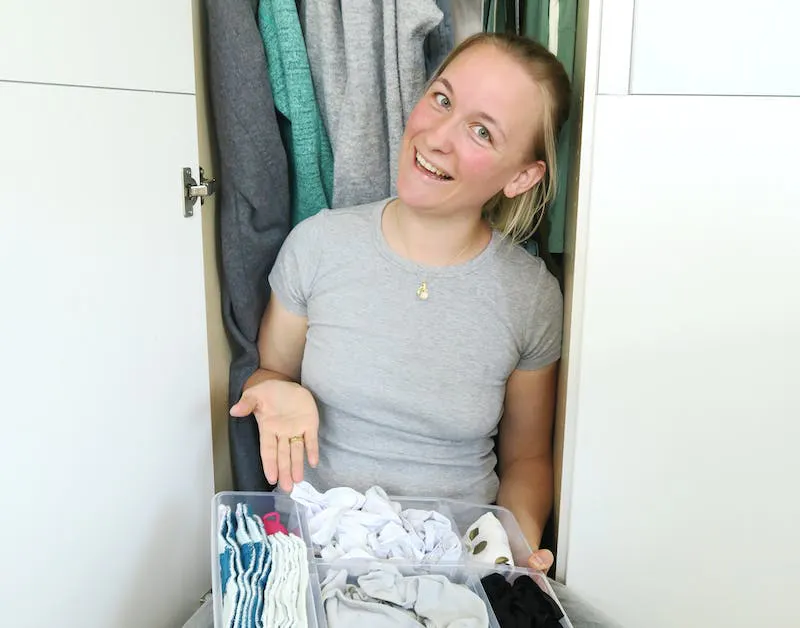 Still, I'm brave and, above all, open. I show the world my flaws and weaknesses. In return, people are comfortable showing me their real selves. I get pictures of messy corners "that I wouldn't show anyone else" and gratitude for my small, imperfect Instagram world, which builds self-esteem.
By the way, that invitation for a "nice dinner" for my sister has now become a "week at a spa hotel, but the drinks are on you!" And of course we will toast the success of my cleaning coaching with a bottle of passion fruit spritzer.
Anyone can become a member on Steady and enjoy Maja's exclusive cleaning coaching (Opens in a new window):
https://steadyhq.com/de/eswirdnochbesser/about?utm_source=magazine&utm_medium=link&utm_campaign=cleaningcoaching_post

(Opens in a new window)
Already a publisher or want to become one?
In our magazine you will find more success stories from other publishers:
And if you want to keep up-to-date with the latest trends in independent publishing and insights from successful publishers, subscribe to our Steady Magazine newsletter using the button below.
Topic
Success Stories
Read more from Steady Magazine